WEEK SIX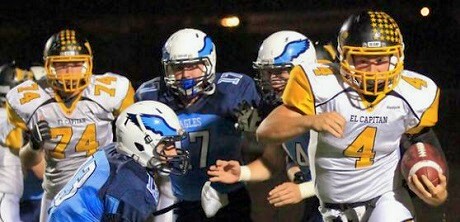 El Capitan quarterback Brad Cagle (4) boot-legs for a first down to help stop
Granite Hills, ruining homecoming before the largest Eagles home crowd
in more than 20 years. The Vaqueros mounted a 41-7 cushion by halftime.
(Photo by Frank Price, youatplay.com)
El Capitan running back Dennis Smith
(Photo by Frank Price, youatplay.com)

Vaqueros ruin Granite Hills' homecoming,
raise record to 6-0; best start since 2006

By Bill Dickens
© East County Sports.com
EL CAJON (10-5-13) — El Capitan bulldozed Granite Hills, 55-14, in Friday's (Oct. 4) Eagles homecoming to improve its record to 6-0.

The No. 10-ranked Vaqueros now have their eyes focused on facing off against Mount Miguel next Friday (Oct. 11) in a Grossmont Valley League opener.

The Vaqueros went wild as quarterback BRAD CAGLE completed 14 passes for 259 yards and 4 touchdowns, and D.J. SMITH ran uncontested for 109 yards and 3 touchdowns on seven carries as El Capitan turned the game into a blowout.

"You know, I always tell my kids to quit using Twitter to bad-mouth the other team," El Capitan coach RON BURNER said. "And Granite Hills was non-stop at doing so."

Despite the lopsided win over Granite Hills, El Capitan hopes to snap the Matadors run of three straight Grossmont Valley League titles.

"This is probably our most complete game," said Burner. "It's like I tell my coaches and players you have to be lucky, not just good and skilled. But that's not gonna help us next week. It's kinda one of those deals of put up or shut up."

The Vaqueros pulled a motorboat on the Granite Hills, building a 55-7 lead and never looked back.

The Vaqueros made it look easy as receiver CHRIS PEARSON pulled in 2 passes from Cagle for scores and ISAIAH CAPOOCIA also had a TD. DILLON RETTIG also scored on a pass play from Cagle.

Granite Hills could only muster two scores against the Vaqueros.

SETH COLLINS rushed for 100 yards and a touchdown and BLAKE DeHAVEN scored on a 23-yard run.
Improving Braves crush Orange Glen
By Jim Lindgren
© East County Sports.com
EL CAJON (10-5-13) — After scoring five touchdowns and rushing for 220 yards, the ear-to-ear smile on the face of MATTHEW SHEARIN afterward was quite expected.
The real reason, however, was not.
Behind a stellar performance by the Braves' junior running back, El Cajon Valley rousted Orange Glen, 38-13, on Friday (Oct. 4) night in a key match of two Division IV playoff hopefuls.
"Watching the young guys play so well," Shearin said, "that was awesome."
El Cajon Valley (2-4) is hoping to make the playoffs for the first time since the ABRAHAM MUHEIZE-led Braves shocked the county by reaching the Division II championship game in Qualcomm Stadium in 2005.
The Braves took a giant leap forward toward reaching that playoff goal with the
impressive win over Orange Glen (2-4).
"It's a great win," said Shearin, a 5-foot-9, 160-pound tailback who teetered gingerly on a sore right foot after the big game. "Another step toward making the playoffs."
Shearin, who carried 23 times, scored on touchdown runs of 11, 56, 3, 19 and 47 yards to run his 6-game season totals to 842 yards and 11 TDs.
"He's only a junior, and he goes both ways," El Cajon Valley coach NORMAN WHITEHEAD said. "He's one of our guys we expect to carry the team."
Quarterback ALAN MICHAEL HARRIS had a productive game as well, completing 5-of-6 passes for 39 yards, rushing nine times for 60 yards and conducting an offense that totaled 322 yards and scored on five of its first six possessions in taking a 31-0 early lead in the second half.
Equally impressive was the Braves defense, which got big games from a host of players to shut out Orange Glen for three quarters. JOSE SOLIS, CHARLES SMITH, CIRWAN SMITH and PIETRO ANDERSON all had fumble recoveries that led to Braves' points.
Solis, Salih and EDUARDO OLIVAS contributed key sacks for huge losses that thwarted a number of Orange Glen advances.
KARIAR AL-NAIEM and Shearin combined on a forced fumble, while ALAN PELAYO, STEVE SARKISSIAN, Olivas and Al-Naiem applied ample pressure on Patriots quarterback Santiago Rocha, who finished with minus-46 rushing yards.
Right from the get-go, this appeared to be El Cajon 's night. An onside kick to start the game was recovered by Solis at the 50-yard line. Harris took the next play 17 yards with a QB draw, and seven plays later Shearin had the first of his five TDs.
Smith recovered a fumble moments later to set up a 31-yard field goal by MARTIN PATTI to make it 10-0.
On their next possession, the Braves lined up for a punt on a fourth-and-5 from their 44-yard line, only to see the ball snapped short to Shearin, who scooted left, picked up a big block from Al-Naiem and darted 56 yards for the score and a 17-0 lead early in the second quarter.
"Kariar Al-Naiem had a great kickout block," Shearin said. "I just followed that to the end zone."
Said Whitehead, "We needed this win. It was all-out – onside kick and a fake punt – we had to do anything to win this game."
Late in the half, Anderson recovered a fumble that led to Shearin's third TD to make it 24-0 at intermission.
Any thought of an Orange Glen comeback was put to rest on the Braves' first possession of the second half. An eight-play, 72-yard drive was capped by yet another Shearin TD run, this one from 19 yards as El Cajon Valley built a 31-0 lead.
"They were well prepared," Orange Glen coach Kris Plash said. "They out-physicalled us on both sides of the ball.
"They did a really good job of running the ball against us and did a great job of stopping us on offense. My hats off to them. They were prepared to play a physical football game, and they executed really well."
The Patriots managed a couple of good drives in the fourth quarter to pull within 31-13 with 6:36 left.
But on the next play, Shearin was off to the races again, this time finding paydirt after a 47-yard scamper.
"The O-line did everything," Shearin said. "Without those guys our offense goes nowhere. I love those guys. I love this team. We're ready for whatever challenges come our way."
El Cajon's next challenge comes next Friday against league-rival Monte Vista, another Division IV team that Whitehead listed as an important step toward that elusive playoff berth.
"This was a good all-around game for us," Whitehead said. "We need this momentum going into league."
The battle for the loose football between El Capitan's Scott Root (left)
and Seth Collins of Granite Hills. The Vaqueros won to move to 6-0.
(Photo by Frank Price, youatplay.com)
ADDITIONAL PHOTOS HERE
MONTE VISTA 28, PATRICK HENRY 21 (OT) – As the Monte Vista Monarch's prepare for Grossmont Valley League play for next week, they needed to first get past a familiar foe, shall we call it déjà vu...?
Possibly.
Both squads came out of their corners swinging, so to speak, both Patrick Henry and Monte Vista scoring on their opening drives, leaving the score knotted early at 7-7, although Monte Vista was more impressive on a 54-yard scamper, breaking free of multiple Patriot tacklers.
The score remained tied at 7 after a late field-goal attempt by Monte Vista was tipped, sailing into the end zone 16 seconds before intermission.
Coach RON HAMAMOTO's foresight was that they would receive the ball in the second half, so why not take the chip shot and go in ahead at the half. But the field goal misfired.
The Monarchs came out sticking to a heavy dose of the three-headed monster –
running back JEMEIL JACKSON, fullback ERIC COLLINS, and the signal-caller, THOMAS WALKER. Although Monte Vista fumbled on their initial drive of the first half and gave it to the Patriots at mid-field, the Patriots would quickly go three and out, as this bout was just starting to heat up.
The Maroon Curtain supplied by Monte Vista's defense, led by linebacker CHRISTIAN GONZALEZ, defensive lineman ISAIAH FARR, slot JESSE RIVAS, and a spectacular tackle by quarterback-defensive back Walker, would only allow one score in the third quarter. Still, the Patriots did score on a 4-yard run off left tackle by the Patriots speedster, Jabril Clewis, 14-7 Patrick Henry.
Almost a full quarter and 15 plays later the Monarchs scored on a 1-yard quarterback keeper by Walker up the middle for 6, and only six as the extra point missed the mark, leaving the score at 14-13 with Patrick Henry still leading with 4:40 left in regulation.
Already frustrated, the visiting Monarchs would have to stomach after the intermission, a 56-yard touchdown run – almost untouched – by Patriots running back Tyree Range, and a successful extra point: score 21-13 Patriots. This contest was far from over.
Next Monarch possession started with a turbo-boost setup by return man D.J. DOSIER for 59 yards, setting up a first-and-10 at the Patriots 31. After only four plays, Jackson was in for another plunge into the end zone for three yards and 6 points, and added some spice with another plunge up the middle for 2 on the conversion. Score tied at 21-21 with 3:13 left.
As both squads could not convert, the clock expired as Monte Vista was driving, sending the game into overtime.
Monte Vista won the toss, and CIF rules state that each team has a chance to score, starting at the 25-yard line. Three carries from Jackson and a 1-yard quarterback sneak from Walker would seal the win for the Monarchs as the host Patriots – with a big penalty and a last second pass intercepted by Monte Vista wide receiver Rivas in the end zone – were now conquered.
Monte Vista continues to improve with a three-game winning streak and a big game sagainst El Cajon Valley next week.
"We knew it would be a dogfight, just like last year, and I knew I had to step up even though I'm a smaller guy, and help my team win," said an excited Walker. "We knew we were pretty much evenly matched, but we just came out, executed and fought hard," Walker continued. "Just a great team win."
"I knew I had to lead by example, to help give my offensive line get that extra boost," stated running back Jackson. "I also want to state that it couldn't happen without one of the best blocking fullbacks in the league, ERIC COLLINS.
"Everyone better watch out for Jesse Rivas there are gonna be many more picks like that in the future," Jackson added.
Most notable, Jackson finished the night with 40 carries for 360 yards and a pair of touchdowns. Walker also finished with a pair of touchdown runs. Monte Vista finished with 486 yards of total offense.
— Dave Dickens
MOUNT MIGUEL 38, POWAY 3 – When Mount Miguel turned the ball over inside the Poway 5-yard line holding just a 7-3 lead late in the first quarter Friday night, (Oct. 4), little did they know that would be their last mistake of the evening.
Matadors quarterback BRAD MORENO threw for 151 yards on 11 of 18 passes, while BEN LOMIBAO rushed for 134 yards and 3 touchdowns on 15 carries. DAVAUGHN MURRAY amassed 132 yards on 19 rushes with a TD.
Senior JOVON RICHARDSON was Moreno 's favorite target, with eight catches for 120 yards.
Richardson hauled in a 38-yard bomb from Moreno down the left sideline before stepping out at the 1, setting up the Matadors' first score.
The Matadors held Poway to just 171 yards of total offense, while finishing well over 450 yards of their own. Mount Miguel entered the game allowing 19.6 points per game.
Poway scored on the game's first series as junior Jordan Choukair kicked a 50-yard field goal. However the Matadors drove 80 yards on 11 plays on the next possession, as Lomibao rushed for a 2-yard score with 4:23 left in the first quarter. Lomibao also had a 33-yard TD run with 9:39 left in the third quarter.
The Matadors added another with 8:39 left in the second, going 80 yards on six plays, as Murray rushed in from four yards out. Murray also scored on a 2-yard run with 11:01 left in the fourth.
By late in the second quarter, the Matadors had 16 first downs to Poway 's five. With:01 left before halftime, senior JOSUE BEAS kicked a 30-yard field goal to send the visitors into the locker room with a 17-3 lead. Mount Miguel had the Titans outgained, 326-118 over the first two periods, with 200 yards of offense coming on the ground.
The Matadors' big front had a night they could be extremely proud of, as seniors JAMES SAVE, KIM QUEZON, KURESSA LAULU, DAVID DILLARD, ANTONIO McNEIL and ALEXIS RAMIREZ dominated the line of scrimmage. Junior fullback TITO ORTIZ provided an excellent escort for the backs, as well.
MIRACLE TAUSAGA had 8 tackles for the Matadors.
"We did a great job of keeping them out of the middle, and that's a credit to Tausaga," said Mount Miguel coach SHAUN McDADE.
Mount Miguel picked up a staggering 28 first downs on the night, while the Titans initial first-down of the second half didn't come until there were less than four minutes left in the game.
Moreno rushed in from 2 yards out with 7:06 left in the game for the final margin. Moreno also had a 33-yard keeper in the third quarter to set up Lomibao's second score. The game actually finished with a running clock, which would have never been predicted before kickoff.
Grossmont 61,
San Diego HS 6
Linebackern B.J. Gonzales (3)
of Grossmont intercepts the
first pass of the game, as the Foothillers score four TDs in
the first quarter in an easy romp Included was a 53-yard
punt return for a score by
Christian Brooks to make
it 14-0 after six minutes.
(Photo by Linda Byerline)
GROSSMONT 61, SAN DIEGO HS 6 – The Foothillers got on the board quickly, going 80 yards for an opening score, as ANTHONY LAWRENCE threw a short pass to CHRISTIAN BROOKS who was cutting back inside when he received the ball. Brooks slipped by four defenders from just seven yards out for a 7-0 lead
Brooks would add his second score of the first quarter on a 53-yard punt return midway through the period. The senior caught the ball on the fly and slid right up the middle past three Cavers, before shooting to the left side. He picked up a key block inside the 10 from KALVIN WATERS to cruise into the end zone.
The Hillers' JOSH ANDERSON rushed around the right side for a score to make it 21-0 late in the first. Anderson took a quick handoff out of the shotgun from Lawrence, ran past one defender, then ran through the arms of another would-be tackler before heading into the right corner of the goal.
Grossmont's front of BRAD BOYCE, TARIQ BOUTROS, DUSTIN BINNS, LOGAN CANDELARIO and MARCUS MORGAN had their way with the San Diego defenders at the line of scrimmage.
One of the beneficiaries was sophomore running back JAKE HAAR, who scored on a 63-yard run with under 10 minutes left in the second quarter. Four minutes later, Lawrence hit J.T. BARNES with a TD pass, extending the lead to 41-0. Sophomore CALVIN FARRIS also had a touchdown run in the final minute of the first half.
Lawrence completed 14 of 15 passes and 3 touchdowns for the Hillers.
Helping pitch the near-shutout were defenders BRANDON WAGNER, RYAN YOUNG, JULIO VILLA, DONOVAN OKOROCHA, JUSTIN PEACE, LUCAS MEDEIROS, DAVID MAKAJ and ANGEL ESPARZA.
Senior running back KENNY KING scored two touchdowns midway through the final period for Grossmont – one for 18 yards and another for 10.
"When we went up 7-0, Lawrence hit J.T. with back-to-back touchdown passes," said Grossmont coach TOM KARLO.
Then the rout was on.
"The neat thing about it was I played all 69 players on my roster," Karlo said. "As a coach you can't ask for a situation better than that."
Mission Bay 24,
Christian 21
The Patriots mounted an early 21-3 lead, only to fall in a non-league road game in Pacific Beach for their first setback of the season in six starts.

Photo:
Sebastian Swift makes
the tackle from behind.
(Photo by Ramon Scott)
Christian running back Trento Sauls hurdles
a Mission Bay defender in Friday's contest.
(Photo by Tori Mills)
MISSION BAY 24, CHRISTIAN 21 –The Buccaneers scored 21 unanswered points in the second half to win a battle of unbeatens in Friday (Oct. 4) afternoon's tilt at Mission Bay High.
The Patriots won a ball control-oriented first half, taking a 14-3 lead into the locker room at intermission.
The teams traded three-and-outs to open the game and the first quarter remained scoreless, but the Patriots scored early in the second quarter, as they converted three fourth downs, and cashed in on a 2-yard scoring plunge by senior TRENTON SAULS for the game's first score. Sauls blasted in behind the force of linemen PAUL LIEMGRUBER, LAITHE ISENMANN and OWEN ADAIR.
Christian added a second touchdown in the second when Sauls rumbled 45 yards following a screen pass to the left side by senior quarterback MICHAEL CARRILLO. Carrillo set the play up by rolling right, then throwing back across his body to Sauls on the left side. The 6-foot, 228-pounder then set his sights for the end zone, putting Christian ahead 14-0.
The Bucs got into the red zone late in the first half on a deep completion, but the Patriots held the hosts to a field goal just before halftime.
Senior PARIS MILLER scored on a 10-yard run to give the Patriots a 21-3 lead with five minutes remaining.
That's when the Bucs broke out the long ball. Andre Pettis-Miller took the ensuing kickoff 81 yards to cut the lead to 21-10. The hosts later converted on a turnover and closed the gap to 21-17 on a 33-yard touchdown pass to Lamarriel Taylor from Nicholas Plum.
"We beat them in every category except special teams," said Patriots offensive coordinator DAVID BEEZER.
Mission Bay (5-0) appeared to take the lead on a 65-yard punt return, but a clipping penalty on the return at the Christian 3-yard line, forced the Bucs to start their short field at the 18.
Pettis-Wilson caught a touchdown pass on the next play, however, at the hosts had their first lead with 6:36 left in the game.
On the Pats' next drive, a 50-yard screen pass for an apparent touchdown was called back because of a holding penalty. Christian was stopped by the Mission Bay defense on the drive and forced to punt with four minutes left.
Christian (5-1) got the ball back at its own 15 with 2:36 left and one time out remaining, but ran four plays without gaining a first down, turning the ball over with 2:01 remaining.
The Patriots got the ball again at its own 15 with 1:08 to go, but nothing resulted of the final drive.
"Mission Bay was blazing fast," Beezer said. "Windows are small and tough for running teams to break through."
MAR VISTA 14, SANTANA 6 – The Sultans held Mar Vista to just one pass completion on the night Friday (Oct. 4). Unfortunately for Santana, that connection went for an 80-yard touchdown on a short middle screen in the third quarter to give the hosts a 14-0 lead.
Still, the night was something for the Santana defense to build upon.
The Mariners put together an 11-play drive in the first quarter, capped by Jimmie Hill's 8-yard touchdown run for the only score of the first half.
The Santana defense stopped Mar Vista for the remainder of the half, as MATT HOMAN, BRIAN PARKER, ANTHONY DIAZ, FERNANDO MURPHY, MARK JAGER, ANDREW NOVOTNY, BRANDON BEAMON and CHRIS SWEET turned up the heat to keep the game within one score.
The Mariners took the ball down to the Sultan 30 with just under four minutes to play, but came away empty-handed.
Meanwhile, the Sultans ended the first half with a lengthy drive, which stalled at the Mar Vista 2-yard line.
Mar Vista's Poco Cavaco scored the 80-yard touchdown, but from there, the Sultans kept Mar Vista off the scoreboard the rest of the way, as defenders TANNER KVEDERIS, A.J. JAMES, WILL PETTY, OWEN BROWN and FRANCISCO ESPINOZA added their contribution.
Mar Vista did control the game on the ground, however, gaining 204 yards on 35 attempts.
Santana's junior kicker JACOB HAMPSON had a big night, booming field goals of 42 and 43 yards, to give the Sultans their only points. His first try came with under seven minutes left in the third quarter. The second boot came in the opening minute of the fourth, as the Sultans started a drive at their own 20 before stalling out, setting up the field goal.
The Sultans put together a short threat late in the fourth, taking the ball from the Mar Vista 48, down to the 20 with just under three minutes remaining, and following a couple of sizable losses, took it back down to the 25 before turning the ball over on downs.
Canyon 28,
Steele Canyon 0
Following last year's 49-49 tie
- at the time, a state record –
the rematch saw the Cougars
get blanked for the first time
since 2008 (Valhalla).
Photo: The quarterback sack
by LB Sean McCarthy (41).
(Don DeMars Photography)
CIF San Diego Section
Open Division Records

Team

W

L

PF

PA

Mission Hills
Eastlake
Helix
La Costa Canyon
Oceanside
Torrey Pines
Steele Canyon
Poway

5
4
3
3
3
3
2
2

0
1
2
2
2
2
3
3

164
172
107
88
188
96
86
72

34
77
55
91
123
45
93
172

Week 6 / Fri., Oct. 4
Mount Miguel 38, Poway 3
Eastlake 52, Sweetwater 14
Canyon Country-Canyon 28, Steele Canyon 0
La Costa Canyon 24, Rancho Bernardo 21
BYE: Helix, Torrey Pines, Oceanside, Mission Hills
Canyon Country-CANYON 28, STEELE CANYON 0 – The rough and tumble world of Steele Canyon football doesn't get any softer as the Cougars steer into the beginning of Grossmont Hills League play next week against West Hills.
"We like to think our tough preseason schedule will help to have prepared us for our league," Steele Canyon coach SCOTT LONGERBONE said.
It was a painful reminder as the visiting Cowboys battled the Cougars to a 49-49 tie in a non-league game in Orange County a year ago.
In Friday (Oct. 4) night's contest Canyon scored on the game's opening drive as Myron McAfee scored on a 15-yard touchdown run on a sweep, but the Cougars' LAWRENCE DICKENS returned the ensuing kickoff 43 yards down to the Canyon 42, getting nice blocking along the way from teammate WILLIE FAIR.
However, Steele Canyon 's drive would stall.
Canyon scored its second touchdown with 30 seconds to go in the first half.
Steele Canyon junior RILEY JONES recorded a sack in the third quarter.
MACKEY BOWERS caught two passes for 37 yards, while MARKELL LINDLEY rushed for 40 yards on 11 carries for Steele Canyon.
Safety SEAN McCARTHY anchored the Steele Canyon defense with 13 tackles.
"Sean and Willie Fair were all over the field," said Longerbone.
On the opposite of the ball Longerbone was please with the blocking of offensive lineman ANTHONY HERNANDEZ and LOGAN STATLEY.
Steele Canyon finished with 160 total yards.
"That's hardly enough to beat a team of Canyon Country's caliber," Longerbone noted.
---
Junior Varsity

Freshmen

WEEK SIX
Grossmont 29, San Diego HS 16
El Capitan 16, Granite Hills 8
Steele Canyon 24, Canyon Country-Canyon 6
WEEK SIX
Santana 28, Mar Vista 12
Granite Hills 32, El Capitan14
Grossmont 34, San Diego HS 16
Monte Vista 20, Patrick Henry 14
GVL
El Capitan 5-1
Santana 1-4
ECVHS 0-1
Monte Vista 0-2 (2 missing)
Mount Miguel 0-5
GHL
West Hills 5-0
Steele Canyon 3-2
Valhalla 3-2
Granite Hills 2-3
Grossmont 2-3
Helix 2-2
Others
Christian 4-0 (2 missing)
GVL
Santana 6-0
Monte Vista 5-1
El Capitan 3-3
Mount Miguel 1-4
ECVHS unknown
GHL
Helix 4-0
Valhalla 3-1
Grossmont 3-2
Granite Hills 3-2
Steele Canyon 2-2
West Hills 0-4
---