WEEK FOUR


Forget about this great fingertip reception by Scott Root (28) of El Capitan.
Check out the hot chopper behind the appropriately named Harley Hoyt (6).
(Photo by Don DeMars Photography)
Steele Canyon rallies past Vista

© East County Sports.com
VISTA (9-21-13) — Steele Canyon High coach SCOTT LONGERBONE might argue that his Cougars (2-2) are challenged by the toughest schedule in the San Diego Section

If it isn't, it's close.

MARKELL LINDLEY rushed for two second-half touchdowns and XAVIER GOODLOE returned a blocked field goal for an 87-yard score in the first half, as the visiting Cougars (2-2) handed RBV (3-1) its first loss 27-23.

With just seconds left in the second quarter, the Longhorns were attempting a 25-yard field goal when the Cougars' WILLIE FAIR rushed past the right side of the line and slid easily into the backfield to dive and block the kick. The ball bounced nearly 10 feet in the air, and Goodloe grabbed it with one hand and raced the length of the field for a touchdown, as the game was tied 7-7 at intermission.

Rancho Buena Vista opened the scoring on a punt return by Chad Woolsey for an 80-yard score.

In the third quarter, LAWRENCE DICKENS ran around right end for an 87-yard score to give the Cougars the lead. Dickens had lined up in the left slot, took the handoff and got blocks from the pulling left-side linemen CHANDLER ROGERS and SPENCER SNIPES. He juked an RBV defender to the ground and the 20 and went untouched for the long score.

"It was a perfect counter play," said Steele Canyon coach SCOTT LONGERBONE.

Rancho Buena Vista tied the game on a touchdown pass from Dylan Harris to Tre Baird for a 30-yard score early in the fourth quarter. The Longhorns had a chance to go ahead, but missed a 25-yard field goal.

Lindley, however would have more to say. He had a 64-yard run down to the RBV 2, before running in for the go-ahead score from there. However, the Cougars would miss the PAT.

Rancho Buena Vista answered with a 7-play, 58-yard drive, as Woolsey gave the Longhorns the lead with a 1-yard TD, as their conversion put them ahead by one with 3:16 left.

Dickens made his presence felt on the ensuing kickoff, returning the ball 79 yards inside the RBV 20. Lindley scored from the 1 with 2:04 left, giving the Cougars a 27-21 advantage.

Rancho Buena Vista put a late comeback effort in play when it returned the kickoff 58 yards, but senior defensive back ALEX WILEY intercepted a deep pass in double coverage inside the Cougar 5 to thwart the drive.

The Longhorns got one last-chance series after a kick following a safety, but JOSEPH ALSHEIKH chased down the quarterback for a fourth-down sack to finish the game.

The Cougars' defense also made a big fourth-down stop at midfield in the first half, but they saved their best for the last two series as defenders PEYTON SCHIRMAN, MARVIN CALDWELL, SEAN MCCARTHY, RILEY JONES and JEBARI GAUSE-BROWN helped stop the Longhorns' last-ditch effort.

Lindley finished with 181 yards – 168 of them in the second half – on 16 carries.
Rising Eagles are having a Bis-ball

By Bill Dickens
© East County Sports.com
EL CAJON –It was a dismal season for Granite Hills High a year ago when the Eagles staggered to a 1-9 finish. The Eagles are off to a 3-1 start this season, including a 51-29 victory over El Centro-Central on Friday night (Sept. 20) in Valley Stadium.

JESSE BISBAL scored 5 touchdowns to lead the Eagles' stampede. He rushed for 125 yards on 18 carries for three scores, and caught 2 passes for 91 yards for two more tallies.

"You know basically I'm kind of selfish," Bisbal said. "I'm asking for the ball every time I can get it. Of course I'm not foolish enough to think my offensive line doesn't pave the way."

"We have 34 seniors returning and we're excited for our coach," Bisball added. "We think this will be our time."

A week ago Bisbal rushed for 252 yards so this is definitely his year.

"I might have had 6 touchdowns tonight but we ran a quarterback wedge," he said, "and CHRIS MEREDITH carried it across. But I can't complain because it's a lot better feeling to have the record we have now than the record we had last year."

In addition to Bisbal running wild, Eagles quarterback Meredith completed 8 of 11 passes for 232 yards and 3 touchdowns.

Kickoff return specialist BLAKE DeHAVEN has scored in about every way you can. He hauled in a 62-yard touchdown pass against Central Union, but his specialty is returning kickoffs. The Spartans realized that and did not kick the ball his way.

DeHaven accounted for 130 all-purposeyards and scored on a 62-yard pass play on his way to the endzone.

"You know, we're just coming together as a team," DeHaven said. "We have a lot more experience than we had last year and we plan to take advantage of it."

HELIX 42, MOUNT MIGUEL 19 – No question Helix was angry when the Highlanders were picked as 7-point underdogs to Spring Valley rival Mount Miguel in Friday night's (Sept. 20) battle for the Claymore Sword.

The symbolic trophy between these two schools for decades has rested in the Highlanders' library – for 40 of the last 56 years, including 24 of the last 25 with tonight's victory.

The Highlanders snapped a 7-7 tie to take a 42-7 lead in the fourth quarter.

Sophomore quarterback MICHAEL AUSTIN completed 11 of 13 passes for 205 yards and 2 touchdowns as the Highlanders improved to 3-1.

Asked what he thought about being tabbed an "underdog," Austin shrugged his shoulders and said, "It cut a little deep but we knew we had the skills to overcome whatever they had to offer."

Helix started fast when Mount Miguel fumbled at the Helix 1-yard line. Austin picked up the miscue and punched it into the endzone for a 7-0 lead.

Mount Miguel countered quickly on a 2-yard run by BEN LOMIBAO. But the Highlanders never threw in the towel as Austin threw a 20-yard scoring pass to DASHAWN KEIRSEY to give Helix a lead they would not lose.

The Highlanders kept the pressure on in the second quarter as AARON HARDIN reeled in a 15-yard scoring pass from Austin. After that it was a game of chase for Mount Miguel (2-2).

The issue was decided on the opening kickoff of the third quarter when "Mr. Touchdown" – JALEN DAVIS – faked a reverse to ADRIAN PETTY at the goal line and returned a kickoff 99 yards for a touchdown.

As all of the teams in East County know, if Davis gets his hands on the ball – they're in trouble.

For good measure Davis also caught 3 passes for 55 yards and returned a punt for 13 yards.

Austin finished with 11 of 18 passes for 205 yards and 2 touchdowns.

"I'm really proud of our quarterback," said Helix coach TROY STARR. "He had ligament damage in his pinky of his throwing hand for the first three games and that's really hurt him. This is the first game that he's been healthy. We're still a work in progress but I like what I see."

What Starr liked most was Jalen Davis.

"He's electrifying," the coach said.

Mount Miguel quarterback BRAD MORENO completed 20 of 33 passes for 252 yards and a touchdown. RASHAD HARPER caught 9 balls for 135 yards and a TD.
Valhalla's John Todd (left) extends for the touchdown grab. Meanwhile,
El Capitan's Scott Root (28) rises above Harley Hoyt for the reception.
(Photos by Don DeMars Photography)
EL CAPITAN 49, VALHALLA 25 – Neither team got what it wanted Friday night (Sept. 20) when El Capitan visited Valhalla. The Vaqueros had steamrolled their first three opponents of the young season for the whopping combined score of 165-14. And, although it has been a few years since the Norsemen thumped the Lakesiders 70-7, that defeat still lingers in the halls of El Capitan.
Valhalla wanted to upset the talent-laden Vaqueros, but, as it turned out, the game was close....for a while. In the end, however, El Cap prevailed, 49-25.
Valhalla senior JOHN TODD caught the opening kickoff on the 10-yard line and raced to the Vaqueros' 31-yard line for a 59-yard kickoff return. Five plays later, senior quarterback DANIEL RODRIGUEZ tossed a center-screen pass to Todd, who maneuvered through traffic to the end zone for a 15-yard touchdown pass-catch. EAN HENDRICKSON split the uprights for a quick 7-0 lead, with 10 minutes left to play in the first quarter.
The Vaqueros roared right back as junior quarterback BRAD CAGLE was red-hot. After connecting with senior wide receiver DILLON RETTIG for a 29-yard gain to the Valhalla 35-yard line, he hit senior wide receiver SCOTT ROOT with another 29-yard gain, this time to the Norsemen 6-yard line.
With a first-and-goal, Valhalla sophomore CHRIS YOHE teamed up with sophomore J.J. MEIER and senior linebacker JACOB JENSON to stuff the runner for a 3-yard loss. Cagle then threw a center-screen pass to Root, who sprinted to the end zone for a quick touchdown. Junior placekicker TAKOTA CURO's PAT was true, knotting the score at 7-7, with 7:41 left to play in the initial period.
About two minutes later, Cagle hooked up with swift ISAIAH CAPOOCIA with a 48-yard TD pass. Once again, Curo (7-7 PAT) was accurate, giving the visitors their first lead, 14-7 in the first quarter. They never looked back, scoring twice more in the second quarter (Cagle 5-yard run and an 81-yard pass play between Cagle and Root), cruising to a 28-7 halftime lead).
The second half started out promising for the Norsemen when senior strong safety FABIAN YAKOU blocked an El Cap punt, driving the ball back through the end zone for a safety, inching the Norsemen closer, 29-9 only one and one-half minutes into the third quarter.
Valhalla made it interesting mid-way through the third period when Rodriguez threw a 7-yard fade pass to Todd deep in the end zone for a TD. The Norsemen added 2 more points after Todd successfully swept to the right side, making it 28-17 in the third quarter. Cagle and the El Cap offense quickly took over the game, however, by adding two more TDs – a 32-yard pass to Capoocia and a 70-yard strike to Root, hitting the trifecta (14 points scored in each of the first three quarters), to put the game away 42-17 after three periods.
Powerful runner D.J. SMITH added another Vaqueros touchdown early in the last stanza with a nifty 11-yard burst up the middle.
For Valhalla, Rodriguez scored on a 1-yard run and also scored a two point conversion with 7:58 left in the game, ending the scoring at 49-25.
Cagle had an extraordinary evening, completing 19 of 33 passes for 416 yards and 5 TDs. The Vaqueros also rushed for 101 yards on 31 attempts, amassing 512 yards of total offense. Root finished with 7 receptions for 233 yards and 3 touchdowns. Capoocia caught 5 passes for 213 yards and 2 touchdowns. Rettig also caught 5 passes for 45 yards.
For Valhalla, Rodriguez was 19-35-3 passing for 228 yards and 2 TDs.
WEST HILLS 23, SERRA 0 – Head coaches TAY SNEDDON of West Hills and Brian Basteyns of Serra are close friends. They get together whenever their busy schedules allow, and they talk on the phone at least once or twice a week when hectic schedules don't allow face-to-face.
One has wonder how odd their next conversation will be.
Both are cordial folks, so Sneddon probably won't rub in the fact that his defense completely dominated Basteyns' offense on Friday night (Sept. 20), limiting the Conquistadors to zero points, 55 total yards and five first downs. Both are classy types, too, so Basteyns probably won't make excuses for fielding a lineup devoid of nine projected starters.
But the fact remains: West Hills delivered a 23-0 whupping on the Conquistadors to move to 4-0 for the second time in as many years. The score may not indicate such, but this was a spanking on the Smurf Turf.
After a sloppy and lackluster start, the Wolf Pack scored on four of their next five possessions to seal their fifth win against the Q's in their last six meetings.
"Defense was awesome, as usual" said Sneddon, in his third year at the helm at West Hills. "And we're finally starting to get some life from our offense."
E.J. GARCIA led a host of defensive stalwarts for the Pack, posting three sacks for minus-32 yards as well as numerous other big hits on the depleted Q's.
D.J. LEWIS intercepted his fourth pass of the season, and RYDEN KERR added a sack as defending City League-champion Serra (2-2) netted only 11 yards rushing and 44 passing.
"Right now, at this time, we're not a very good football team," Basteyns said. "With the personnel we have, we should never get shut out. That's inexcusable.
"But give West Hills credit. They did a helluva job. They knew what they were doing, and we didn't have an answer for it."
West Hills finished with a respectable 153 yards rushing and 133 passing, despite committing numerous penalties.
NOAH YLAGAN rushed 17 times for 99 and a pair of 1-yard touchdown runs.
"O-line did a great job," Ylagan said. "They made holes where I wasn't getting touched for seven yards. That was nice."
JACOB SHAW added 46 yards on 11 carries. STEPHEN SCHINDLER was 8-of-16 passing for 74 yards with no interceptions. DANIEL McMANUS caught five of those passes for 49 yards.
"This is a good offense," Sneddon said, "when we don't make mistakes."
Because of those miscues, West Hills had only three first-half possessions, but the third one was a beauty. The Wolf Pack marched 67 yards in 14 plays, covering 5:32 and ending in Ylagan's first 1-yard TD to make it 7-0 with 0:45 left in the first half.
Oddly, and mainly because this was a defensive dogfight in the first half, a pair of back-to-back 1-yard runs were the offensive highlights of the first half. On the play before Ylagan's TD – and following three consecutive timeouts – Schindler made a nice second-effort to convert a fourth-and-inches QB sneak to give West Hills a first down at the 1-yard line.
As weird as it was to witness three straight timeouts before an obvious, short-range call, the first two touches of the second half were even stranger.
After intermission, Lewis accepted the kickoff and raced 70 yards along the West Hills sideline before being tackled at the 20-yard line.
Wait for it …
Apparently a West Hills player on the sideline got too excited and wanted a better view of the glorious return. In doing so, he stepped into the path of the side judge and was whistled for an illegal participation penalty. That brought the ball back to the West Hills 41-yard line, costing the Pack 39 yards of real estate.
Enter RAPHY CARR, a junior wide receiver who touched the ball only once in this tilt. In motion from the left, Carr took a handoff from behind Schindler, faked a run to his right and then pulled up to hoist a perfect pass to Lewis about 30 yards downfield. Lewis then glided, juked, and dove into the end zone for a 59-yard TD to make it 14-0.
Serra got its only first down of the second half on its next play, but then went three-and-out. West Hills then carded 13 plays, covering 73 yards and culminating in Ylagan's second 1-yard TD scamper to make it 20-0 (McManus' PAT attempt was blocked).
McManus, San Diego County's leader in field goals, booted his fifth of the season to finish the scoring with 6:35 left to play. His 18-yarder was a far-cry from the pair of 52-yarders he blasted in last week's 27-13 win over El Centro Central.
To better illustrate West Hills day on defense, consider Serra's drives in number of plays: 3, 9, 7, 1, 4, 3, 2, 3, and 2.
"Defense was phenomenal," Ylagan said. "They really stepped up tonight as they have all season."
West Hills will try to match last year's 5-0 start next Friday at El Capitan (4-0), but to do so the Pack must eliminate the yellow hankies flying their way. A season-long epidemic, West Hills was whistled for 11 penalties resulting in 101 yards. Further damaging, it lost an additional 66 yards stemming from those penalties.
"If we play that way against El Cap, it's going to be a long bus ride home," Sneddon told his troops after the game. "Still a long way to go, but we're very happy to be 4-0."
Though this was West Hills first shutout, it has allowed only 26 points in a 4-0 start.
"It's a great feeling, but we expect it," Ylagan said. "The next game against El Cap is going to be huge."
— Jim Lindgren
CHRISTIAN 35, ONTARIO CHRISTIAN 13 – The Patriots improved to 4-0 with the road win over the Knights in San Bernardino County.
MICHAEL CARRILLO hit KAI ARVAN with an 80-yard touchdown pass in the first half. Carrillo connected with the wideout in stride at the 30, and he outraced his defender for the score.
Later in the first half, Carrillo hit receiver NICK SEXTON on a third-and-4 at the Ontario Christian 23 with a screen pass. Sexton took a step back to receive the quick aerial at the 25. Arvin, the outside receiver, blocked his defender and Sexton ran past his man before breaking an attempted tackle at the 8-yard line to go in for the score.
ZANE COFFMAN had an 8-yard touchdown run and a 33-yard touchdown run before halftime for the Patriots, as the offensive front – CHAD HUMPHRIES, LAITHE ISENMANN, DAVID SUDA, PAUL LIEMGRUBER, SEBASTIAN SWIFT and OWEN ADAIR – had a big night opening holes for Coffman.
"I'm not afraid to say this is one of my best teams," Christian coach MATT OLIVER said. "Now we have to prove it."
El Cajon Valley Braves
Most Points, Game (21st Century)
Pts

Opponent

Date

63*
54
51
48
48
48
48
42
42
41
40

vs. El Centro-Southwest
vs. San Ysidro
vs. San Ysidro
at Montgomery
at Kearny
vs. Kearny
vs. Sweetwater
at West Hills
vs. Santana
at Sweetwater
vs. Montgomery

9-19-08
9-12-08
9-20-13
9-9-05
9-16-05
9-15-06
8-31-12
10-21-05
11-12-09
9-1-06
9-4-09
*school record

EL CAJON VALLEY 51, SAN YSIDRO 34 – The Braves got their first win of the season Friday night (Sept. 20) as they crushed the San Ysidro Cougars for the second straight year.

The Braves' Mr. Everything MATHEW SHEARIN had a 15-yard touchdown run in the first quarter on a rush to the left side for a 7-0 lead, as linemen MINAHS SHAMOON and CUAUHTEMAC GUTIERREZ had their way with the San Ysidro defensive front for most of the evening.

The Braves were up 14-0 before San Ysidro would get on the board when Cougars quarterback Alan Godoy scored on a keeper. A two-point conversion made it 14-8.

Shearin had a 50-yard touchdown run in the fourth quarter behind exceptional blocking by CIRWAN SALIH. Shearin ran between the remaining defenders in the secondary to make it 43-26.

El Cajon Valley quarterback ALAN MICHAEL HARRIS added a touchdown run on an 17-yard keeper, as he faked a handoff and took off for the left side, picking up the key block from RAYMOND ORTIZ to cruise into the end zone.

"We played a great game," said El Cajon Valley coach NORMAN WHITEHEAD. "We ran ball well."

The Braves have scored 83 points against San Ysidro in the last two meetings with the Cougars.The 51 markers is the third=highest by El Cajon Valley, which set the school record of 63 against El Centro Southwest in 2008.

MONTE VISTA 35, SWEETWATER 3 – The visiting Monarchs were fired up from the start Friday night (Sept. 20) at Hilltop High.

"We need to play tough on defense and create turnovers to win this contest," stated Monte Vista coach RON HAMAMOTO. "This will definitely be a quick paced game."

Coach Hamamoto definitely hit the nail on the head as this Division 4 contest was completed in under two hours.

The Monte Vista defense established itself on the first Sweetwater drive, creating their first three-and-out stand.

On the first offensive play from scrimmage just two minutes into the game,
Monarchs running back LEE WADE slipped through the cracks,starting in the right slot, got the inside handoff and rushed 58 yards off left tackle, getting a series of clearing blocks from ANTONIO BUSTOS, ERIC COLLINS and No. 11 (name not available) to make an easy thoroughfare down the left side of the field to the end zone. A bonus 2-point conversion added by running back JEMEIL JACKSON left the early score at 8-0.

The Monarch defensive unit looked like the Steel Curtain, led by linebacker JONATHAN ARCHIBALD and defensive back BRANDON PHATSENHANN, plus two of three fumbles recovered by linebacker ISAIAH FARR.

The Monarchs would score two more times before intermission with a commanding 20-3 lead. Their next score came on a direct snap, as fullback Collins took the ball behind blockers JONATHAN TARIPE and No. 89 (name not available), and rumbled 21 yards for the score.

Wade added another long touchdown run, this time from 74 yards away. Wade came out of his usual slot position, this time on the left side. The snap was poor, but Monarchs quarterback THOMAS WALKER made a nice recovery in time to give it to Wade perfectly, as ALEJANDRO CHAVEZ cleared the way this time, as the Red Devils had trouble stopping the winged ground attack.

Because of deferring the coin toss, would get the ball yet again to start the second half.

The second half was no different as the Monarchs would continue to roll with the ground attack, posting 14 more points on the board before the end of the third quarter, leaving the lopsided score 34-3 in favor of the visitors with Wade scoring again on a 4-yard run and Jackson running for 55 yards to paydirt.

The score would stand as the 4th quarter became 12 minutes of a running clock behind a stingy defense, and resulting in a major pummeling of the Sweetwater Red Devils.

"This one is definitely a confidence builder," exclaimed Hammamoto. "Our defense really stepped it up, and it was nice to beat a Division 4 team."

Other notables were the Monarch offense, which finished with an impressive 34 carries for 417 yards. Leading the way was Wade with 8 carries for 177 yards and three touchdowns, and his cohort, the elusive Jackson who finished with 14 carries for 118 yards and a touchdown.

— Dave Dickens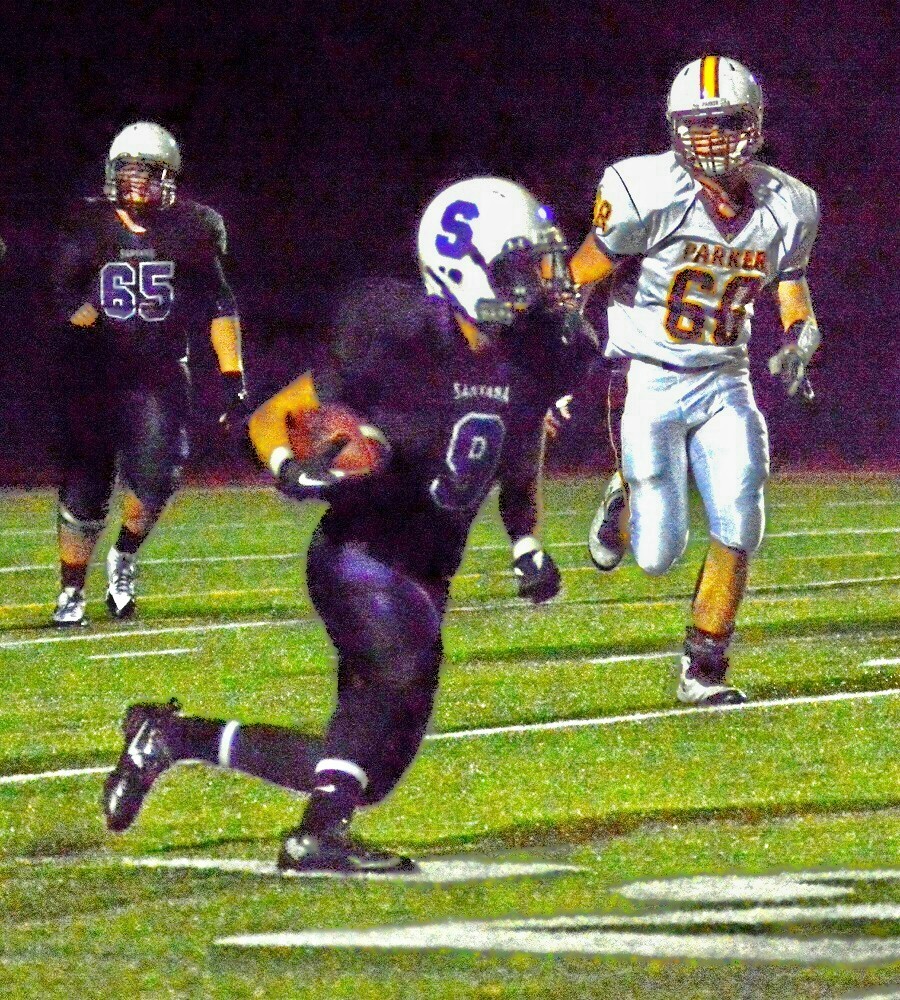 Santana ball-carrier Tanner Weiss
(Photo by Ramon Scott)
FRANCIS PARKER 52, SANTANA 13 – In the new San Diego section playoff format both teams are in Division 3 despite a huge difference in the two schools' enrollment.
You would think the much bigger school would be entering Friday night's (Sept. 20) game undefeated – while the small school was winless. But it was the exact opposite and even a full moon in the background couldn't produce a weird or unexpected outcome.
It didn't take long for those in attendance to realize exactly how this game would end. After 12 offensive plays, the Lancers had already scored four touchdowns and left Santana defenders running in circles all night.
"It seems like we can always put together two or three good quarters," said Sultans head coach TIM ESTES. "We are just really struggling to play a complete game."
The Sultans picked the wrong part of the game to hit the snooze button, as they fell behind 28-0 early in the second quarter, after Parker had only run 12 offensive plays.
Quarterback FRANKIE GUTIERREZ (13-18, 153 yards) and running back ZACH LEWIS (23–165, 1 TD) each posted great stats, but the Parker offense was so dynamic that the Sultans' longest scoring drive lasted all of five plays.
WILL PETTY hauled in Gutierrez's lone touchdown of the night, late in the fourth quarter with a 32-yard smooth scoring strike over the middle.
LUTHERAN 33, FOOTHILLS CHRISTIAN 6 – Small-division schools, which rarely field rosters of more than 30 players really feel the pain when key performers are missing. But when the opponent also makes a key addition, it can make for a long night.
For the Knights, both occurred during Friday's (Sept. 20) Citrus League opener at Seau Field.
Lutheran saw the season debut of running back Nick Taylor, who rushed 19 times for 110 yards and a pair of first-half touchdowns, helping the visitors race to a 26-6 halftime lead.
Without any videotape of Taylor, Foothills Christian needed a half to finally find a way to slow down the sophomore, who posted 95 of his yards before the intermission.
"I was out due to an (undisclosed) injury," said Taylor, a sophomore. "We ran the ball well thanks to our blockers, so we just want to keep doing the same thing and play hard every day."
Meanwhile, the hosts were without a pair of upperclassmen on defense who were out of the state, forcing a series of inexperienced freshmen to fill in. Their growing pains allowed Lutheran to keep control of the football.
However, two quick Foothills Christian turnovers made it an uphill battle early on.
After Lutheran recovered a fumble, they needed just two plays to cover 53 yards, the final 49 on a TD pass to James Watts.
The fumble occurred immediately after Foothills saw a 52-yard TD pass from CALEB HOFFMAN to ALEX CLAYTON get erased due to offensive pass interference – FCHS argued that both players pushed off so no foul should've been flagged.
On Foothills' very next play from scrimmage, Lutheran's Maurice McFalls registered an interception. The 55-yard runback set-up a 5-yard TD sweep by Taylor on the ensuing play, giving Lutheran two touchdowns over a 36-second span.
Taylor added his second score on the opening play of the second quarter – a 3-yard gallop – for a 20-0 cushion.
"With Nick pounding the ball and our combo passing package, the offense just worked tonight," noted Lutheran junior quarterback Noah Henkell. "We also got some great plays on defense from (lineman) Toby Linehan and (lineman) Nathan Smith."
The Knights then warmed up. Hoffman scrambled to the right, threading his way around five defenders on a 60-yard scoring romp. A key downfield block by CONNER GEORGE sprang his quarterback to cover the final 45 yards.
Hoffman finished with 169 rushing yards on 18 carries, despite being sacked three times.
"Their quarterback (Hoffman) was amazing," added Taylor. "We will need to really contain him if we play again in the playoffs."
Hoffman completed 6-of-19 passes for 39 yards, including a long of 16 to George. The other five receptions went to senior DAN ZASTOUPIL.
For Foothills (1-3 overall, 0-1 league), DANIEL HOFFMAN registered three solo tackles and a fumble recovery (forced by RILEY HART), while WYATT BASSON posted four tackles and an interception.
The contest marked the return of former Knights coach STEVE PERDUE, who is now an assistant for Lutheran (1-3, 0-1), which won its first game since returning to 11-man football.
Lutheran also saw Cheyenne Batteau (a girl) play extensively at right guard. However, freshman linebacker Mugan Blue has been declared temporarily ineligible by the CIF, as state rules prohibit 13-year olds from participating in varsity football, even though Lutheran coaches noted Blue is one of the ballclub's top performers. He is expected back in 2-3 weeks following his birthday.
— Nick Pellegrino
---
Junior Varsity

Freshmen

WEEK FOUR
West Hills 41, Serra 20
El Capitan 36, Valhalla 16
Christian 50, Ontario Christian 15
Helix 54, Mount Miguel 6
Graniye Hills 21, El Centro-Central 10
Santana 17, Francis Parker 0
Steele Canyon 38, Rancho BV 14
Only scores reported
WEEK FOUR
Valhalla 23, El Capitan 6
Vista 20, Steele Canyon 7
Santana 13, Grossmont 6
Helix 51, Mount Miguel 16
Monte Vista 26, Sweetwater 16
El Centro-Central 14, Granite Hills 12
Serra 20, West Hills 8
GVL
El Capitan 4-0
Santana 1-3
ECVHS 0-1 (3 missing)
Monte Vista 0-2 (2 missing)
Mount Miguel unkown
GHL
West Hills 4-0
Valhalla 2-2
Steele Canyon 2-2
Helix 1-2
Granite Hills 0-2
Grossmont 0-3
Others
Christian 4-0
GVL
Santana 4-0
Monte Vista 3-1
El Capitan 2-2
ECVHS 0-0 (plays league only)
Mount Miguel unkown
GHL
Helix 3-0
Valhalla 2-1
Grossmont 2-2
Steele Canyon 2-2
Granite Hills 1-2
West Hills 0-3

REPORT YOUR SCORES HERE
---