Local star Lee returns to face Brazil
SAN DIEGO – Granite Hills alum David Lee and the U.S. Men's National Team will take on world No. 1 ranked Brazil in a friendly USA Volleyball Cup match Aug. 25 at Jenny Craig Pavilion at the University of San Diego
Fans will have a chance to see 2008 Olympic gold medalist Lee in a homecoming of sorts, alone with three-time USA Volleyball Player of the Year Matt Anderson, 2014 World League MVP Taylor Sander and Lee's fellow 2008 Olympic gold medal winner Reid Priddy among the rest of the U.S. Men's Team as it prepares for the 2015 FIVB World Cup, the first chance to qualify for the 2016 Olympic Games.
"I am really excited for these matches against Brazil," U.S. Men's Head Coach John Speraw said. "Our teams have had a great rivalry over the years. I think we bring out the best in each other."
The four matches will take place at four Southern California university arenas. All matches will start at 7 p.m. PT.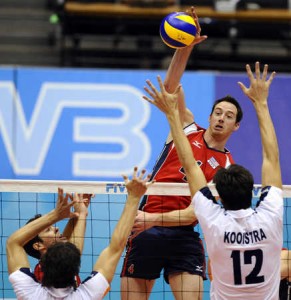 Use the code usav for a buy-one, get-one for 50 percent off offer on tickets for reserved seats.
Brazil is a hungry team after finishing second at the 2012 Olympic Games, the 2014 FIVB World League Final Round and the 2014 FIVB World Championship. As the host country of the 2016 Olympic Games, Brazil does not need to qualify and therefor will not compete in the 201 World Cup.
The U.S. Men are proving to be a very exciting team to watch in 2015 with the addition of talented new players Aaron Russell and Thomas Jaeschke to go along with the group that won the 2014 FIVB World League.