Griffins charge up to Pasadena to face Lancers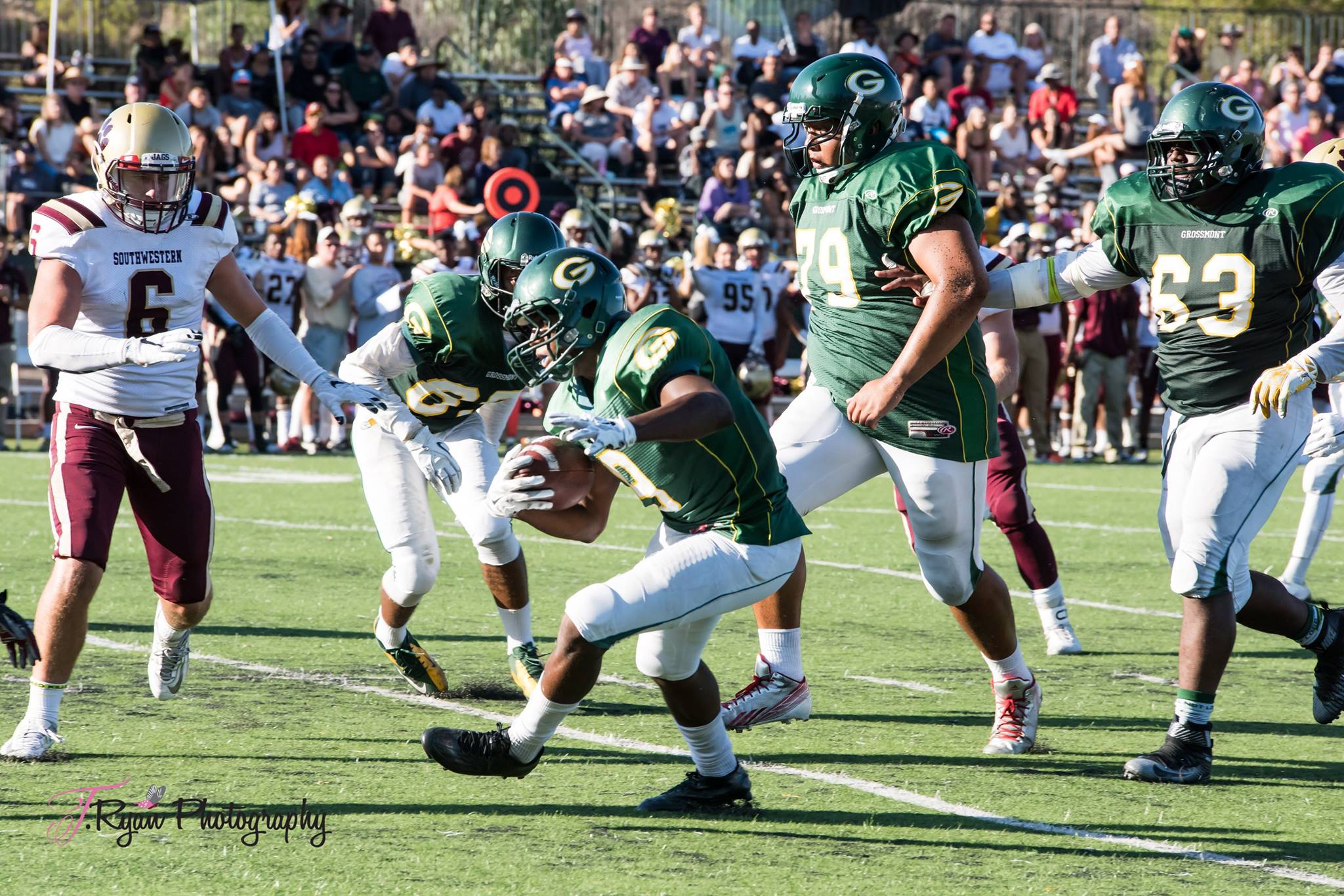 Grossmont WR Corey McKessen / TRyan Photography
2015 GROSSMONT COLLEGE FOOTBALL
By Bill Dickens
© East County Sports.com
PASADENA  (09-11-15) — Grossmont College will shoot for its second straight victory Saturday (Sept. 12) when they face off against the Pasadena College Lancers at 6 p.m.
The Griffins, who smothered Southwestern College 52-10 in last week's opener, displayed a balanced offense led by quarterbacks TOMMY PISTONE who was 14-24 for 220 yards and 2 touchdowns and MICHAEL CARRILLO who was 16-20 for 183 yards and a pair of touchdowns.
One of Pasadena's standouts that must be reckoned with is Raymond Lima, who created four sacks.
National Southern Conference Player of the Week SERGIO BAILEY reeled in 5 passes for 67 yards and 2 touchdowns against the Jaguars.
Thirteen Griffins caught passes from Grossmont's two quarterbacks. Nine Griffins took handoffs in the rout over Southwestern with NEHEMIAH BROWN leading the parade with 56 yards on 8 carries.
Pasadena quarterback Jett Even completed 32 of 58 passes for 280 yards and a touchdown. The Lancers had four receivers catch five or more passes.
The secondary is one of Grossmont's strengths, so the Griffins should be able to nullify Pasadena's aerial game.
Griffin Graffiti – Grossmont defeated Pasadena 17-14 last year but the Lancers lead the all-time series 6-3 . . . The Griffins will arrive at Jackie Robinson Stadium with a defense which should surely challenge the Lancers, who dropped their season opener 31-23 to El Camino. The Lancers garnered just 4 net yards . . . On the flip side Grossmont rushed for 159 yards in a 52-10 win over Southwestern . . . Pasadena head coach Thom Kaumeyer, who was looking for an assistant football coaching job at Grossmont College, accepted the pinnacle post at Pasadena. He brings with him impressive credentials, having coached in the NFL, University of Oregon and professional football in Japan. He was a sixth round draft choice out of Oregon and had a brief career with Seattle and the New York Giants. Kaumeyer has been called a "defensive guru" by his teammates up the ladder.