Griffins hand Pasadena first home shutout in 21 years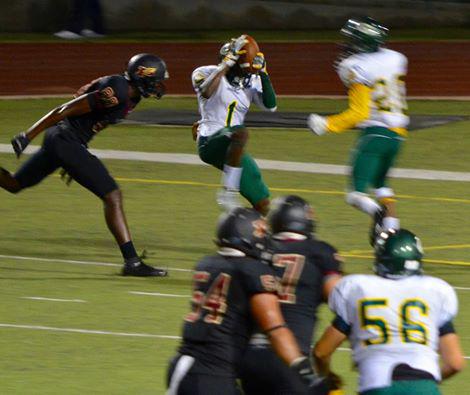 Maurice Carnell IV intercepts a pass against Pasadena on Saturday night

2015 GROSSMONT COLLEGE FOOTBALL
By Bill Dickens
© East County Sports.com
PASADENA  (09-13-15) — After opening the season with back-to-back routs, Grossmont College is averaging 51.5 points per game. On the flip side the Griffins have surrendered only one touchdown and 10 points total.
The Griffins amassed 550 yards in total offense, including 344 on the ground as they pounded Pasadena City College, 51-0 on Saturday night (Sept. 12) at Jackie Robinson Field.
"We're progressing a little bit," said Grossmont coach MIKE JORDAN, who's Griffins opened the season with a 52-10 victory over Southwestern last week.  
Against Pasadena, Grossmont broke off long scoring TD runs of 75 yards by THOMAS McDONALD early in the third quarter, and 80 yards by NEHEMIAH BROWN with 17 seconds left in that period.
"We were able to break off some long plays," Jordan said, "and that definitely turned the game in our favor."
Grossmont led 23-0 at halftime and 44-0 after three periods.
McDonald averaged 19.6 yards on eight carries and finished with 157 yards to lead the Griffins' ground game. Brown also came up big, averaging 20.8 yards on four carries for 83 yards.
Griffins quarterbacks TOMMY PISTONE and MICHAEL CARRILLO combined to complete 20 of 33 passes for 206 yards, including touchdown strikes of 17 yards from Pistone to CHRISTIAN BROOKS and 25 yards from Carrillo to JALEN LAKE.
"Both of our quarterbacks threw well," Jordan noted. "It's nice to have two good quarterbacks."
Brooks reeled in 6 passes for 94 yards, and CORY McKESSEN snagged 3 for 29 yards. Ten Griffins caught passes in the contest.
Grossmont took command on back-to-back TD runs of 5 and 14 yards by running back JAMARCUS FEDERICK.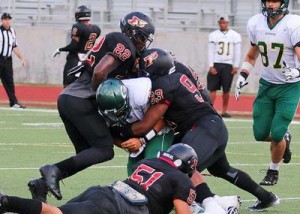 On defense, the Griffins sacked two Lancers quarterbacks 7 times, including 3 by NICK GALATIS, who totaled a game-high 11 tackles – 4 for losses.
Linebacker KALEB HARSTVEDT notched 9 tackles, while safety DEVAUGHN MURRAY logged 6 stops.
Defensive back ARMANDO SMITH accounted for the Griffins' first points by notching a tackle in the end zone for a safety.
"Our next eight games will be more of a challenge," admitted Jordan.
That begins next weekend at Riverside. The Griffins upset the Tigers last year when Riverside was ranked No. 1 in the state.
"I'm sure they're gonna come after us," Jordan said.
SUMMARY
Grossmont vs. Pasadena CC at Pasadena City Coll.
9/12/2015 at 6 pm

Grossmont

 


51

Pasadena

 


0
SCORING
1
2
3
4
FINAL
Grossmont (2-0)
9
 14
 21
 7
 51
Pasadena (0-2)
0
 0
 0
 0
 0
Pasadena City Coll. | Robinson Stadium
PRD
TIME
SCORING SUMMARY
GROSSMONT – PASADENA
1
04:58
Grossmont – Team safety
2 – 0
1
02:14
Grossmont – J. Federick 5 yd run. (Jordan Reece kick is good).
Drive: 6 plays, 61 yards in 2:43.
9 – 0
2
06:59
Grossmont – J. Federick 14 yd run. (Jordan Reece kick is good).
Drive: 3 plays, 56 yards in 1:02.
16 – 0
2
01:08
Grossmont – C. Brooks 17 yd pass from Tommy Pistone. (Jordan Reece kick is good).
Drive: 5 plays, 76 yards in 0:53.
23 – 0
3
14:42
Grossmont – Thomas McDonald 75 yd run. (Jordan Reece kick is good).
Drive: 1 plays, 75 yards in 0:11.
30 – 0
3
06:19
Grossmont – Jalen Lake 25 yd pass from M. Carrillo. (Jordan Reece kick is good).
Drive: 4 plays, 43 yards in 2:01.
37 – 0
3
00:17
Grossmont – Nehemiah Brown 80 yd run. (Jordan Reece kick is good).
Drive: 1 plays, 80 yards in 0:11.
44 – 0
4
09:23
Grossmont – Paul Gooden 33 yd punt return for TD. (Jordan Reece kick is good).
51 – 0
GROSSMONT
STATISTICS
PASADENA
20
FIRST DOWNS
16
6
11
3
Passing
Rushing
Penalty
7
5
4
0% (0 of 14)
THIRD DOWN EFFICIENCY
13% (2 of 16)
67% (2 of 3)
FOURTH DOWN EFFICIENCY
0% (0 of 1)
550
TOTAL OFFENSE
175
68
8.1
Total Offensive Plays
Average gain per play
72
2.4
206
NET YARDS PASSING
139
20-33
6.2
4-12
1
Completions-Attempts
Net yards per pass play
Sacked: Number-Yards
Had intercepted
10-29
4.8
7-43
3
344
NET YARDS RUSHING
36
35
9.8
Rushing Attempts
Average gain per rush
43
0.8
7-270
PUNTS: Number-Yards
10-359
38.6
Average
35.9
88
TOTAL RETURN YARDS
156
5-69
2-11
3-8
Punt Returns: Number-Yards
Kickoff Returns: Number-Yards
Interception Returns: Number-Yards
2-1
7-145
1-10
13-132
PENALTIES: Number-Yards
8-61
3-1
FUMBLES: Number-Lost
3-2
7-43
SACKS: Number-Yards
4-12
3-8
INTERCEPTIONS: Number-Yards
1-10
30:50
TIME OF POSSESSION
29:10
Grossmont

Pasadena

| INTERCEPTION RETURNS | NO | YDS | AVG | LG | TD |
| --- | --- | --- | --- | --- | --- |
| Robert Morgan | 1 | 10 | 10.0 | 10 | 0 |
OTHER INFORMATION
Location: Pasadena City Coll.
Stadium: Robinson Stadium
Attendance: 325
Referee: Dave Garza
Umpire: A. Gutierrez
Head Linesman: Dan Kaminski
Line Judge: Gary Krause
Back Judge: John Thur
Field Judge: Ryan Castillo
Side Judge: Peter Enz
Scorekeeper: Chore/Lewis