Cougars' curtain curtails Otay Ranch in red zone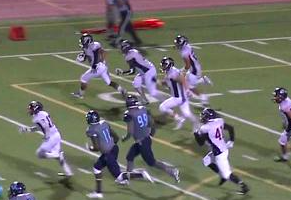 By Bill Dickens
© East County Sports.com
CHULA VISTA (9-26-15) — Steele Canyon flexed its defensive muscle in shutting down host Otay Ranch 17-6 in Friday's (Sept. 25) non-conference encounter.
This was a game of disappointment for the host Mustangs (0-5) as Steele Canyon punished them by stuffing them five times in the red zone without giving up a touchdown. 
"You had to like our defense in this game," noted Steele Canyon coach SCOTT LONGERBONE. "We came up with big plays all night."
In a mistake filled endeavor the Cougars took the lead 7-0 on a 2-yard scoring burst by MALCOLM ANDERS, which capped a 10-play 58-yard drive. So it looked like Steele Canyon (3-2) was going to cruise.
Not so. The Cougars had to rely on their defense to pull out the victory.
Steele Canyon was clinging to a 7-3 lead going into the third quarter. The Mustangs added a second field goal to put further pressure on the Cougars.
Twice the Cougars tried to counter-punch the long distance field goals but missed the first two – one for 48, one for 50 yards – before connecting on a 34-yarder by ALEXANDER RAYA.
The Cougars came up with big plays on defense. With 10 minutes left in the 4th quarter Otay Ranch attempted a pooch kick, which DAVIAN KONJA recovered for Steele Canyon with 9:53 left in the final period.
JAKE CITRINITI made six tackles, including recovering an onside kick.
WAYNE BARELA had 4 tackles and a sack for the Cougars, while NY JOHNSON had an interception, 4 tackles and had a hand on a blocked field goal.
"We've talked all week about grinding things out," said Johnson. "And we were able to do that tonight."
PIERRE ALEXANDER delivered the knockout punch with a 46-yard scoring burst over the right side to make it 14-6.
Alexander, who rushed for 65 yards on 6 carries, speaks in the third person ala: baseball's Ricky Henderson.
"Pierre Alexander is a good as his offensive line," Alexander said.
Longerbone couldn't say enough about his defense.
"Our defensive coordinator JESSE SPENCER did an excellent job of preparing our defense for this game," Longerbone said. "We made the key stops and we're looking ahead."