El Capitan gains forfeit victory over Mater Dei
Updated: September 28, 2015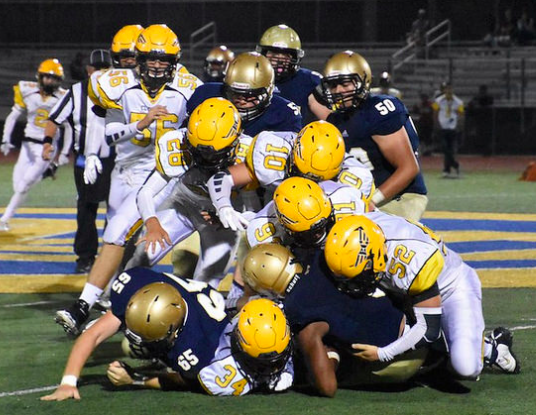 Photo courtesy iCrew Digital
2015 EAST COUNTY PREP FOOTBALL
By Bill Dickens
© East County Sports.com
LAKESIDE (9-28-15) — What began as a rugged start to the season for the El Capitan Vaqueros suddenly took a turn for the better this weekend. And the Vaqueros didn't even have to play, as the schedule called for a bye.
El Capitan was awarded a forfeit victory over Mater Dei Catholic as the Crusaders inadvertently played an ineligible player in the September 4th  non-league game in South Bay.
The Crusaders erased a 14-0 El Capitan lead on that night to finish with a 28-14 victory. The ruling by the San Diego CIF declared the game a forfeit, which enabled the Vaqueros to get credit for a victory.
Coupled with a 24-6 win over Patrick Henry a week ago, the Vaqueros find their record at 2-2 instead of 1-3.
El Capitan will venture to Granite Hills on Friday (Oct. 2) for a 7 p.m. non-league contest. It will be the Eagles' Homecoming.