This verse is the same as the last verse
Updated: October 12, 2015
By Chris Davis
© East County Sports.com
LA MESA (10-12-15) — The latest edition of the San Diego Union-Tribune Sportswriters/Sportscasters Prep football poll was released this morning and not much has changed from a week ago, let alone a month ago.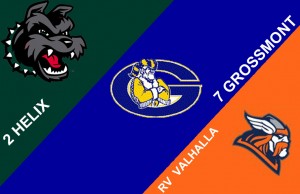 One item that has changed from last week is that HELIX lost two first place votes but kept the same point total as last week at 219 points.  Some 16 points behind number one Mission Hills who has been in the top perch for over a month.
GROSSMONT moved up three spots to a new season high for the Foothillers.  To make room for that move Rancho Bernardo, the one team that some coaches believe are over rated, dropped two spots to tenth.
VALHALLA moved up three points to a total of four points this week.  That is also a season high for the Norseman.
East County match-ups featuring teams that received votes are: 2 Helix will host MOUNT MIGUEL in the Claymore Game, STEELE CANYON will travel to 8 Grossmont for the Foothillers homecoming game and keeping with the homecoming theme… EL CAPITAN (a team that once held the eighth spot) will travel to Valhalla for their annual reunion game.
SAN DIEGO UNION-TRIBUNE SPORTSWRITERS/SPORTSCASTERS PREP FOOTBALL POLL
First-place votes in parenthesis
Rank/Team/Record/Points/Last Week
Mission Hills (20) / 6-0 / 235 / 1
Helix (4) / 4-1 / 219 / 2
St. Augustine / 4-2 / 191 / 4
La Costa Canyon / 5- 1/ 161 / 6
Westview / 6-0 / 123 / 7
Oceanside / 4-2 / 88 / 3
Grossmont / 6-0 / 79 / 10
El Camino / 5-1 / 77 / 5
Cathedral Catholic / 4-3/ 67 / 9
Rancho Bernardo / 4-2 / 31 / 8
Others receiving votes: Madison (14 points, 4-2), Mission Bay (13 points, 6-0), Mt. Carmel (8 points, 5-1), Bonita Vista (7 points, 4-2), San Marcos (4 points, 4-2), Valhalla (4 points, 5-1), Mater Dei Catholic (3 points, 5-1, includes forfeit loss).
24 sportswriters, sportscasters and CIF representatives from throughout the county vote in the weekly poll. This year's panel includes: John Maffei (San Diego Union-Tribune), Steve Brand, Terry Monahan, Don Norcross, Jim Lindgren, Tom Saxe and Rick Hoff San Diego Union-Tribune stringers), Michael Bower (Pomerado News), Bill Dickens and Chris Davis (EastCountySports.com), Steve Dolan (Mountain Country 107.9-FM), John Kentera, Ted Mendenhall and Bob Petinak (The Mighty 1090), Rick Willis and Brandon Stone (KUSI-TV),  Rick Smith (Partletonsports.com), Jerry Schniepp and John Labeta  (CIF San Diego Section office), Bodie DeSilva (sandiegopreps.com), Drew Smith (sdcoastalsports.com), Lisa Lane (San Diego Preps Insider), Raymond Brown (sdfootball.net), R. Pena, C. Smith and M. Allen (MBASports-SDFNL Magazine).