FEARLESS FORECASTER WEEK EIGHT
Updated: October 15, 2015
Granite Hills' Jacob Burton (9) / Photo by CSProPhoto
2015 FEARLESS FORECASTER


Week 8
By Bill Dickens
© East County Sports.com

SANTEE (10-15-15) — On paper few pollsters even recognize the fact that Granite Hills (5-1, 0-0) and West Hills (3-4, 1-0) will joust for the Grossmont Valley League title when these two opponents meet on Friday (Oct. 16) at 7 p.m.
"We've had the Granite Hills game (date) circled on our schedule before the season," said Wolf Pack coach CASEY ASH.
Both sides will no doubt be tuned in for possible league and playoff connotations.
West Hills has won 4 of the last 5 meetings with the Eagles escaping with a 28-27 victory in 2010. The game could be equally as close this time around.
West Hills' offense is all about quarterback SPENCER MOYER (83-183, 1025 yds, 11 TDs).
"We need to get him to move his feet, move out of the pocket," Eagles coach KELLAN COBBS said of Moyer. "We need to keep our rush on. We need to contain him."
If given time to throw the ball Moyer can deliver to receivers TAJ BROOMFIELD and TYLER SEPULVEDA.
Junior noseguard OSCAR MORALES is the kingpin of the West Hills defense.
The Granite Hills defense is still making plays, allowing only 5 touchdowns in 5 games.
The coverage unit for the Eagles consists of JACOB BURTON, RILEY REYES and KELLEN GAEIR. Burton has already committed to the University of Arizona. Reyes is being recruited by Cal Poly SLO, San Jose State and Sacramento State. Gaeir, who has high academic records, has attracted the attention of Columbia University and USD.
Although Granite Hills' offense has sputtered most of the season, JACOB SIEGFRIED will take the snaps at quarterback. THOMAS YOUMOG will spearhead the running game.
Give the nod to   . . . Granite Hills 27-17.
STEELE CANYON (3-3, 0-1) at *GROSSMONT (6-0, 1-0), 7 – The balloons, fireworks, floats and things that accompany Homecoming Kings and Queens will help the Grossmont Foothillers celebrate the 95th anniversary since the school opened.
"It's gonna be a good production for our school," admitted Grossmont football coach TOM KARLO. "We have a lot of spirit on our campus and our kids really get into the hype."
The fact that Grossmont is 6-0, 1-0 in the Grossmont Hills League only adds to the No. 7 ranked Foothillers' energy. 
"We have to learn how to hang onto the ball," said Karlo, whose crew committed 6 turnovers in a 26-0 win over El Capitan. "That was unusual for us. We've committed that many turnovers in our first five games."
Grossmont is loaded with offensive talent, including East County's top receiver KHALEED DAVIS with 33 catches for 607 yards and 9 TDs. Davis is the kingpin in the Foothillers' big play offense.
"El Cuatro (Davis, who wears jersey No. 4) can take a short pass and make it into a big play," said Steele Canyon coach SCOTT LONGERBONE.
"He's a big threat kid," Longerbone said of Grossmont's JAKE HARR. "He can be all over the field, including rushing and blocking, where he's really smart at picking up blitzes."
Steele Canyon committed 6 turnovers in their last game.
"By no means will we be able to get away with that against a quality team like Grossmont," Longerbone noted.
The hub of Steele Canyon's defense will be defensive end MIKEL OLIVER, middle linebacker AMIR HARRIS and defensive linemen CARTER KENNEDY and SEAN MILLER.
"We're gonna have our hands full," Longerbone said of Grossmont  . . . Grossmont 21-14.
EL CAPITAN (2-4, 0-1) at *VALHALLA (5-1, 1-0), 7 – When it comes to defense not many teams are more stingy than the Valhalla Norsemen.
This is a Grossmont Hills League unit that has allowed only 44 defensive points in six games, recorded 25 sacks (LOGAN BAKER 8), recovered 10 fumbles and intercepted 12 passes.
Arguably Valhalla could claim that it should be ranked in the Top 10. The Norsemen aren't even getting a sniff.
"That's okay, we'll just keep flying under the radar," said Valhalla coach CHARLES BUSSEY. "We're pretty proud of our defense."
The longest scoring play Valhalla has allowed was a 31-yard burst by Otay Ranch in the opening game of the season.
"The thing about our defense is we're playing together in the scheme," Bussey noted.
The Norsemen's defensive wall consists of DANIEL BENDER, CHRIS YOHE and JOSH McNISH-HEIDER.
The linebacking corps is equally as skilled, anchored by the BAKER boys (no relation) LOGAN and CADE, and LUCAS WALZ and TREY SCHIMKE.
The Valhalla secondary consists of JORDAN ELLIS, DANTE CARNESSALE and ANTHONY PORTILLO.
Versatile Ramona transfer BRENNON MURPHY – running back and defensive lineman – should give the Vaqueros a lift.
El Capitan coach RON BURNER, who notes that he's missing five starters, looks forward to Murphy and his defense, along with linebackers CHANCE COLSON, JOSH BENSON, OSCAR VALENZUELA and DYLAN HELMHOLZ.
Burner said that his team has suffered two shutouts this season and his teams were blanked only one time in his 11 year tenure.
"It's been pretty frustrating," said Burner . . . Valhalla 28-8.
MOUNT MIGUEL (3-3, 0-1) at HELIX (4-1, 1-0), 7 – The Helix Highlanders and the Mount Miguel Matadors have been battling for the Claymore Sword – the symbolic trophy that goes to the winner of this historic exchange – ever since Mount Miguel opened its doors in 1957.
The Claymore Sword, which currently resides in the Helix High Library, has remained in that location for 24 of the last 25 years. Overall Helix holds a 45-16 advantage for keeping a grip on the trophy.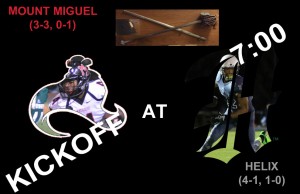 The last time Mount Miguel brought it to the Spring Valley campus was Friday the 13th in November, 2009 following a 44-21 victory for the Matadors under then-coach TOM KARLO, who is now the head man of the Grossmont Foothillers.
No. 2 ranked Helix is hardly concerned about Friday night's (Oct. 16) Grossmont Hills League challenge this year, although to listen to Helix coach TROY STARR, all Highlanders' opponents are bigtime gladiators.
"What we have to do is try to get better every week," Starr said. "Probably the biggest thing we need to do is improve on our special teams."
Helix's top gun is speedy running back NATHEN STINSON, who has rushed for 689 yards and 15 touchdowns on 74 carries.
Highlanders quarterback MICHAEL AUSTIN has clicked on better than 65 percent of 89 passes for 794 yards and 7 touchdowns. Austin spreads the ball around the field to a host of receivers including SCOTTIE YOUNG (15-217, 1 TD).
Mount Miguel will turn to middle linebacker CAMERON HANSON, who chalked up 11 tackles last week against Valhalla.
Strong safety MIKE JONES is also a power to be reckoned with for the Matadors.
"Those guys have athletes all over the place," said Mount Miguel coach SHAUN McDADE. "We've talked about getting better but we don't focus on all that rivalry stuff."
The Highlanders figure to roll over the Matadors . . . Helix 37-7.
MONTE VISTA (2-5, 0-1) at *EL CAJON VALLEY (4-2, 0-1), 7 – The last two years Monte Vista has pummeled El Cajon Valley by a composite score of 103-7. But don't look for anything near that this time around when these two Grossmont Valley League foes collide Friday night (Oct. 16) to celebrate the Braves' Homecoming.
El Cajon Valley's NATE McCULLOUGH, East County's leading rusher with 1190 yards and 15 touchdowns on 118 carries, will be a headache for the Monte Vista defense. 
"Nate's been a great surprise for us," said Braves coach PARRIS PISIONA. "I think he's better than even he thought he could be."
One of the reasons McCullough has come out of the shadows as a senior is due to the fact that he got little to no playing time as a junior.
"We didn't even see him much on film because he rarely carried the ball," Pisiona said. "But he's definitely a good one, with great leverage, makes nice cuts, breaks tackles – and runs downhill."
Veteran Monte Vista coach RON HAMAMOTO recognizes quality talent when he sees it, and McCullough is definitely worth watching.
"He's one of the better backs we'll play this year," Hamamoto said. "He really makes an impact, and our young defense has struggled to stop the run all year."
"We have two offensive packages," Pisiona said, referring to the SMITH brothers, CHARLES and TYSON.
Charles Smith will get the start at quarterback for El Cajon Valley against Monte Vista.
Hamamoto has noted the improvement of sophomore quarterback DENNIS DAHLIN (19-46, 376 yds, 3 TDs). Running back JACCOB JARDIM has improved after an early season injury and should help bolster the Monarchs running game.
Do-it-all TRE OWENS should make his presence felt for the Monarchs as a running back and wide receiver.
Another key factor in this game is it matches two Division 4 playoff contenders, and that should provide more incentive, but give the nod to  . . . El Cajon Valley 20-14.
SERRA (0-6, 0-1) at *CHRISTIAN (4-2, 1-0) at Granite Hills, 7 – Christian High will celebrate its 50 Anniversary with its annual Homecoming on Friday (Oct. 16) at Valley Stadium.
"Our administration and students put on a pretty good show at Homecoming," said athletic director and offensive coordinator DAVID BEEZER.
The festivities include an alumni barbeque at Granite Hills at 4:30 p.m. and a huge after-game party.
"The main thing with all the hoopla is we need to stay focused on football," said Beezer, who's Patriots will entertain winless Serra in a City League game.
The Patriots appear to be as close to full strength as they've been in recent weeks. Inside linebacker-guard NATE CAZARES, who dedicated last week's victory over Patrick Henry to his ill friend and teammate, JASON LYON, recorded 12 tackles, including 6 for losses.
"He told everybody that this was gonna be a tribute to Jason, and he played accordingly," Beezer recalled. "That was the best game Nate's ever had."
This week's duel with Serra should be no contest . . . Christian 45-6.
CALIPATRIA (3-4, 0-1) at MOUNTAIN EMPIRE (2-5, 0-1), 6 – This could be the turning point of the season for these two teams as Mountain Empire hosts the Hornets in a Manzanita League game in the mountains at 6 p.m.
There's no secret to what Calipatria does, and that's run the ball – all night. The Hornets rely on the one-two ground punch of Zeke Fernandez (23-380, 6 TDs) and George Ruvalcaba (52-367, 6 TDs). Ruvalcaba has the only receiving touchdown on the team with 518 all-purpose yards.
Mountain Empire looks to JAMES WILL (121-906, 9 TDs) to carry the load. Quarterback VICTOR PARRA has completed 57 of 125 and 9 TDs. He has a deep threat in receiver ALEX TORRES (490-4 TDs).
One comparative score is both teams beat Lutheran, the Hornets rolling 56-20 and the Red Hawks squeaking by 33-26  . . . Calipatria 34-20.
SANTANA – Bye
Fearless Forecaster:
Season: 49-22 (.690)
Last week: 6-2 (.750)