Cougars stun generations of Hillers with latest of scores
Updated: October 17, 2015
By Jim Lindgren
© East County Sports.com
LA MESA (10-17-15) — It's safe to state that sophomore quarterback THOMAS FISHBURNE has never been a part of such a wild game. Given his youth, it's even safer to say that Fishburne has never been such a hero on the gridiron.
Yet there he was Friday night (Oct. 16) – with the clock ticking inside 10 seconds to play – calm, cool and collected in the pocket and then scrambling right to bide more time when he spotted PIERRE ALEXANDER open near the goal line.
Fishburne pointed toward Alexander and then set sail a perfect pass that Alexander grabbed at the 1-yard line and then back-dived into the end zone to give Steele Canyon a most improbable 39-36 victory over previously unbeaten and No. 7-ranked Grossmont.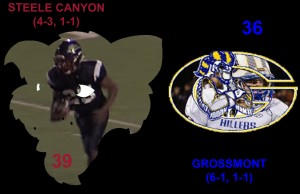 The winning 13-yard touchdown came with 7.2 seconds left and marked the seventh lead change in a crazy seesaw battle at Jack Mashin Stadium in which both sides at one point had 9-point leads. That Steele Canyon (4-3, 1-1 Grossmont Hills League) spoiled homecoming for Grossmont (6-1, 1-1) was merely icing on the cake for the Cougars.
"Well, did we make it exciting enough?" Cougars coach SCOTT LONGERBONE asked. "I'm amazingly proud of a real young football team. They kept their heads in the game all the way."
Grossmont had taken a 36-31 lead with 6:26 to play when HUNTER GAINES threw his fourth touchdown pass, a 30-yarder to KYLE PINEDA.
Steele Canyon tried to rally, getting a 16-yard completion from Fishburne to Alexander on a fourth-down play that put the Cougars on Grossmont's 34-yard line. But four plays later, Fishburne threw incomplete on another fourth-down attempt, and Grossmont got the ball back with 2:12 left.
A three-and-out possession took only a minute off the clock and Steele got the ball back at the Grossmont 47-yard line with 1:05 left. On fourth-and-6 from the 43, Fishburne connected with SEAN TODD for 19 yards and a first down.
Five plays later, Alexander was dancing in the end zone – twice, actually, after running in a 2-point conversion following his decisive TD.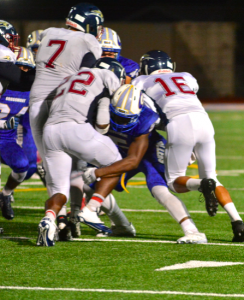 "It's definitely heartbreaking," Grossmont receiver KHALEED DAVIS said. "(One moment) you're happy, then you're sad. You're happy, then you're sad. A lot of up and down emotions. That was a tough game to lose."
After throwing for only 53 yards in the first half, Fishburne finished 15-of-34 for 207 yards and two touchdowns without an interception.
"Our sophomore quarterback really stepped up – twice during those last drives on fourth down," Longerbone said. "That was clutch.
"This game was back and forth. Back and forth. It was crazy. Credit them. They played well, too."
Gaines, a junior, threw for 240 yards and four touchdowns on 18-of-37 attempts without an interception.
Last week, both these teams had six turnovers. There was only one Friday, with the Cougars' COLTON LARCEVAL picking off DOMONIQUE GUEVARA on a halfback option pass.
Grossmont's JAKE HARR rushed 14 times for 123 yards, including an 80-yard sprint in the second quarter that led to a 15-yard TD pass from Gaines to Davis, who leaped high to pull in the catch while nestling his feet inbounds in the end zone. That gave Grossmont a 16-7 lead with 5:22 before halftime.
Steele Canyon used a nine-play drive and a 1-yard TD plunge by AMIR HARRIS to close to 16-14 with 0:16 to play in the half. Grossmont's BRIGHTON HORNBROOK had blocked a 39-yard field-goal attempt, but the Foothillers were whistled for a personal foul that gave the Cougars a first down at the 12-yard line.
Early in the third quarter, Steele Canyon went back on top 21-16. Grossmont got the second-half kickoff, but an incomplete pass on fourth down gave the Cougars possession at the 22-yard line. Next play, Fishburne tossed a short pass in the flat to Todd, who turned it into a TD at 11:13.
Grossmont's next play was an interception, but five plays later, Steele was forced to punt. Grossmont then drove 69 yards in nine plays and took a 22-21 lead when Gaines hit Pineda for an 11-yard score.
The Cougars re-took the lead 24-22 on their next drive. After a 35-yard kick return by CARRINGTON TRISBY, Steele drove 36 yards in eight plays, and ALEXANDER RAYA kicked a 39-yard field goal.
Two plays later, Grossmont fumbled, and WAYNE BARELA scooped it up at the 5-yard line and hustled into the end zone for a 31-22 lead.
Grossmont wasn't done, however. The Foothillers scored touchdowns on their next two possessions to re-assume the lead 36-31. The first score – a 4-yard keeper by Gaines early in the fourth quarter – capped an 11-play, 78-yard drive.
Steele Canyon ran off nine plays but was forced to punt, Grossmont getting the ball at their 23-yard line. A 30-yard pass from Gaines to Harr got things started, and another 30-yard pass from Gaines to Pineda went for a TD and another Grossmont lead change with 6:26 left.
All told, there were 12 scores in the game. 
The Cougars struck first, going 63 yards in eight plays on their first drive with Todd scoring on a 24-yard run. The Foothillers answered on their first drive, going 80 yards on 10 plays with Guevara scoring on a 10-yard pass from Gaines.
In the second quarter, Pineda kicked a 30-yard field goal, and Davis hauled in his 15-yard TD pass to give Grossmont a 16-7 lead. Harr began the 95-yard drive with an 80-yard run, Grossmont's 10th gain over 70 yards this season. Coming in, the Foothillers had scored 25 touchdowns with nearly half of them (11) coming from 50-plus yards.
"It's tough to compare Grossmont to anyone because of the scheme of their offense," Longerbone said. "They don't have a lot of holes. Their offensive and defensive lines are solid. They've got great skill guys.
"They're explosive. You don't see a lot of guys standing around. They're either engaged with someone or they're looking to engage someone."
Grossmont finished with 395 total yards and 18 first downs. Gaines' 240 passing yards included 186 in the second half. Pineda caught six passes for 78 yards and two TDs. Harr had five receptions for 52 yards, Guevara three for 63 and a TD and Davis two for 29 and a TD.
BRITTNAY HUFF was 3-for-3 on extra-point kicks, and she was selected Homecoming Queen during a fantastic halftime homecoming show.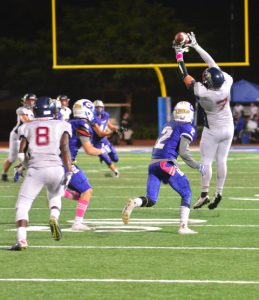 On defense, the Foothillers got two sacks from CHRISTOPHER LAETHEM and one each from OTTO TALATAINA and JOSE DOMINGUEZ. RAYMOND PERRAULT had three pass defenses, and MICHAEL MELERO made a huge tackle for an 18-yard loss on a bad snap of a punt attempt.
Steele Canyon totaled 283 yards and 23 first downs, including five on Grossmont penalties. Todd led all receivers with eight catches for 115 yards and a TD. Alexander had three catches for 36 yards and a TD.
In addition to Larceval's pick, the Cougars got a sack from JAKE CITRIMITTI and an offensive fumble recovery by DANIEL GOMEZ.
The day started early for Grossmont with a 5:30 a.m. pep rally. It ended after a 3-hour, 15-minute game.