Someone hit the jukebox, we've heard this song before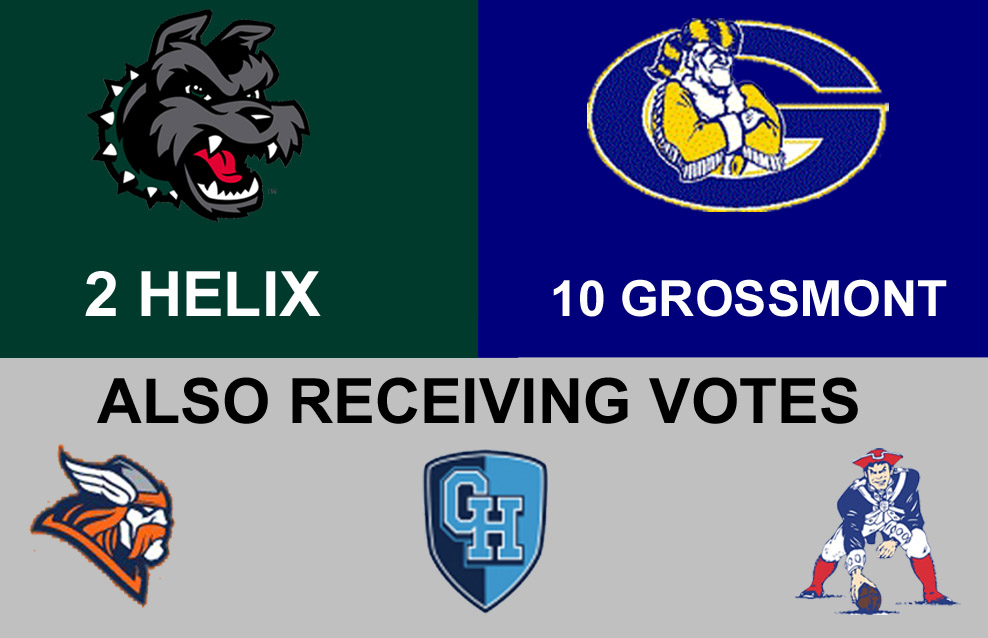 By Chris Davis
© East County Sports.com
SAN DIEGO (10-19-15) — The weekly San Diego Union-Tribune Sportswriters/ Sportscasters prep football poll is really starting to be the same song and dance week in and week out.  MISSION HILLS has been on top for the last eight weeks, four of the last five weeks the Grizzlies have had 20 of the 24 first place votes.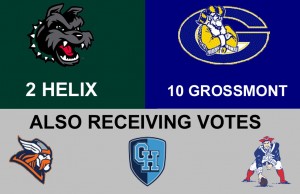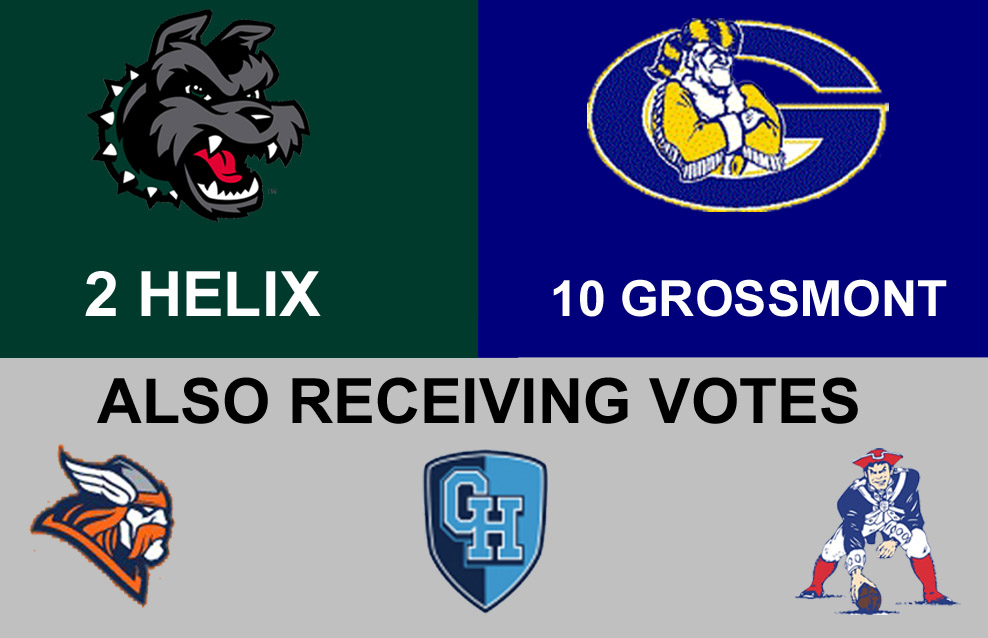 HELIX is once again second garnering the four remaining first place votes.  SAINT AUGUSTINE stayed in third place.  Moving up one spot was WESTVIEW to fourth.  The biggest gainer of the week was CATHEDRAL CATHOLIC who moved up four spots while having the bye week to fifth.
The second group of five schools is led by LA COSTA CANYON who lost on Friday leading to their two position drop.  RANCHO BERNARDO jumped up three spots to seventh.  Rejoining the top 10 after a four week absence is MADISON.  Rising into the top 10 for the first time this season is MISSION BAY at the ninth spot.  After their loss to STEELE CANYON on Friday, GROSSMONT drops from the seventh spot to tenth.
Other teams to receive votes in the weekly poll were: CARLSBAD, VALHALLA, BONITA VISTA, SAN MARCOS, EL CAMINO, OCEANSIDE (biggest drop of the week from sixth to the 17th most votes), GRANITE HILLS, POWAY.  Regaining their lone vote from a couple of weeks ago was CHRISTIAN.  Also, for the first time this season, and in recent memory, UNIVERSITY CITY garnered a vote.
Games with East County schools that are in the top 10 or receiving votes include a battle of two teams as 2 Helix travels to Rancho San Diego to take on RV Valhalla.  Also, 10 Grossmont travels to MOUNT MIGUEL, Monte Vista travels to RV Granite Hills and RV Christian travels to MORSE for a City League contest.
SAN DIEGO UNION-TRIBUNE SPORTSWRITERS/SPORTSCASTERS PREP FOOTBALL POLL
Rank/Team/Record/Points/Last Week
First-place votes in parenthesis
Mission Hills (20) / 7-0 / 235 / 1
Helix (4) / 5-1 / 219 / 2
St. Augustine / 5-2 / 193 / 3
Westview / 7-0 / 163 / 5
Cathedral Catholic / 4-3 / 101 / 9
La Costa Canyon / 5- 2 / 85 / 4
Rancho Bernardo / 5-2 / 75 / 10
Madison / 5-2 / 63 / NR
Mission Bay / 7-0 / 45 / NR
Grossmont / 6-1 / 28 / 7
Others receiving votes: Carlsbad (23 points, 4-3), Valhalla (20 points, 6-1),  Bonita Vista (14 points, 5-2), San Marcos (13 points, 5-2), Mater Dei Catholic (12 points, 6-1, includes forfeit loss), El Camino (11 points, 5-2), Oceanside (8 points, 4-3), Granite Hills (4 points, 6-1), Poway (3 points, 4-3), Christian (1 point, 5-2), University City (1 point, 6-1).
24 sportswriters, sportscasters and CIF representatives from throughout the county vote in the weekly poll. This year's panel includes: John Maffei (San Diego Union-Tribune), Steve Brand, Terry Monahan, Don Norcross, Jim Lindgren, Tom Saxe and Rick Hoff San Diego Union-Tribune stringers), Michael Bower (Pomerado News), Bill Dickens and Chris Davis (EastCountySports.com), Steve Dolan (Mountain Country 107.9-FM), John Kentera, Ted Mendenhall and Bob Petinak (The Mighty 1090), Rick Willis and Brandon Stone (KUSI-TV),  Rick Smith (Partletonsports.com), Jerry Schniepp and John Labeta  (CIF San Diego Section office), Bodie DeSilva (sandiegopreps.com), Drew Smith (sdcoastalsports.com), Lisa Lane (San Diego Preps Insider), Raymond Brown (sdfootball.net), R. Pena, C. Smith and M. Allen (MBASports-SDFNL Magazine).