Eagles' Youmog has room for 222 yards in win on Pack turf
Updated: October 17, 2015
By Bill Dickens
© East County Sports.com
SANTEE (10-17-15) — Granite Hills' THOMAS YOUMOG has hardly been recognized as a workhorse running back in the Eagles first six games. Yet his production has been impactive.
The 5-foot-8, 160-pound Youmog put together a career night in the Eagles' 20-14 victory over West Hills in Friday's (Oct. 16) Grossmont Valley League opener. Youmog slashed his way to a personal best of 222 yards and 2 touchdowns on 23 carries.
"You come out with butterflies in the first couple of carries," Youmog said. "But once you shake off the nerves you start to get into a rhythm. That's what I did, I got into a rhythm. I was riding my adrenaline before I got into my rhythm. Once you get clicking and the offensive line is able to follow suit, things seems to go smoothly."
Although Youmog was clearly the workhorse, Granite Hills quarterback JACOB SIEGFRIED proved he was a double threat for the Eagles (6-1, 1-0 GVL). Siegfried completed only 3 of 7 passes, but also rushed for 49 yards on 6 carries.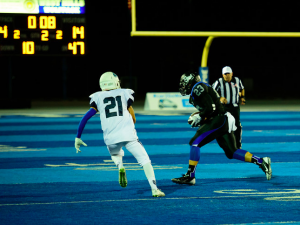 "We've played a lot of close games and we want to keep focus," he said. "We've had a lot of success with our QB Wedge, and our O-Line gives us plenty of push."
Granite Hills' JACOB BURTON, who has accepted a scholarship to the University of Arizona, proved his two-way skills. The 6-foot-6, 265-pounder celebrated his 18th birthday along with the victory.
"When we get behind we don't panic," said Burton who made six tackles. "We stay calm, don't panic and shoot for the win."
Granite Hills kept the pressure on West Hills throughout the evening, and twice the Eagles snubbed scoring bids on interceptions in the end zone by CAMERON ROJAS and ELYJAH PALOMERA.
"We were in a Cover 4 zone," said Rojas. "That was the plan, to cover the goal line. "When I saw the ball coming down all I could of was 'Don't drop it.' It was a huge win for us."
In the first interception for the Eagles, MASHAL WASIMI tipped the ball in the end zone and Palomero picked it off. Wasimi was credited with 5 tackles and 2 pass breakups.
"It was like slow motion when I went up and grabbed it," said Palomero.
Eagles defensive end NOAH JOUBERT registered 2.5 sacks and 2 tackles to help anchor the Granite Hills defense.
DYLAN HASTINGS made a key fumble recovery that helped Granite Hills protect its narrow lead.
No question this was a frustrating loss for West Hills (3-5, 1-1 GVL).
Wolf Pack quarterback SPENCER MOYER was a double threat, clicking on 13 of 21 passes for 133 yards and a touchdown. He was also the Pack's leading rusher with 76 yards on 18 carries and a score.
Twice West Hills was stymied upon reaching the end zone due to Granite Hills' interceptions.