Stevenson, Helix ensure Claymore remains myth to Matadors
Nice pass from Carson Baker to @EmChuuBee. @HelixScotties lead 21-0 early 2nd. @SDFNLMagazine @ECSportsDotCom pic.twitter.com/JM85gLflhX

— Eric Williams (@WBKsports) October 17, 2015
By Chris Davis
© East County Sports.com
LA MESA (10-17-15) — Some people might look at Friday night's (Oct. 16) Helix vs. Mount Miguel game as a preview of Sunday's upcoming grudge match between New England and Indianapolis.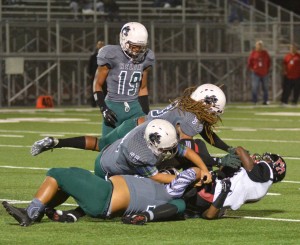 Now the bad blood between the Matadors (3-4, 0-2 Grossmont Hills League) and the No. 2 ranked Highlanders (5-1, 2-0 GHL) doesn't resonate from alleged cheating, unlike the Patriots and Colts, it is just a good ol' backyard rivalry – though some may not consider it a rivalry since the Matadors haven't beaten Helix since 2009.  The 2015 Claymore game wouldn't change that either as Helix cruised to a 59-14 victory.
MEKHI STEVENSON only caught three passes, but those receptions accounted for 93 yards and a trio of touchdowns.
"Miguel was playing press coverage most of the night," Stevenson stated.  "So I looked at (quarterback) CARSON (BAKER) and nodded my head and he just threw it up and I got it."
Baker completed 10 passes on 15 attempts for 167 yards and four touchdowns, which was more than simply a relief role – it was a sparkling performance.
JAYLEN ARNOLD had 7 carries for 57 yards and a TD.
Turnovers were key to the Highlanders' blowout of the Matadors.
NICK SOLIZ returned a pick 24 yards for a touchdown, and SCOTTIE YOUNG picked off a pass for a 49-yard return. DERRICK ATKINS also picked off a pass for a touchback. At the top of the list ISAIAH WOODEN recovered a fumble for a touchdown.
And @_JW12_ERA grabs the bad snap on the Mt. Miguel punt. @HelixScotties lead 28-0. @SDFNLMagazine @ECSportsDotCom pic.twitter.com/powsSDo8z3
— Eric Williams (@WBKsports) October 17, 2015
Quarterback BENNY VALADEZ led the Matador attack with 242 yards on 24 passes, with two touchdowns.   Each of the touchdowns were for over 60 yards – one to JOHNNY LEE for 63 yards and the first passing touchdown to KIKO BORJA for 80 yards.   Even though Helix outscored Mount Miguel by 45 points, it was the Matadors that outgained Helix by a 285-253 margin.   NATHEN STINSON was limited to only six yards on four carries, yet he scored on a 9-yard run.   As a team, Helix only netted 84 yards on the ground.   Not to be overlooked MICHAEL AUSTIN, the Highlanders quarterback scoring ace, sat this one out for whatever reason. That didn't seem to matter as Baker stepped up and answered the call.
Carson Baker throws his 4th TD tonight this time to Isaiah Wooden. @HelixScotties lead 52-7. @SDFNLMagazine @KUSIPPR pic.twitter.com/A2YljI6Vhb — Eric Williams (@WBKsports) October 17, 2015