FEARLESS FORECASTER WEEK NINE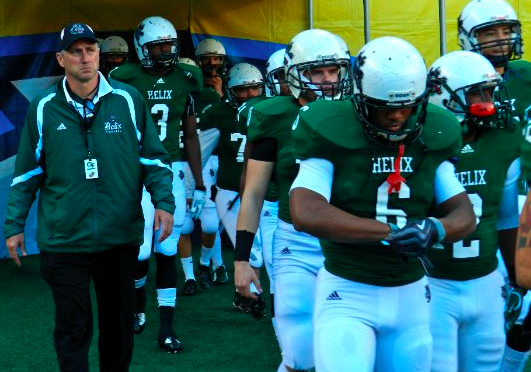 HELIX COACH TROY STARR BEFORE THE 2011 SDSCIF CHAMPIONSHIP AT QUALCOMM STADIUM
2015 FEARLESS FORECASTER
Week 9
By Bill Dickens
© East County Sports.com
LA MESA (10-21-15) — Successful football coaches have been on a long line at Helix High School. All-time leader JIM ARNAIZ, GORDON WOOD and TROY STARR are at the top of the list. Add WARREN VINTON and DICK GORRIE, too.
On Wednesday afternoon (Oct. 21) Starr, who compiled a 77-17-1 record in his eight seasons at Helix, announced that he was going to step down after this year.
The 52-year-old Starr led the Highlanders to a State Championship in 2011 and compiled a 13-1 record that year.
The Highlanders are ranked No. 2 this season with a 5-1, 2-0 Grossmont Hills League record.
Starr said he resigned for family reasons, but has not retired from football.
Before being hired at Helix, Starr coached 14 seasons at Taft Woodland Hills, compiling a 139-36-1 record that hoisted his overall high school mark to 219-53-2. He also worked for one season under Ohio State's Urban Meyer as the director of football operations at Florida.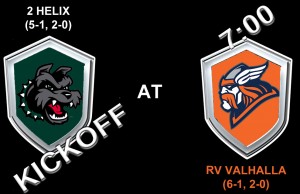 "I'm not being forced out. I have an excellent administration and work for a great boss," Starr said. "This is a non-football related issue that I'm not prepared at this time to talk about. I just want to end some of the speculation."
Helix meets No.12 ranked Valhalla (6-1, 2-0 GHL) on Friday night (Oct. 23) on the Norsemen's field.
The Norsemen believe they have a shot at sidelining the Highlanders. The Valhalla defense has logged 37 sacks, 26 turnovers, 2 blocked punts, 3 defensive touchdowns and recorded 2 shutouts.
The Norsemen's Law Firm Defense consists of defensive ends DANIEL BENDER, JOSH McNISH-HEIDER, CADE BAKER, LOGAN BAKER, LUCAS WALZ, TREY SCHIMKE, DANTE CARNESSALE, JORDAN ELLIS and ANTHONY PORTILLO.
Standing off against Helix is obviously no easy mark.
The Highlanders will look to running back NATHEN STINSON (78 carries for 695 yards and 16 touchdowns).
MICHAEL AUSTIN, the Highlanders' triggerman (58 of 89 passing for 794 yards and a touchdown), will guide the Helix aerial game.
Given all the disturbance in the Helix camp, this could be an upset, but not likely . . . Helix 24-8.
No. 10 GROSSMONT (6-1, 1-1) at MOUNT MIGUEL (2-5, 0-2), 7 – Although the Grossmont Foothillers tripped in a 39-36 outing at Steele Canyon a week ago, it has hardly proved to be the end of the Grossmont Hills League season for the Foothillers.
"We know that the sky is not falling," said Grossmont coach TOM KARLO after his 10th ranked Foothillers suffered its first loss in seven starts. "We are trying to bounce back. We knew it would be hard to run the table, but when you lose a game like that, you're anxious to get back on the field."
Hard-nosed senior running back JAKE HARR rushed for 123 yards on 14 carries including an 88-yard long burst. Harr also reeled in 5 passes for 52 yards against the Cougars.
Grossmont quarterback HUNTER GAINES clicked on 18 of 37 passes for 240 yards and 4 touchdowns in the loss to Steele Canyon.
His primary receiver was KYLE PINEDA, who snagged aerials for 78 yards and 2 scores. DOMONIQUE GUEVARA also caught 3 passes for 63 yards and a score.
On the defensive side CHRISTOPHER LAETHEM made his presence felt. In fact the Foothillers' front line consists of CAMERON LISK, JAMES ROGERS, JUSTIN SMITH, TOMMY MLYNIEC and CONNOR SCLANDER.
ANTHONY GILMORE and ANTOINE HAMILTON have gained fitness and Mount Miguel coach SHAUN McDADE believes their improved health should give the Matadors at least a shot at the Grossmont Hills League title.
The Matadors hope that their speed will rattle Grossmont out of their game plan Friday night (Oct. 23).
"Our special teams killed us (against Helix)," said McDade.
What he was talking about was the Highlanders' four interceptions and four fumbles by Mount Miguel.
The nod is likely to go to . . . Grossmont 27-23.
EL CAJON VALLEY (5-2, 1-1) at *SANTANA (5-2, 1-0), 7 – This will mark the 50th Homecoming celebration for Santana when the Sultans host El Cajon Valley on Friday night (Oct. 23) in a Grossmont Valley League encounter at 7 p.m.
Santana believes it's a contender for the GVL flag but cannot stumble against the Braves.
Of course the Sultans have their own opinion and the stats to back it up. Running back BOBBY WALLACE has ripped off 487 yards and 7 touchdowns on 82 carries.
The top gun, however, for Santana is quarterback FRANKIE GUTIERREZ, who has completed 81 passes for 1274 yards and 14 touchdowns on 127 aerial attempts.
ADAM CHILDRESS has reeled in 24 aerials for 378 yards and 5 touchdowns for the Sultans. AIDAN RASMUSSON has given Childress a quality sidekick with 23 catches for 420 yards and 3 touchdowns.
"Our place should be pretty exciting Friday night," said Sultans coach TIM ESTES.
The Sultans can crawl back into the GVL race by sidelining the visiting Braves.
East County's top rusher NATHAN McCULLOUGH leads El Cajon Valley with 134 carries for 1238 yards and 15 touchdowns.
The SMITH brothers – TYSON and CHARLIE – are a double threat for the Braves. They have delivered strikes on both sides of the ball.
"The one thing they do is put up a lot of points on the board," said Braves coach PARRIS PISIONA.
Charles Smith will start at quarterback against the Sultans.
"He does an excellent job of controlling the game," Pisiona said. "Like last week – we had no turnovers. He also gives us a threat outside, along with 6-foot-6 receiver RONNE READUS.
"Overall what it does is gives us better dimension on the outside."
"When you talk about Santana you're talking about a team that can score a lot of points," Pisiona continued. "We'd like to see if we can contain that."
The Sultans have buffaloed the Braves 10 years in a row, so El Cajon Valley will be hard put to halt the skid  . . . Santana 29-23.
MONTE VISTA (2-6, 0-2) at GRANITE HILLS (6-1, 1-0), 7 – No matter how you look at it the size and measures of the Granite Hills Eagles will be too much for any of its Grossmont Valley League opponents to deny them a league championship this year.
The Eagles will count on an offensive line of 6-foot-4, 250-pound sophomore right tackle GARRET CURRAN as well as right guard BRENDAN DENNEY (6-3, 300), center KALVIN SANDERS (6-0, 265), left tackle ALEX JONES (6-1, 235), junior left guard MARTIN SAMANIEGO (6-0, 235) and (and tight end-defensive lineman JACOB BURTON (6-5, 260).
That forward wall is propelling the Eagles' THOMAS YOUMOG (512 yards, 6 TDs on 87 rushes) into East County's rushing leaders.
"I think that one of the things that makes Youmog successful is he gets lost behind our big line," said Eagles coach KELLAN COBBS.
Sort of now you see him, now you don't.
Linebacker KELLEN GAEIR, defensive end NOAH JOUBERT and safety CAMERON ROJAS will secure the Granite Hills defense.
Monte Vista's defensive line is the key for the Monarchs. Although the Monarchs lost three players to grades, JOSE GONZALEZ, JUAN PRECIDIO and CAMRYN BUTLER hope to hold the fort.
Versatile TRE OWENS and quarterback DENNIS DAHLIN provide Monte Vista's offensive threat.
"We have a lot of young guys with speed," said Monarchs coach RON HAMAMOTO. "We've had a lot of internal problems like having two kids quit. We're still pretty thin but it's a good thing our kids haven't quit."
The Monarchs won 31-28 last year but is not likely to repeat . . . Granite Hills 28-8.
CHRISTIAN (5-2, 2-0) at MORSE (3-4, 1-0), 6:30 – During the week Christian offensive coordinator DAVID BEEZER finds one night to go fishing after practice. On this particular Wednesday night (Oct. 21) Beezer was angling for lobster off the Point Loma coast.
During these on-water sessions Beezer ponders his game plan for the coming week as Christian gears up for a showdown at undefeated Morse Friday (Oct. 23) in City League action.
"The good news for us is we're pretty close to being healthy and that's something we haven't been for a long time," Beezer noted.
Christian's ground game has gained footing in recent games despite early injuries to ADRIAN PETTY (80 carries, 504 yards, 5 TDs) and MICHAEL TOBIASON (45 carries, 345, 3 TDs). Those numbers would have been much more inflated had they been able to play every down.
Steady quarterback DAVID TODD JEREMIAH is the leading passer in East County, hitting 111 tosses for 1837 yards and 19 touchdowns on 187 attempts.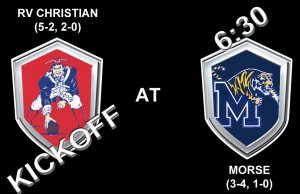 "The biggest thing we have going for us this week is the return of JOEY MORONES. He's a tough kid that lines up on both sides of the ball," Beezer said of the 5-foot-10, 225-pound fullback-linebacker.
"He's an old school fullback. He's probably the best back that we've had for pass protection since I've been here – he's the heart and soul guy of our team."
Morse is probably better than it's 3-4 record.
"They run a shotgun and run a single lane out of a shotgun," Beezer said. "They run right at you."
Christian should be able to supply the brakes . . . Christian 28-22.
EL CAPITAN (2-5, 0-2) at *STEELE CANYON (3-4, 0-2), 7 – The question here is, is Steele Canyon that strong, or is El Capitan that shaky?
Bottom line is, the Vaqueros have scored only 6 points in their last four games while suffering 3 shutouts.
This will be Steele Canyon's third Homecoming game of the season, only this one will be on home soil. They were the victors in two previous homecoming bouts – winning 29-24 at Rancho Buena Vista and 39-36 at Grossmont.
PIERRE ALEXANDER scored in the last 7.2 seconds on a pass from THOMAS FISHBURNE to stun previously unbeaten Grossmont a week ago.
Alexander is known for his manner of speaking in the third person.
"Pierre had to get open, and Pierre did," Alexander said of the 13-yard scoring play.
Alexander is a double threat for the Cougars as a rusher and a pass catcher as they face El Capitan in a Grossmont Hills League showdown on Friday (Oct. 23).
"We've played so many close games it would be wise for the fans to stay in their seats until the very end," Cougars coach SCOTT LONGERBONE said. "To beat an undefeated, Top 10 team (Grossmont) can only help to bolster our confidence.
"As for El Capitan, the Vaqueros have found the red zone to be a real snake pit," Longerbone added.
STEVEN HOSAKA leads the sputtering El Capitan running game on 290 yards and one touchdown on 53 carries.
PHOENIX CATES is El Capitan's signal caller, connecting for 74 passes for 873 yards and 3 touchdowns on 151 carries.
Upsets in games like this are certainly possible.
"This is a trap game for us," Longerbone commented.
The question is whether El Capitan can take advantage . . . Steele Canyon 28-12.
MOUNTAIN EMPIRE (3-5, 1-1) vs. VINCENT MEMORIAL (7-0, 1-0) at EC-Southwest, 7 – Wild running JAMES WILL, who has stormed for 906 yards and 9 touchdowns in 121 carries, will lead the Red Hawks in an upset bid of undefeated Vincent Memorial in Friday's (Oct. 23) Manzanita League contest at El Centro-Southwest High.
He will be assisted by quarterback VICTOR PARRA, who has clicked on 57 of 125 passes for 964 yards and 9 touchdowns.
ALEX TORRES is Parra's primary target, with 19 catches for 490 yards and 4 touchdowns.
Sophomore middle linebacker BLAKE JARRELL anchor's the Red Hawks' defense with 51 tackles and 3 sacks, while JOHNATHAN PENUELAS has 7.5 sacks.
Mountain Empire beat Calipatria 39-35, while Vincent Memorial beat the Hornets 27-7.  The fighting Scots do not divulge much statistical information, but their record speaks for itself.. . . Vincent Memorial 27-26.
WEST HILLS – Bye
Fearless Forecaster:
Season: 54-24 (.692)
Last week: 5-2 (.714)