Cool Gooden's good timing sparks Griffins' win
Updated: November 8, 2015
2015 GROSSMONT COLLEGE FOOTBALL
By Bill Dickens
© East County Sports.com
EL CAJON (11-8-15) — When Grossmont College's PAUL GOODEN was a senior at Monterey Trail High in Elk Grove, he played middle linebacker at 5-foot-10, 175 pounds.

"A lot of people told me I was too small to play that position, but I wasn't afraid then and I'm not afraid now," said the Griffin sophomore. "I played defense my final two years of high school and took on players a lot bigger than I am."
Perhaps that's why he's one of the top National Southern Conference punt return specialists.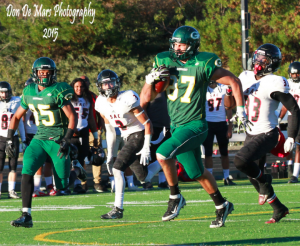 Gooden has returned 13 punts for 131 yards and a 33-yard touchdown. He's averaging 10.1 yards per return.
"Returning punts is a great way to get on the field," said Gooden, who also caught touchdown passes of 50 and 14 yards, both from quarterback TOMMY PISTONE, guiding the Griffins to a 33-30 victory over visiting Santa Ana (1-8, 0-5) Saturday (Nov. 7) at Mashin-Roth Field.
"When I'm back to receive a punt I use my peripheral vision as much as I can," Gooden added. "Then I try to relax as quick as I can."
Given that Gooden has garnered 64 pass receiving yards and 56 punt return yards, he declared that Santa Ana was his best game of the year.
His timing was good.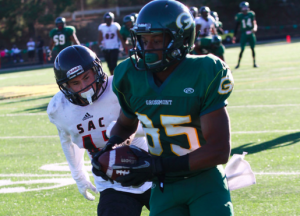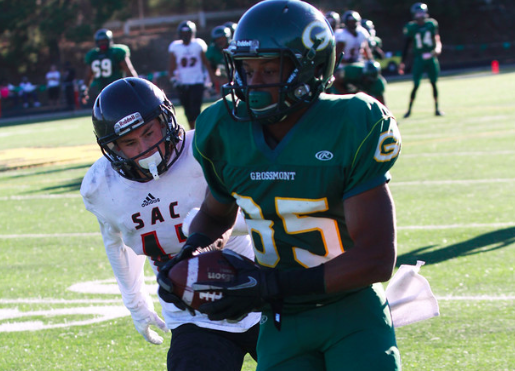 "My mom Lydia Gooden came down from Sacramento to see me play for the first time in two years," he said proudly.
This was no one-man show, however, as the Griffins were obliged to survive 16 penalties for 176 yards compared to Santa Ana's 3 for 22 yards.
Sophomore running back THOMAS McDONALD shredded the Santa Ana defense for 144 yards and a touchdown on 18 carries. Santa Ana was a physical defense and McDonald was a physical runner.
Trailing throughout the day, Grossmont (3-6, 1-4) took its first lead with 8:40 remaining when Pistone hooked up with Texas' big LEVI BOYD (6-5, 240) for an 81-yard gain that set up a second scoring pass to Gooden. Boyd outran three Santa Ana defenders for the longest game of his career before being taken down at the Dons 14-yard line.
"That was a hash play," Boyd said. "They were in a cover 3 and we had everybody go vertically up the field. When the safety went across the hash, Tommy (Pistone) put the ball right there. Then the race was on."
The Griffins tacked on a 2-point conversion when Pistone hit MARSHALL FAULK, JR. in the endzone, giving Grossmont a 26-23 advantage.
Grossmont defender KURTIS BROOKS returned a 25-yard blocked punt to extend Grossmont's lead to 33-23 with 3:16 remaining. Prior to that clutch play by Brooks, the Griffins had had two touchdowns nullified by penalty.
The Dons put together a swift scoring drive capped by a crucial 15-yard TD pass to Dorion Barnett from Thomas Becerra, slicing Grossmont's advantage to 3 points with 1:44 remaining.
JEMEIL JACKSON came up with a critical play when he picked off a victory clinching pass from Becerra at the Grossmont 43-yard line with 40 seconds remaining.
"We were in a cover 2," said Jackson, a Monte Vista product. "I think they thought we might be in a cover 3 at that time, but that wasn't the case as their slot receiver came across the middle."
"Milli," as Jackson is known to his teammates, intercepted a pass at the 43-yard line to seal the Griffins' victory.
"I've been struggling most of this year," he said. "We were in a cover 2 and I think they expected it, and I beat him. When the ball came my way I jumped up and grabbed it."
Tackling machine linebacker NICK GALATIS recorded 8 tackles. Defenders COLE KIDD had a blocked punt, a pass breakup and a fumble recovery for Grossmont as well as 4 tackles. PERRY AFATO blocked a punt out of the endzone for a safety. Arnold logged 7 tackles, a fumble recovery, batted down a pass and registered a sack. RUEBEN LEASAU had 6 tackles, and big ANTHONY DAVIS notched 5 tackles, a quarterback hurry and a sack.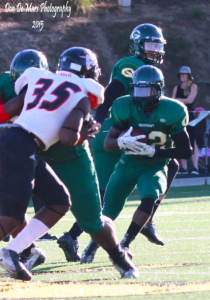 PRD
TIME
SCORING SUMMARY
SANTA ANA – GROSSMONT
1
02:49
Santa Ana – M. Williams 49 yd pass from A. Piscitelli. (Jonah Mack kick is good).
Drive: 3 plays, 47 yards in 0:54.
7 – 0
2
11:44
Grossmont – Jordan Reece 47 yd field goal.
7 – 3
2
03:08
Santa Ana – Dorion Barnett 17 yd pass from Thomas Becerra. (Jonah Mack kick is good).
Drive: 4 plays, 41 yards in 1:35.
14 – 3
2
01:34
Grossmont – Team safety
14 – 5
3
07:17
Grossmont – Paul Gooden 50 yd pass from Tommy Pistone. (2pt conversion rush by TEAM failed).
Drive: 2 plays, 54 yards in 0:28.
14 – 11
4
13:32
Santa Ana – William Hanley 28 yd run. (Jonah Mack kick is good).
Drive: 5 plays, 63 yards in 1:56.
21 – 11
4
13:32
Santa Ana – Team safety
23 – 11
4
11:07
Grossmont – Thomas McDonald 42 yd run. (Jordan Reece kick is good).
Drive: 3 plays, 56 yards in 1:15.
23 – 18
4
08:40
Grossmont – Paul Gooden 14 yd pass from Tommy Pistone. (2pt conversion pass by M. Faulk Jr is good).
Drive: 3 plays, 95 yards in 1:09.
23 – 26
4
03:16
Grossmont – Kurtis Brooks 25 yd punt return for TD. (Jordan Reece kick is good).
23 – 33
4
01:44
Santa Ana – Dorion Barnett 15 yd pass from Thomas Becerra. (Jonah Mack kick is good).
Drive: 6 plays, 68 yards in 1:24.
30 – 33
SANTA ANA
STATISTICS
GROSSMONT
20
FIRST DOWNS
15
9
5
6
Passing
Rushing
Penalty
6
8
1
21% (4 of 19)
THIRD DOWN EFFICIENCY
13% (2 of 15)
0% (0 of 0)
FOURTH DOWN EFFICIENCY
25% (1 of 4)
283
TOTAL OFFENSE
377
82
3.5
Total Offensive Plays
Average gain per play
71
5.3
210
NET YARDS PASSING
223
22-46
4.6
2-17
1
Completions-Attempts
Net yards per pass play
Sacked: Number-Yards
Had intercepted
15-34
6.6
2-24
2
73
NET YARDS RUSHING
154
36
2.0
Rushing Attempts
Average gain per rush
37
4.2
13-363
PUNTS: Number-Yards
6-271
27.9
Average
45.2
44
TOTAL RETURN YARDS
174
0 0
5-52
2–8
Punt Returns: Number-Yards
Kickoff Returns: Number-Yards
Interception Returns: Number-Yards
7-105
6-69
1-0
3-22
PENALTIES: Number-Yards
16-176
3-1
FUMBLES: Number-Lost
3-2
2-24
SACKS: Number-Yards
2-17
2–8
INTERCEPTIONS: Number-Yards
1-0
32:46
TIME OF POSSESSION
27:14
Santa Ana

Grossmont

| KICKOFF RETURNS | NO | YDS | AVG | LG | TD |
| --- | --- | --- | --- | --- | --- |
| Christian Brooks | 5 | 69 | 13.8 | 24 | 0 |
| TEAM | 1 | 0 | 0.0 | 0 | 0 |

| PUNT RETURNS | NO | YDS | AVG | LG | TD |
| --- | --- | --- | --- | --- | --- |

| INTERCEPTION RETURNS | NO | YDS | AVG | LG | TD |
| --- | --- | --- | --- | --- | --- |
| Daron Minnix | 2 | -8 | -4.0 | 0 | 0 |