Griffins' sophomores in final chance to shine at OCC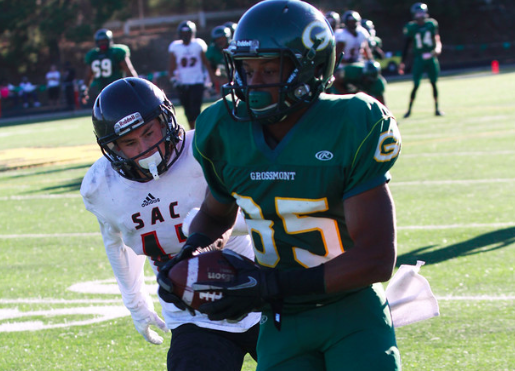 Grossmont wide receiver-kick returner PAUL GOODEN was named National Southern Conference Special Teams Player of the Week
2015 GROSSMONT COLLEGE FOOTBALL
By Bill Dickens
© East County Sports.com
EL CAJON (11-13-15) — Games against Orange Coast College have produced some strange numbers when involving Grossmont College's football team.

Two years ago when Grossmont made its last appearance at Lombard Field in Costa Mesa the Griffins produced their second highest offensive output when they battered host Orange Coast 77-19.
In the Griffins lop-sided onslaught Grossmont scored 63 unanswered points.
Last year's rematch was a complete turnaround as Orange Coast pecked away for a 42-41 win at Roth-Mashin Field.
Grossmont College (3-6) snapped a 6-game losing streak when the Griffins edged Santa Ana 33-30 a week ago, setting up their final outing of the season against Orange Coast on Saturday (Nov. 14) in Costa Mesa at 1 p.m.
Orange Coast (6-3) pulled a nifty upset a week ago by knocking off previously unbeaten Golden West College with a touchdown in the final 18 seconds to claim a 17-14 victory.
The Griffins will look for an upset of their own when they visit Orange Coast. They will count on running backs THOMAS McDONALD (86-592, 5 TDs) and NEHEMIAH BROWN (41-252, 5 TDs). Quarterbacks MICHAEL CARRILLO (103-212, 1071, 6 TDs) and TOMMY PISTONE (69-140, 908, 8 TDs) will guide the Griffins aerial circus.
Eighteen Griffins have caught passes for the Griffs, including CHRISTIAN BROOKS (39-410, 1 TD) and SERGIO BAILEY (34-431, 3 TDs).
Linebacker NICK GALATIS, who ranks among the state leaders, has 91 tackles, 5 sacks, a pick six and a fumble recovery.
Flying below the radar is JORDAN ARNOLD, who 34 tackles, 5 sacks and a fumble recovery.
Griffin Graffiti: Grossmont wide receiver-kick return specialist PAUL GOODEN has been named a National Southern Conference Special Teams Player of the Week. He returned 4 punts for 56 yards and caught 2 touchdown passes in the Griffins 33-30 victory over Santa Ana . . . Other Griffins nominated for Player of the Week honors include fullback THOMAS McDONALD, who rushed for 144 yards and a touchdown on 18 carries and caught one pass for 18 yards . . . Punter ALEX TEMPLETON, who ranks among the state's top punters, averaged 271 yards on 6 kicks for a 42.5 average. . . Three of his boots landed inside the 20 and one was a touchback. . . Orange Coast leads the all-time series 15-8-1. . . The Pirates pilfered a win from the Griffins a year ago 42-41 after Grossmont annihilated OCC 77-19 a year before that.