Littleton winding down stellar career with Huskies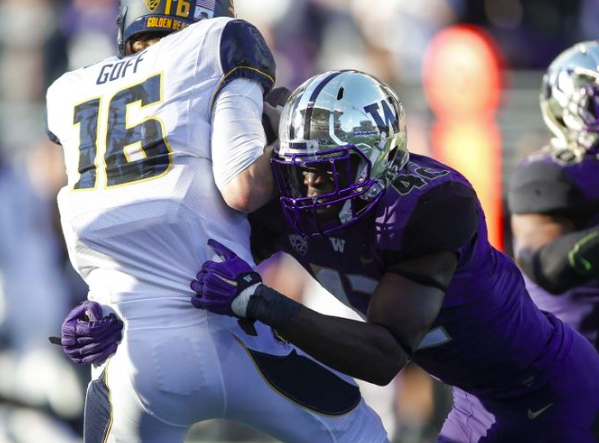 Cory Littleton
2015 4-YEAR COLLEGE FOOTBALL STANDOUTS
By Bill Dickens
© East County Sports.com

EL CAJON (11-09-15) — Defensive end CORY LITTLETON, a graduate of Mount Miguel, was named to the Dick Butkus Award Preseason Watch List at the University of Washington. He has started each game this season, including the opener at Boise State where he made seven stops, all solo, and notched a sack vs. the Broncos.
In a start against Sacramento State he recorded four tackles, two of them for a loss, and five tackles, half a tackle for loss in a start against Utah State, and six tackles, including a solo sack vs. California.
—  BRANDON STEED, a product of Valhalla and Grossmont College, completed 27 of 49 passes for 431 yards and 2 touchdowns for the Bethel College (Kan.) Threshers against the Friends Falcons of Wichita, Kan. on Saturday (Nov. 7).
Steed also galloped 16 times for 31 yards and a score for the 5-4 Threshers.
— WE ARE MARSHALL . . .and that includes junior defensive end GARY THOMPSON, who has made a major impact out of Helix for the Thundering Herd. His five career sacks rank second among 2015 Herd players, which included two muggings in Marshall's 27-23 loss to Middle Tennessee in three overtimes.
— Steele Canyon product LAWRENCE DICKENS returned a kickoff 100 yards as Marist College slaughtered Stetson 49-14 last week. Dickens finished with 116 yards and two kickoff returns.
—  Nevada University's IAN SEAU, a product of Grossmont College, applied the headlock on Fresno State 30-16. Sean forced a fumble which resulted in a scoop and run by teammate Matthew Ryan, which led to a 7-0 advantage. Seau rolled up a sack and two tackles for loss, leading the Wolf Pack to a 30-16 victory over the Bulldogs.
— Steele Canyon graduate XAVIER GOODLOE forced a fumble and chalked up 10 tackles – 5 of them solos – for the Western New Mexico Mustangs in a game against Chadron State.
—  JIMMY PRUITT, a Helix product now at San Jose State, rated one of the top corners in the Western Athletic Conference, recorded 3 solo tackles in the Spartans 17-16 loss to BYU.
—  San Jose State's senior wide receiver HANSSELL WILSON, a graduate of Valhalla, has caught 23 passes for 281 yards and 2 touchdowns for the Spartans.
— Six-foot-5 junior receiver NICK KURTZ of BYU, a graduate of Valhalla and Grossmont College, caught 3 passes for 33 yards in the Cougars 17-16 win over San Jose State. For the season Kurtz has 27 receptions for 401 yards and 2 touchdowns.
—  University of San Diego quarterback ANTHONY LAWRENCE, a Grossmont High graduate, completed 15 of 25 passes for 141 yards and a touchdown as the Toreros clipped the Campbell Camels of North Carolina 31-27. Lawrence has passes for 2111 yards and 20 touchdowns, completing 165 of 254 passes for the Toreros (7-2, 5-1 in the Pioneer Conference).
— Six-foot, 208-pound junior defensive back MAURICE PAYNE, a graduate of Mount Miguel High and Grossmont College, has recorded 19 tackles – 12 of them solo – for the Tabor College Blue Jays of Hillsboro, Kan., who boast a 9-1 record.
—  ISAIAH YOUNG, a graduate of Helix and a transfer from Southwestern College, chalked up 14 tackles – 9 of them solo – and intercepted a pass with a 20-yard return in the Southern Nazarene Crimson Storm's loss to the Ouachita Baptist Tigers of Arkadelphia, Ark.
—  Valhalla graduate KEITH ROGERS, a sophomore defensive back at the University of Jamestown North Dakota, completed his season with 25 tackles – one for loss – 4 interceptions and 7 pass break-ups for the Jimmies.

— Wide receiver, CAMERON LEE, a graduate of Helix High and Southwestern College, of Upper Iowa University, grabbed 3 passes for 21 yards for the Peacocks, who defeated Wayne State 34-31 in double overtime.
— The M&M boys of Colorado Mesa, WILLIAM MILO (Helix) and VIRNEL MOON (El Cajon Valley) turned in another sparkling performance in a lop-sided loss to Colorado State University-Pueblo. Milo, the Mavericks' sophomore nose guard, chalked up 7 tackles. Meanwhile Moon, a sophomore wide receiver, caught 2 passes for 25 yards against CSU-Pueblo.