Knights win opener, face playoff rival Etiwanda tonight
Updated: December 1, 2015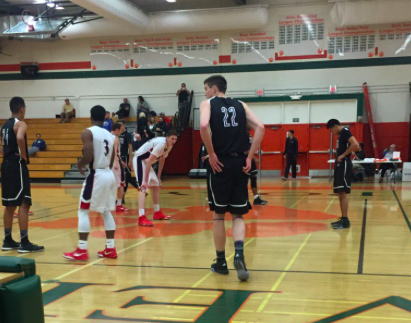 2015-16 EAST COUNTY PREP BOYS BASKETBALL
By Bill Dickens
© EastCountySports.com
RIVERSIDE (12-1-15) — The Foothills Christian Knights submarined the Great Oak Wolfpack of Temecula in The Battle Zone at Riverside Poly on Monday (Nov. 30) and came away with an 84-42 victory.
Arizona-bound Knights national standout T.J. LEAF poured in 26 points, snared 9 rebounds, 2 blocks, 6 assists and 2 steals.
LUIS SALGADO carried the outside game for the Knights with 22 points, including 4 treys.
OMOJAE SMITH pitched in with 16 points and 5 rebounds for the Knights, who will play Etiwanda, the team that beat Foothills Christian in the State CIF playoffs 56-55 last year, at 6:15 Tuesday night (Dec.1) at Riverside Poly.
Foothills Christian:  T.J. Leaf 26 (9 reb, 6 ast, 2 stl, 2 blk), Luis Salgado 22 (2 reb, 2 ast, 4 stl), Omojae Smith 16 (5 reb, 2 ast, 1 stl, 1 blk), Jordan Van Ommering 4 (3 reb, 1 ast), Nikko Paranada 4 (2 reb, 4 ast, 4 stl), T.J. Lowery 3, Connor George 2, Jaren Nafarrete (2 ast), Kale Baldado (3 reb, 1 blk).
CHRISTIAN 64, HEALTH SCIENCES 38 – TRAVIS BALLARD's offense and LAYNE LARSEN's defense led to the opening game win for the Patriots in the San Diego Small Schools tournament Monday (Nov. 30).
It was close early, but by halftime the Christian High Patriots were in control. Ballard sparked the Patriots offense early with 20 first half points.
"He came out and established himself in the half-court offense with some great shooting," noted Patriots assistant coach TIM BROWN.
Layne Larsen sparked the Patriots defense in the second half and helped hold Health & Sciences to 5 third quarter points.
"Layne took the challenge and guarded their best player and took him out of the game," Brown said. "KYLE STOWERS had a great all around game and added three 3's while steering the ship at point guard."
Christian High plays Tuesday (Dec. 1) night against Liberty Charter at 8pm at home.
Christian:  Travis Ballard 25 (10 reb, 2 ast, 2 stl, 1 blk), Layne Larsen 13 (5 ast, 3 stl) Kyle Stowers 11 (5 reb, 5 ast, 3 stls, 1 blk), David Todd Jeremiah 5 (3 reb, 1 stl, 1 blk), Domanic Safarta 3 (3 reb, 4 ast), Jacob Sandusky 2 (1 reb), Garrett Nielsen 2 (1 reb), Domenic Bristol (2 reb, 2 ast), Joey Vrzich (1 ast, 2 stl), Jackson Larsen (1 ast).