Egberuare's 14 points paces Hawks past Oxy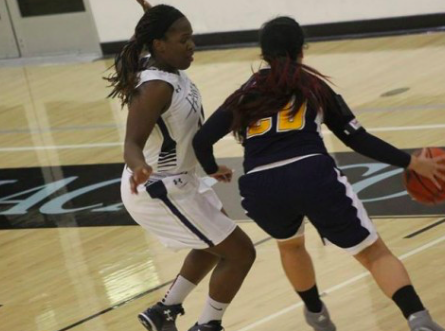 SAN DIEGO CHRISTIAN HAWKS WOMEN'S BASKETBALL
LOS ANGELES – Berika Egberuare scored a team-high 14 points and Whitney Braeutigam added 12 points and eight rebounds as the SDC women's basketball team defeated the Occidental Tigers 61-56 on Tuesday night.
INSIDE THE MATCHUP:
Final: San Diego Christian 61 | Occidental 56
Records: Hawks 3-0 | Tigers 0-2
INSIDE THE GAME:
• In the first quarter, the Hawks started on an 8-0 run. The Hawks finished the quarter up 12-6.
• SDC went on another 8-0 run in the second quarter sparked by four points from Braeutigam.
• The Tigers scored 10 unanswered points to bring the score within one in the third quarter at 26-25, but Kaylie Fandino hit a triple to increase SDC's lead back to four with 7:05 remaining in the quarter.
• Braeutigam scored eight of her 14 points in the fourth quarter.
• The Hawks drained five free throws in the last 26 seconds to seal the game.
• Alexa Ardnt came off the bench to score eight points and grabbed eight boards.
Hawks outrebounded the Tigers 37-34.
STAT OF THE GAME:
• SDC shot 47 percent from the floor and 12-of-17 from the free throw line. The Hawks held Oxy to less than 30 percent from the field with 11 turnovers and two blocked shots.
BEYOND THE BOX SCORE:
• This was the first meeting between the two schools since 2007 as the Tigers defeated the Hawks 73-61.
UP NEXT: 
• SDC hosts Pacific Union College on Saturday at 6 p.m. at Grossmont College.
Final
1
2
3
4
F
San Diego Christian 3-1
12
14
16
19
61
Occidental 0-2
6
14
17
19
56
Nov. 17, 2015
Los Angeles
Attendance: 39
| San Diego Christian | Indv. Leaders | Occidental |
| --- | --- | --- |
| #15 EGBERUARE, Berika – 14 | Points | #12 Triana Anderson – 16 |
| 2 Players (#01,#12) – 8 | Rebounds | #12 Triana Anderson – 7 |
| #15 EGBERUARE, Berika – 4 | Assists | #44 Midori McElwee – 6 |
| San Diego Christian | Team Statistics | Occidental |
| --- | --- | --- |
| 46.9% (23 – 49) | Field Goals % | 29.8% (17 – 57) |
| 23.1% (3 – 13) | 3 Point Field Goals % | 27.3% (3 – 11) |
| 70.6% (12 – 17) | Free Throws | 73.1% (19 – 26) |
| 37 | Rebounds | 34 |
| 14 | Assists | 8 |
| 16 | Turnovers | 11 |
| 10 | 2nd Chance Pts | 15 |