Open Season: Helix returns for another title shot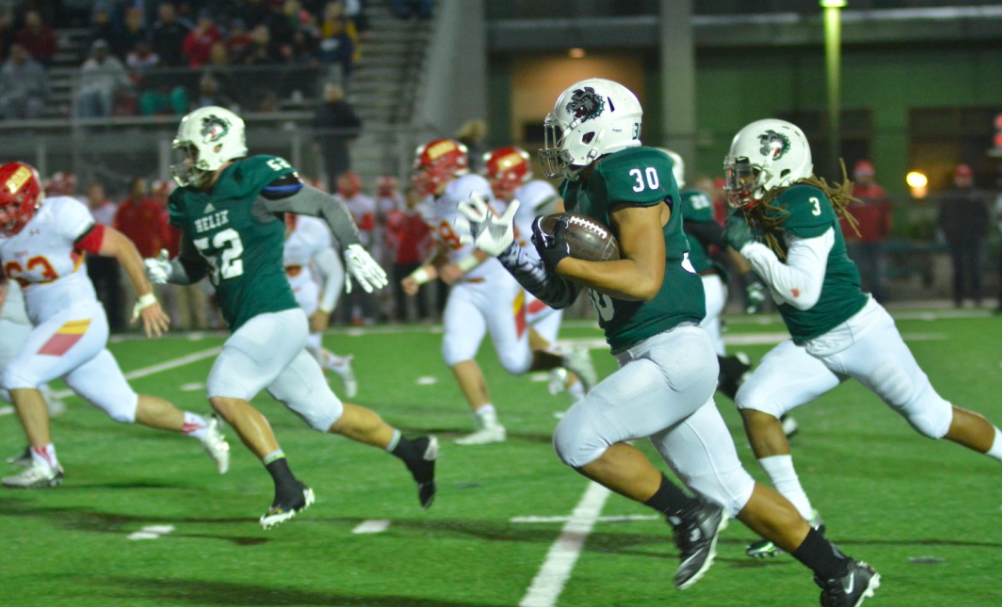 Helix's Ezekiel Noa returns an interception 90 yards for a touchdown Friday night in the San Diego CIF Open Division semifinals against Mt. Carmel. / EastCountySports photo
2015 EAST COUNTY PREP FOOTBALL
By James McHugh and Bill Dickens
© EastCountySports.com
LA MESA (11-28-15) — When the Helix Highlanders fell to Arizona's Chaparral High School to open the season, many questions were left around San Diego football. Was Helix actually experiencing a down year? Were the Highlanders worthy of being considered the best team in the county, or even one of the top five?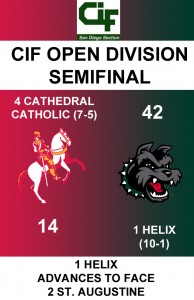 The Highlanders spent the next nine games quelling the notion that they had been removed from the elite ranks of the San Diego Section's "in crowd."
In their Open Division semifinal matchup with the Cathedral Catholic Dons Friday night (Nov. 27) Helix wasted little time establishing that they were the team to beat in the Section's toughest division. The Highlanders blasted Cathedral Catholic 42-14 to earn a berth in the Saturday (Dec. 5) Open Division championship against St. Augustine at Southwestern College at 7 p.m.
Two victories over the Dons by a 79-14 scoring advantage have served as a springboard for Helix (10-1) over Cathedral Catholic into the showdown against the Saints (10-2).
Quarterback MICHAEL AUSTIN got things started for Helix with a 55-yard touchdown run on the Highlanders' first drive. Two plays later NICK SOLIZ picked off a tipped pass and returned it 33 yards to give Helix a quick 14-0 lead just under three minutes into the game. Cathedral didn't go away quickly, however, answering with a four minute drive that culminated in a 6-yard touchdown run from Cathedral's QB Tate Haynes to cut the Highlanders' lead in half.
Austin completed the night hitting 10 of 17 passes for 117 yards. He also rushed for 70 yards and one score on 7 carries.
The Helix offense never let up. MATTHIAS LAYTON added the first of his four field goals, this one a 30-yarder on Helix' next drive, increasing the Highlanders advantage to 17-7 after one quarter. After EVAN PERKINS blocked a Dons field goal attempt, Helix showed Cathedral how things are done in the kicking game as Layton drilled a second 3-pointer through the uprights, this one from 33 yards out, expanding the Highlanders' lead to 13.
Even when the Highlanders defense seemed to be giving the Dons some breathing room after a personal foul helped Cathedral reach the Highlanders 13-yard line, junior linebacker ZEKE NOA stepped in front of a Haynes pass and returned the interception 90 yards to squelch the Dons' hopes. Noa used his blockers to perfection for nearly 40 yards, cruising at three-quarter speed while teammates shooed away Dons' defenders desperately trying not to let the game get away.
"Great players make big plays in big games," said Helix coach TROY STARR.
TRELAN TAYLOR holds the Helix record for the longest pick-six. He turned the trick against Rancho Buena Vista in 2008. Noa's effort is the third longest in the Helix book.
Layton kept the kicking showcase going, adding a 42-yard field goal to put Helix up 30-7 before the half. When NATHEN STINSON busted out a Playstation style 80-yard touchdown on Helix' first play of the third quarter it was clear that a loss three months ago was all but a distant memory for the county's No. 1 team.
Stinson finished with 150 yards on 10 carries. He left the game limping late in the third quarter but it didn't appear serious.
TYLER CLANTON picked off another Haynes pass when Cathedral finally managed a drive into Highlanders territory late in the third.
"It's a lot easier to get interceptions when you're surrounded by D-I college guys like I am," Clanton said. "I play fast to the ball and try to be aggressive on every snap."
Layton capped his kicking spree with a 30-yard field goal midway through the third quarter. He also executed all four of his PAT attempts, giving him a 16-point night.
By then, Helix led 40-7 and was well on its way to a date with St. Augustine next week at Southwestern College in the San Diego Section Open Division CIF Championship game.
The Highlanders have fond memories of Southwestern College, even though they saw their season end there last year at the hands of Oceanside.
"Going back to Southwestern will be a lot of fun," Layton remarked, after his 4-4 kicking night helped the Highlanders get back to the San Diego CIF Championship game.
"Southwestern was a great place to play, it's a great atmosphere, but this year we want to win," he added. "My best memory here at Helix is probably hitting a 47-yard field goal in last year's playoff game against Cathedral. That was the first time as a kicker I was really recognized by the team. But a win at Southwestern, that would be my favorite memory if we can get that this year."