Norsemen fall one game short of championship
Updated: November 28, 2015
Photo by Don De Mars Photography
2015 EAST COUNTY PREP FOOTBALL
By Jim Lindgren
© East County Sports.com
EL CAJON (11-28-15) — Last spring, a seriously senior-heavy squad set its sights on a CIF title, hoping to become the first Valhalla team to win a San Diego Section championship in the 41-year history of the school.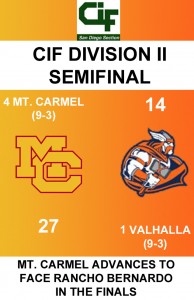 However, desperation turned to despair on Friday (Nov. 27) night as the top-seeded Norsemen dropped a 27-14 decision to visiting Mt. Carmel in the semifinals of the Division II playoffs.
"I'm disappointed that all of our upper classmen have to move on," junior running back JEROME JOHNSON said. "This was our year. We fell short."
Instead, No. 4-seeded Mt. Carmel (9-3) will play for the title on Dec. 5 against nearby rival Rancho Bernardo (10-2) at Southwestern College. Valhalla finished with a 9-3 record.
"This is a great senior class," Valhalla coach CHARLES BUSSEY said. "They're pretty heart-broken. They put a goal in front of them way back in the spring to win a championship, and they worked really hard to get there. We came close."
Valhalla's only championship contest resulted in a 49-13 loss to Cathedral Catholic in 2008. Mt. Carmel's only other trip to the section finals ended with a 10-6 loss to Helix in 1982. Both schools opened in 1975, so the drought is mutually felt.
"No regrets, though," senior quarterback PHILLIP NASEH said. "We didn't give up … all the way to the end.
"I'm never going to forget the guys who I played with, and they won't forget me. We may have lost the game, but I gained 50 brothers this season."
Aside from a 42-14 loss to Helix, Valhalla had not allowed more than 21 points in a game all season and yielded an average of 12.2 points per game.
The Sundevils posted 13 points before halftime and finished with four touchdowns against a team that had two shutouts and had allowed only one touchdown against seven opponents this fall.
Led by San Diego State-bound quarterback Lucas Johnson, the Sundevils had three long scoring drives and one short one after a fumble recovery by William Jones at the 17-yard line.
Johnson completed 17-of-27 passes for 185 yards and two touchdowns, but he also doubled his interception total for the season when DANTE CARNESSALE picked off a pair of passes in the first quarter. Johnson also had 57 rushing yards on 20 carries, including a touchdown run of 5 yards in the second quarter.
"It's hard to game-plan for No. 7, as fast as he plays," Bussey said of the dual-threat Johnson, who now has 2,319 passing yards and 1,099 rushing yards. "We played well, though. We played hard.
"A couple of plays here and there were the difference. That's what big games usually come down to."
Naseh threw for 185 yards, completing 17-of-35 passes with one touchdown and zero interceptions.
"Phillip played well," Bussey said. "We couldn't get the running game going as well as we would have liked, but offense did move the ball."
Midway through the second quarter, Mt. Carmel used an 11-play, 69-yard drive to take a 6-0 lead on Johnson's 5-yard scoring run. A pass interference call on the Norsemen ignited the drive.
Late in the half, Naseh hit CONNOR CHAMBERLAIN on a 10-yard gain, but the ball was stripped at the end of the play and Jones recovered his second fumble at the 17-yard line. Two plays later, Johnson lofted a perfect pass to Dane Hines for a 17-yard TD and a 13-0 lead with 2:23 to play.
Valhalla's Johnson reeled off a 29-yard gain on the next play and then caught an 11-yard pass from Naseh to stir the crowd. But moments later, a 52-yard field-goal attempt by Chamberlain was blocked by the Sundevils.
"We shot ourselves in the foot in the first half," Valhalla's Johnson said. "Too many missed opportunities."
The punting game played a key role to start the second half. First, Mt. Carmel pinned the Norsemen to their 3-yard line with a 43-yard punt by Johnson, the right-handed quarterback who kicks left-footed. Then, Chamberlain unleashed a 56-yarder to put the Sundevils in their territory.
Johnson's next punt was returned by JORDAN ELLIS 54 yards to the 11-yard line, and Valhalla's Jerome Johnson scored on the next play to make it a 13-7 game.
Mt. Carmel, however, countered with a 7-play, 69-yard drive to make it 20-7 when Johnson connected with Kion Gould for a 20-yard score.
Valhalla threatened again late in the third quarter, but Mt. Carmel speedster Rashid Shaheed intercepted a halfback option pass by BRANDON FULLER at the 2-yard line. A play later, Mt. Carmel's Johnson raced for an apparent 96-yard touchdown, but the play was called back on a holding penalty.
That didn't stop the Sundevils. Isaiah Tate capped a 13-play, 98-yard drive with a 12-yard touchdown run to make it 27-7 with 8:18 to play.
Never-say-die Valhalla immediately came back with a 7-play, 75-yard scoring drive as Naseh flipped a 16-yard TD pass to Chamberlain with 6:25 to go.
Valhalla threatened once again late in the game, moving to the 15-yard line but a fourth-down pass into the end zone fell incomplete.
Chamberlain finished with six catches for 97 yards. Fuller added four receptions for 43 yards and Johnson three for 12 yards. TY SCHIMKE had a nice 28-yard gain on his only catch to ignite Valhalla's final scoring drive.
In addition to Carnessale's two interceptions, Valhalla got sacks from LUCAS WALZ and DANIEL BENDER. It was Walz's eighth sack of the season and Bender's ninth. Walz had nine tackles against Mt. Carmel, one sack and three tackles for losses. Bender logged 12 tackles, 10 solos and two tackles for loss.
The only other time these schools had met, Mt. Carmel defeated Valhalla 27-23 in the 2010 playoffs.
"Hats off to them," Bussey said. "They were able to rise up when they needed to.
"I'm proud of our guys, though. That's the best defense I've ever coached. Offense came around too, and Phillip played every snap at quarterback.
"At my age, it's easier to see perspective in the kind of season we've had. But for them (the players), it's going to take some time."
Once again Valhalla's Law Firm Defense was solid, led by LOGAN BAKER's 14 tackles and 2 tackles for loss.