Cats scratch Cougars from playoff bracket once again
Updated: November 28, 2015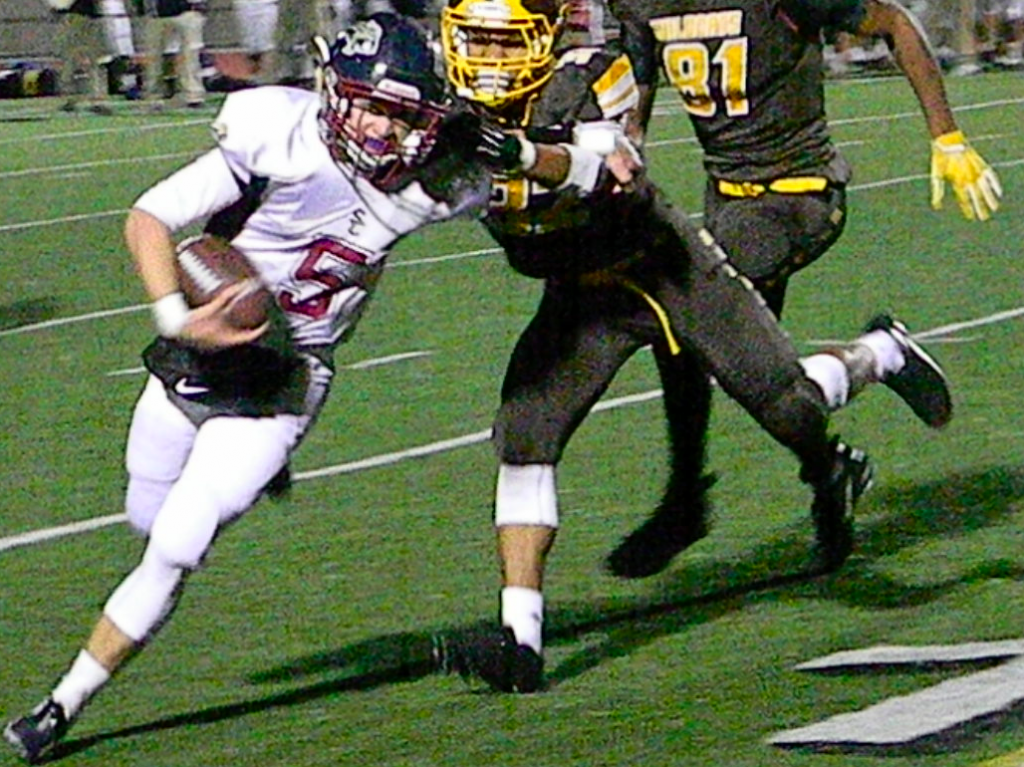 Steele Canyon's Thomas Fishburne runs Friday night against host El Camino.
2015 EAST COUNTY PREP FOOTBALL
By Chris Davis
© East County Sports.com
OCEANSIDE (11-28-15) — Last year Steele Canyon lost to El Camino in Oceanside in the CIF-SDS Division I quarterfinals. This year it was one round later in the semifinals that the Cougars and Wildcats faced off.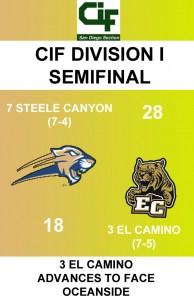 Unfortunately for the Cougars (7-5), just because it was a round later doesn't mean there would be a different outcome.  Friday (Nov. 27) saw El Camino defeat Steele Canyon 28-18.
El Camino scored its opening touchdown on the play immediately following a Steele Canyon timeout in the first quarter.  It was a Beau Gallegos pass to Aris Jackson from 32 yards out to put the Wildcats up 7-0.
Cougars sophomore quarterback THOMAS FISHBURNE threw to the left on a second and four play, however that incomplete pass was wiped off the stat sheet with a personal foul against El Camino on the opposite side of the field.  After the penalty was marched off, Fishburne called his own number on a designed run from the 12 and took it in for the first score of the night for the Cougars to tie the game up at seven.
After El Camino built a 28-11 advantage, the Cougars attempted to rally behind Fishburne, who had a team high 94 yards and a touchdown on only nine carries. Fishburne's marksmanship was a little bit off the mark as he completed 6-of-15 for 147 yards and a score. Of that 147 yards, 54 came on a fourth quarter touchdown pass to NY JOHNSON. But by that time the issue was all but over.
Steele Canyon started the ensuing drive from their own 17-yard line. MALCOLM ANDERS stormed for 89 yards on 13 carries, while PIERRE ALEXANDER slashed for 55 yards on 9 sorties.
Later in the second quarter after El Camino had gone up 14-7, Cougars kicker ALEXANDER RAYA attempted a 41-yard field goal, but that attempt was blocked though many in the Herb Myers Field press box thought that the result should have been points for the Cougars. Raya's attempt ended up rolling and hitting the goal post.
The only score of the third quarter was a Raya 30-yard field goal with just over seven minutes left in the period to pull the Cougars to within a 14-10 margin.
Then the fourth quarter scoring bonanza came.
El Camino (7-5) gained a little more breathing room with a 37-yard rush by Chris Brown for his fifth touchdown of the season to move out to a 21-10 lead.
The Wildcats turned around and after forcing Steele Canyon to turn the ball over on downs, Spencer Katoanga scored from 11-yards out to push it to 28-10.
After the following kickoff flew into the end zone, the Cougars would begin the drive at their own 20.  Steele Canyon would hand the ball over to Anders and "Fish", as his teammates call Thomas Fishburne, for a couple of runs, getting to the Steele Canyon 46-yard line.  Fishburne threw to Johnson, who was running a slant route to get open and then down the sidelines.
El Camino will now battle backyard rival Oceanside (8-4) in the SDCIF Division I championship game next Friday (Dec. 4) in Chula Vista at Southwestern College at 7 p.m.
Steele Canyon concluded the season with an 8-5 mark, winning five of their last seven.