East County Athletes of the Week sponsored by Grandstand Pizza
Updated: November 30, 2015
FOOTBALL 2015
EL CAJON
619-258-6888
1558 N. Magnolia (Magnolia at Bradley)
Also serving Santee, Lakeside, & Fletcher Hills
GET FREE PIZZA ON YOUR BIRTHDAY!
Week 14
Offense:
# 9     MICHAEL AUSTIN, Helix
The Highlanders' 6-1, 185-pound senior quarterback amassed 287 total yards as Helix crushed Cathedral Catholic 42-14 in the San Diego CIF Open Division semifinals. Austin averaged 10 yards on 7 rushes, including a 55-yard TD scamper. He also completed 10 of 17 passes for 117 yards.
Defense:
# 27     DANTE CARNESSALE, Valhalla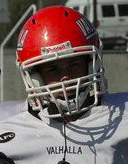 The 5-foot-11, 160-pound senior cornerback intercepted 2 passes in Valhalla's 27-14 loss to Mt. Carmel in the San Diego CIF Division I semifinals. Carnessale leads the Norsemen with 4 interceptions on the season. Like the majority of the Valhalla secondary, tackles are not plentiful as the front seven bottled up the opponents most of the season.
Week 13
Offense:
# 8      MEKHI STEVENSON, Helix
The 6-foot, 177-pound senior wide receiver caught 4 passes for 131 yards and 2 touchdowns in the Highlanders 56-34 romp over Madison in the San Diego Section CIF Open Division quarterfinals.
Defense: 
# 23     LOGAN BAKER, Valhalla
The 5-foot-11, 218-pound senior linebacker was a hawk on defense for the Norsemen who clobbered the Christian Patriots with 14 tackles, which included 4 for loss, and 2 sacks in the San Diego Section CIF Division II quarterfinals.
Week 12
Offense: 
# 5      THOMAS FISHBURNE, Steele Canyon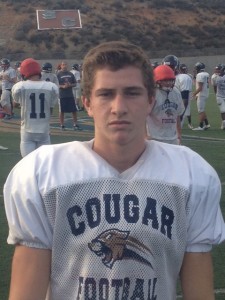 The 5-foot-9, 155-pound sophomore quarterback delivered 4 touchdown passes in Steele Canyon's Division I San Diego Section CIF 31-20 victory over visiting Vista in Friday's (Nov. 13) first round of the playoffs. Fishburne hurled scoring passes of 83, 74, 24 and 7-yards in the encounter.
Defense:
# 10     CHANCE COLSON, El Capitan
El Capitan 6-foot, 185-pound senior middle linebacker is rated the top player on the Vaqueros roster by coach RON BURNER. Colson has recorded 112 tackles, including 10 in the first round of the San Diego Section CIF playoffs. Two of those tackles went for losses.
Week 11
Offense:
# 26   NICK SEXTON, Christian
One of Christian's all-time leading receivers, Sexton turned in a record-breaking performance with 7 receptions for 158 yards and 2 touchdowns when the Patriots played Scripps Ranch. The senior free safety broke the Patriots' career and season pass receiving records.
Defense:
# 3     JIHAD WOODS, Helix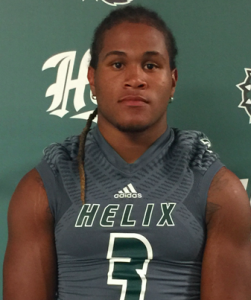 The 5-foot-11, 215-pound senior middle linebacker has been a steady stalwart for the Highlanders with 41 tackles – 12 solo – and 5 sacks. He has also intercepted a pass and recovered a fumble for the stealth Highlanders' defense.
Week 10
Offense:
 # 2   TAJ BROOMFIELD, West Hills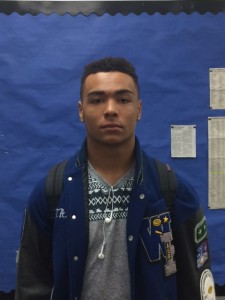 The 5-foot-11, 170-pound senior wide receiver-running back enjoyed a career caliber game in the Wolf Pack's 45-42 victory over Santee Mayor's Cup rival Santana. Broomfield carried the ball 15 times for 242 yards and 3 touchdowns. He also grabbed 5 passes for 59 and a score.
Defense: 
#  21    MIKE JONES, Mount Miguel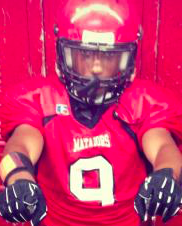 The senior defensive back had a handful of El Capitan jerseys in his grasp all night in the Matadors' Grossmont Valley League 22-7 romp over the Vaqueros. The 5-foot-10, 175-pound Jones recorded 10 tackles, including 2 for losses. He also logged a sack and forced 2 fumbles.
Week 9
Offense:
# 14    HUNTER GAINES, Grossmont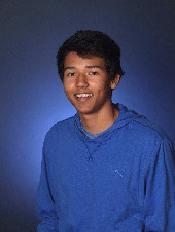 The 6-foot-1, 175-pound junior quarterback completed 13 passes for 311 yards and 5 touchdowns in 24 attempts as the Foothillers defeated Mount Miguel.

Defense:
 #54     MATTHEW HOMAN, Santana 
The 6-foot-1, 208-pound senior defensive end chalked up 9 tackles, 2 for losses and 2 sacks to anchor the Santana defense, which shut out El Cajon Valley 49-0 in a Grossmont Valley League encounter.
Week 8
Offense:
 # 3     THOMAS YOUMOG, Granite Hills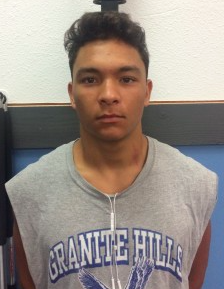 The 5-foot-7, 160-pound speedy senior running back rushed for a career high 222 yards and 2 touchdowns on 23 carries as Granite Hills opened its Grossmont Valley League with a 20-14 over West Hills. He scored on runs of 3 and 36 yards.
Defense:
 #32     DANIEL BENDER, Valhalla 
The 6-foot-5, 220-pound senior defensive end was a force in the trenches for Valhalla's stingy defense as the Norsemen blanked El Capitan 24-0. He recorded 11 tackles – 5 for loss – and notched 3 sacks. He also intercepted a pass and recovered a fumble. Doubling as the Norsemen's tight end, Bender also caught a 41-yard touchdown pass.
Week 7
Offense:
# 2     NATHEN STINSON, Helix
The 5-foot-6, 180-pound senior fireball scored a career-high 5 touchdowns while rolling up 123 yards on 10 carries in Helix's 41-6 romp over Steele Canyon. Three of Stinson's scoring bursts came from 2 yards out. He added an 80-yard scoring sprint and capped his record evening with a 1-yard plunge.
Defense:
#66     DEVAN HENSELMEIER, Santana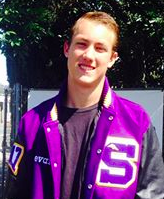 The lanky 6-foot-2, 160-pound junior defensive end made an impact in the Sultans' ability to shut down the Monte Vista running game. Henselmeier logged 10 tackles – 2 for losses – and one sack.
Week 6
Offense: 
#32     TRE OWENS, Monte Vista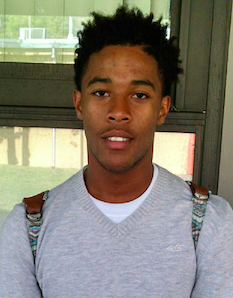 The 6-foot-1, 170 pound versatile senior amassed 282 yards and 4 touchdowns as the Monarchs spiked Kearny 28-27 in a non-league game. Owens rushed for 186 yards and 2 touchdowns on 19 carries. He also reeled in 4 passes for 96 yards and 2 scores.
Defense:
#53 white/43 blue   NATE TIAPULA, Grossmont
The junior linebacker racked up 17 tackles including one for loss, and a sack. He helped lead the Foothillers' defensive unit to defeat Poway 20-13 by limiting the Titans to 3.7 yards per carry on 49 rushes.
Week 5
Offense:
 #32     JAKE HARR, Grossmont
The versatile 5-foot-8, 180-pound senior makes a weekly impact all over the field. Such was the case in Grossmont's 34-14 romp over Lincoln. Harr rushed for 110 yards and 2 touchdowns on 16 carries. He caught 4 passes for 111 yards and one score in the 4-0 Hiller's conquest.
Defense:
 #9      JACOB BURTON, Granite Hills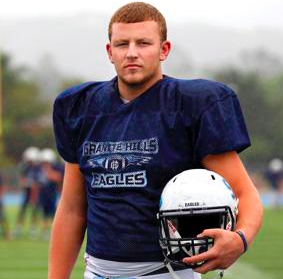 The 6-foot-6, 265-pound "beast from the East" recorded 4 tackles and a sack in the Eagles' 41-6 rout of Hoover. The defensive lineman capped the outing when he picked up a fumble and returned it 36 yards for a touchdown.
Week 4
Offense:
# 3  NATHAN McCULLOUGH, El Cajon Valley
In one of the best offensive efforts in recent memory, the 5-foot-8, 190-pound senior running back rushed for 290 yards and 5 touchdowns on 33 carries in the Braves' 34-28 overtime victory versus Kearny. Included in his totals were a game-winning 23-yard TD run in the extra period, giving the Braves the swing vote. In a brief stint at linebacker he also had 3 tackles.
Defense:
# 30  ZEKA NOA, Helix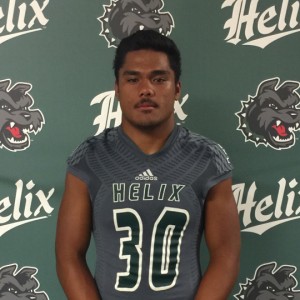 The 6-foot, 220-pound junior linebacker was the anchor of a ferocious Helix defense in the Highlanders' 37-7 victory over Cathedral Catholic. Noa registered 6 tackles and 3 sacks for the No. 2 ranked Highlanders.
Week 3
Offense:
# 13 RILEY REYES, Granite Hills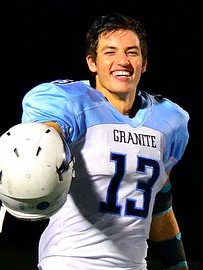 The 6-foot-1, 185-pound versatile senior caught two long distance passes for 148 yards and 2 touchdowns in the Eagles' 25-24 victory over Steele Canyon, plus a 13-yard kickoff return. The Eagles' deep threat also doubles as a strong safety and recorded 11 tackles and an interception against the Cougars.
Defense:
# 20 COLTON LARCEVAL, Steele Canyon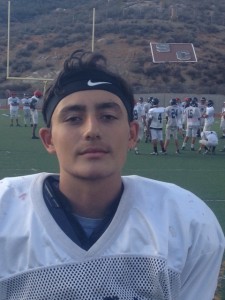 Defensive-minded Steele Canyon got a lift from 5-foot-11, 165-pound junior Larceval who recorded 4 tackles and picked off two passes in the Cougars' heart-breaking loss at Granite Hills.
Week 2
Offense
# 5  ADRIAN PETTY, Christian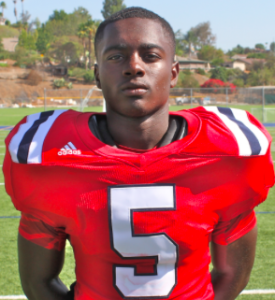 Petty, a 5-foot-7, 160-pound senior, displayed his versatility in the Patriots' 44-23 romp over West Hills as Christian posted its second win of the season. The hard-charging running back stormed for 114 yards on 22 carries and one touchdown. Petty also brought back a punt return for 83 yards and a score. For good measure he returned a kickoff 33 yards.
Defense
TYLER PANNEL, El Cajon Valley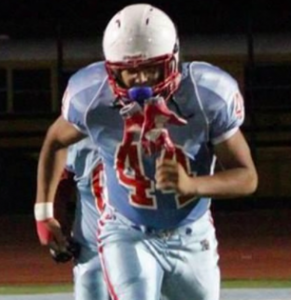 The senior outside linebacker was the focal point of El Cajon Valley's season opening 28-0 victory at Montgomery. Pannel, a 5-foot-11, 240-pound defender, collected 3 sacks, blocked a punt and recovered 2 fumbles.
WEEK 1
Offense
ANTOINE HAMILTON, Mount Miguel
The 5-foot-8, 160-pound senior running back, a three-year starter for the Matadors, Hamilton burst for 102 yards and 3 touchdowns in a season-opening victory over Chula Vista, 44-24.
Defense
JOSH McFAUL, Grossmont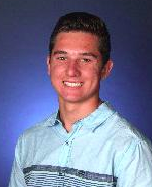 The 5-foot-11, 185-pound hard-nosed linebacker led the Foothillers to a 35-15 victory over Morse. He posted 12 tackles, 2 for losses and one sack. He also recovered a fumble.
---