East County Athletes of the Week sponsored by Grandstand Pizza
EL CAJON
619-258-6888
1558 N. Magnolia (Magnolia at Bradley)
Also serving Santee, Lakeside, & Fletcher Hills
GET FREE PIZZA ON YOUR BIRTHDAY!
2015-16 EAST COUNTY ATHLETES OF THE WEEK
Week 14
#  22    T.J. LEAF, Foothills Christian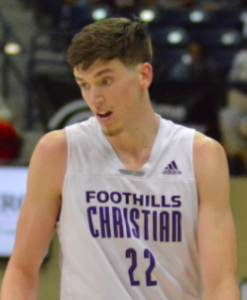 The heralded 6-foot-10 senior center scored 36 points and collected 11 rebounds as the Knights clipped Cathedral Catholic 80-63 to capture the San Diego Section Open Division Championship. In a semifinal the Knights were 71-52 over Torrey Pines, where Leaf had 19 points, 12 rebounds, 11 assists and 7 blocks. He now has 2,965 career points, which is second best in San Diego Section history.
# 24     EMILY BARNES, Grossmont
The 5-foot-9 sophomore scored 13 points, grabbed 16 rebounds, claimed 4 steals and dished 4 assists as the Foothillers swept their way to the San Diego Section Division IV Championship by knocking off Crawford (38-31) after disposing of Holtville 65-45 in the semifinals.
Week 13
#  1     RYAN KELLY, Granite Hills    
A 6-foot-7 junior forward, Kelly poured in 41 points and snagged 18 rebounds during the final two games this season for the Eagles. Most impressive of his numbers came from the free throw line where he converted 25 of 29 shots from the charity stripe (86.2 percent).
# 5      CAM OWENS, Helix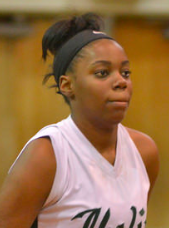 A 5-foot-9 junior guard, Owens knocked in 46 points for the Highlanders in the final two games of the season. She also claimed 14 rebounds, dished 5 assists and recorded 5 steals for Helix.
Week 12
# 0     DARIEN COSSIO, Granite Hills  
A 6-foot-1 junior wing, Cossio buried 10 three-pointers as the Eagles split a pair of Grossmont Valley League games. He totaled 40 points for the two outings. In the process he picked off 6 rebounds, dished 3 assists and recorded 4 steals for the Eagles, who share the GVL championship with the Monte Vista Monarchs.
# 34     MEGAN SCOTT, West Hills
The 5-foot-7 senior was a main cog in the Wolf Pack's surge to a second place tie with Granite Hills in the Grossmont Hills League. Scott dropped in 16 points, collected 19 rebounds, dished 9 assists and notched 4 steals over the two games.
Week 11
# 35    MALIK TAMBWE, Helix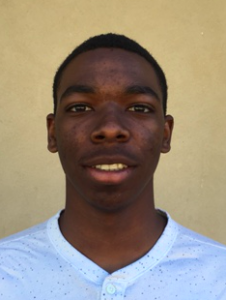 A 6-foot-4 junior power forward, Tambwe powered in 26 points and garnered 24 rebounds, and launched 8 blocks to lead the Highlanders.
# 23     DESTINI ANDERSON, Mount Miguel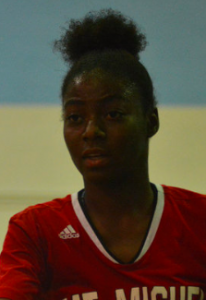 The 5-foot-11 junior scurried about the court as she scored 36 points and snagged 13 rebounds. She also recorded 3 steals and dished 3 assists for the Matadors.
Week 10
# 43    JAYLEN ARNOLD, Helix  
A 6-foot-4, 200-pound junior, Arnold who had a career high of 20 points and 7 rebounds in a last second victory over Valhalla, nailed a 3-pointer at the buzzer, giving the Highlanders a 62-61 Grossmont Hills League triumph over the Norsemen. Arnold finished the week with a double-double of 14 points and 11 rebounds in Helix's 61-58 win over Patrick Henry.
# 3     ASHLEY TAVIZON, Steele Canyon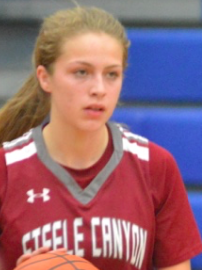 The lightning quick 5-foot-4 junior guard rang up 35 points, 15 assists and 9 steals as Steele Canyon scored 139 points in back-to-back victories over El Capitan and El CajonValley. She knocked down 6 three-pointers in the process.
Week 9
#   10    MARQUELL COOL, West Hills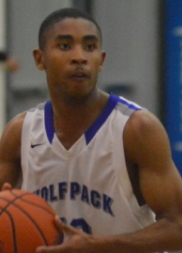 The 5-foot-10 junior guard led the Wolf Pack to its biggest win of the season as they edged La Jolla Country Day 74-70 in a challenge game at San Ysidro. Cool pumped in a career high 26 points, hitting 9 of 13 field goals including 4 of 7 from 3-point distance. Cool also nailed 4 of 5 free throws against the Torreys and yanked down 9 rebounds while recording 4 steals. He also scored 5 points, 3 rebounds and 2 steals to steer the Wolf Pack past Helix 50-42.
#  33   TAISHA SILAS, Grossmont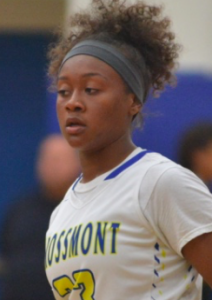 The 5-foot-5 junior guard had 29 points in a two-game sweep for the Foothillers. She did the bulk of her damage in a key win over Steele Canyon where she poured in 25 points, including 5 three-pointers. She finished the two games with 14 rebounds, 2 assists and 2 steals.
Week 8
#   1    DARIAN NORWOOD, Mount Miguel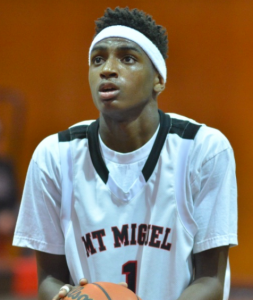 The 6-foot-4 junior forward poured in 35 points for an average of 17.5 as the Matadors split a pair of contests to Monte Vista and Sweetwater. He dropped in 13 field goals and netted 7 of 12 free throws. He also corralled 18 caroms, came away with 7 steals and blocked 2 shots.
#11     ATHENA SOTELO, Grossmont
The Foothillers freshman point guard produced 24 points and dished 12 assists in Grossmont's two-game outing. She also chalked up 13 steals and collected 7 rebounds as the Foothillers improved to 16-4, 1-1 in the Grossmont Valley League.
Week 7
#   5    RONNE READUS, El Cajon Valley
A 6-foot-7, 210-pound senior, Readus has proven himself one of the top big men in East County. In his last two games he has produced 47 points, corralled 35 rebounds and swatted 9 blocks for the Braves.   
#33     CARLY RALEY, West Hills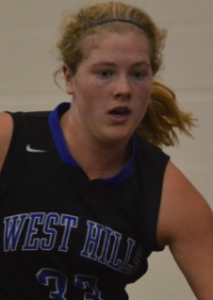 The 5-foot-10 junior center slashed her way to 35 points, 17 rebounds, 5 assists and 5 steals to carry the charge for the Wolf Pack (13-5). Known more for her defense than scoring and rebounding, Raley was a pillar inside the paint for West Hills.
Week 6
# 11    BRYCE PARSONS, West Hills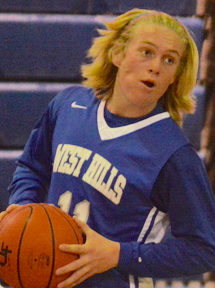 The 6-foot-2 senior swingman poured in 57 points and bagged 48 rebounds as the Wolf Pack won four straight games. He also recorded 15 steals, dished 7 assists and blocked a shot while averaging 14.3 points and 12 rebounds per outing.
#4     RAELLEAH MOORE, Granite Hills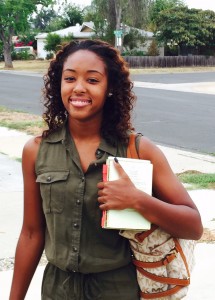 A 5-foot-8 versatile senior, Moore helped the Eagles win 2 out of 3 games by scoring 47 points, grabbing 15 rebounds, dealing 8 assists and hawking 8 steals. She averaged 15.7 points and 5 rebounds per game.
Week 5
# 20   SHAI STEVENSON, Monte Vista
The 6-foot-4 senior forward scored 72 points for the Monarchs for an average of 18 points per game. He also gobbled up 45 rebounds, dished 12 assists and notched 10 steals.
#21     MARIE COOK, El Capitan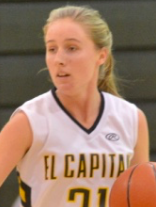 The high-scoring junior scored 115 points and collected 29 rebounds in four games for the Vaqueros in the SoCal Holiday Prep Classic (Prep Division). She scored 39 points in one game and 34 in another. She averaged 28.8 ppg for the week.
Week 4
#  24 KADE KYGAR, El Capitan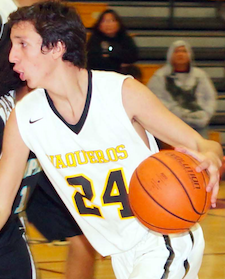 The 6-foot-2 senior Vaquero produced 72 points for an average of 18 as El Capitan split a pair of tournament contests. He scored 39 points against Crawford in an overtime victory, including 6 three-pointers. He also netted 6 of 9 free throws in that game.
# 5   LEANNA WATSON, El Cajon Valley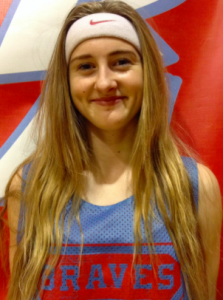 The Braves' 5-foot-7 sophomore poured in 96 points during a 5-game stretch for El Cajon Valley. Included in her 19.2 scoring average were games of 32 points against Del Lago and 27 against Clairemont. In the two games she totaled 17 rebounds and 16 assists.
Week 3
# 3   CAMERON BARRY, West Hills
The 5-foot-10 sophomore guard nailed 17 three-pointers for the West Hills Wolf Pack in tournament play in which the Wolf Pack earned a three-game split. He totaled 82 points for a 13.7 average. He also had 8 assists, 7 rebounds and 6 steals.
# 22   AMBER HARD, Mount Miguel
The 5-foot-9 senior forward has been an unsung stalwart in the Mount Miguel lineup. In last week's busy schedule she averaged 16 points per game, including 10-for-15 accuracy from the free throw line. She also mustered 49 rebounds, 7 assists, 8 steals and 5 blocks.
Week 2
# 42   TOMMY RUTHERFORD, Grossmont
The 6-foot-10 senior center helped the Foothillers post three straight victories last week en route to the Game On Challenge championship game against LJCD on Tuesday (Dec. 15) at Cuyamaca College, 7 p.m. The UC-Irvine bound Rutherford scored 64 points (21.3 ppg) and grabbed 68 rebounds (22.7 rpg). He also tacked on 12 blocks, 6 steals and 5 assists in the three game sweep.
# 13   MARISSA GILES, Christian
The 5-foot-5 freshman point guard knocked down 39 points and grabbed 22 rebounds for the Christian Patriots in two games. Giles, who is coming off a foot injury, scored 25 of the Patriots' 30 points against Rock Academy. She contributed a trio of treys, 4 assists, 5 steals and 3 blocks.
Week 1
#24 TRAVIS BALLARD, Christian

The 6-foot-4 senior guided the Patriots to a five-game sweep and the championship of the San Diego Small Schools Tournament. Ballard averaged 21.4 points and 10 rebounds during the surge. He scored 107 points and bagged 50 rebounds.
#3 SATERA BATES, Mount Miguel
A 5-foot-8 junior, Bates rang up 61 points as the Matadors won two of three games interrupted only by a 1-point loss to Serra. Bates put together games of 30 points and 25 in her early season run.