Pruitt, Seau to play in NFLPA Collegiate Bowl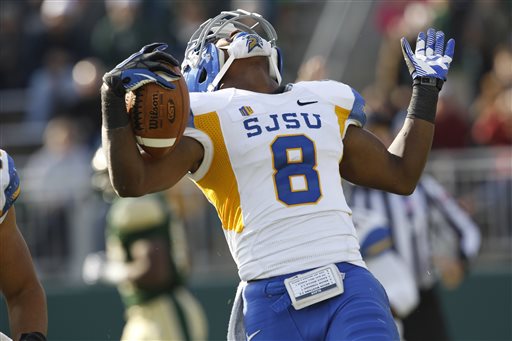 Pruitt celebrates earlier this season in a game against Colorado State
2015  4-YEAR COLLEGE FOOTBALL STANDOUTS
By Bill Dickens
© EastCountySports.com
SAN DIEGO (12-16-15) — Grossmont College alum IAN SEAU, a 6-foot-3, 250-pound defensive end at Nevada, and Helix-San Jose State corner JIMMY PRUITT have been invited to participate in the National Football League Players' Association (NFLPA) Collegiate Bowl game.
The contest, matching the elite college graduates, will vie on Saturday (Jan. 23, 2016) at the StubHub Center in Carson on the campus of Cal State Dominguez Hills.
Game time is 3 p.m. and the game will be televised live on ESPN2.
The NFLPA Collegiate Bowl is the premier post-season all-star game for draft-eligible players. The week one schedule provides participants with a first-class professional experience while introducing them to the business National Football League.
Founded in 2012, the annual game gives prospective NFL players the best opportunity to showcase their talents to potential employers and fans. In 2015, scouts from every NFL club and other professional leagues attended the Collegiate Bowl's practices and game. Nearly 200 NFL Scouts, Player Personnel Staff, GMs and Head Coaches watched the live practices and game but also conducted player interviews and reviewed tapes.
Participants in the NFLPA Collegiate Bowl have the unique opportunity to network with and learn from current and former NFL players. These veterans give players first-hand insight on what it takes to win on and off the field.
All-Mountain West honors;
Seau is an All-Mountain West Conference first team pick on defense.
Pruitt concluded his career at San JoseState by earning All-Mountain West Honorable Mention. He tops the 2015 opening fall depth chart at a cornerback position. He was a starter as a cornerback in 2012, a safety in 2013 and back as a corner in 2014. In 35 games played he had 26 starting assignments and was the only player on the team with at least one tackle in 20 or more consecutive games played. He was the Spartans' only defensive player with an interception in each of the last three seasons.
— An up and coming sophomore defensive back JAYLEN DAVIS, a Helix-Utah State product, also received Honorable Mention in the All-MWC.
— Another honoree, MARIO YAKOO, a junior product of Steele Canyon and Boise State, was recognized Honorable Mention All-MWC as an offensive right tackle for the Broncos.