SDFNL JERSEY MIKE'S BOWL at Valley Stadium PREVIEW
Updated: December 25, 2015
2015 EAST COUNTY PREP FOOTBALL
By Bill Dickens
© East County Sports.com
EL CAJON (12-25-15)— Twenty-nine East County seniors will participate in the Jersey Mike's All-Star Bowl sponsored by Friday Night Lights.
The game will be held at Granite Hills High School on Saturday (Dec. 26) at 1 p.m. Admission is $10.
The Blue Starz will be led by quarterbacks SPENCER MOYER of West Hills and PHILLIP NASEH of Valhalla. Other standouts for the Blue Starz include Granite Hills' 1,000 yard rusher THOMAS YOUMOG, a co-Offensive Player of the Year in the Grossmont Valley League, receivers TAJ BROOMFIELD (West Hills) and KIKO BORJA (Mount Miguel) will make an impact on the passing game.
Hard-hitting defensive lineman DURAN MILLER (Mount Miguel) will anchor the defense along with Grossmont safety ALEX LILLIARD.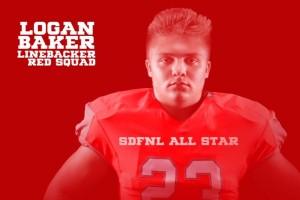 The Red Starz feature Valhalla record-breaking linebacker LOGAN BAKER.
Helix defensive lineman JOSEPH TAUANU'U will anchor the defense, while Grossmont High's speedy wide receiver KHALEED DAVIS and Christian's pass catcher NICK SEXTON will spearhead the offense.
SDFNL BLUE STARZ
Brandon Torrence         Point Loma       CB
Jalaluddin Numanlla-Wone Scripps Ranch    CB
Jordan Butts             Mount Miguel     CB
Calvin Washington        Escondido        CB
Milton Earls-Page        Eastlake         CB
Maeaeaefa Alailima       Helix            DL 
Kameron Cline            Patrick Henry    DL
Huntyr Cornell           Carlsbad         DL
Mitchell Lindgren        Rancho Bernardo  DL
Duran Miller             Mount Miguel     DL
Alexis Quinones          San Ysidro       DL
Nick Meray               Madison          LB
Cameron Chapman          Carlsbad         LB
Chance Colson            El Capitan       LB
Jayden Ernberton-Gaines  Mater Dei        LB
Gregg Gonzalez           Coronado         LB
Trey Schimke             Valhalla         LB
Latre Jacquess           Lincoln          S
Isaiah Chavez            Chula Vista      S
Alex Lilliard            Grossmont        S
Devin Dulay              El Capitan       S
Matthew Hanau            Hilltop          OL
Robert McDonough         El Capitan       OL
Christian Rodriguez      West Hills       OL
Carlos Silva             Hilltop          OL
Jeremiah Castrellon      San Marcos       OL
Benito Castillo          Sweetwater       OL-C
Spencer Moyer            West Hills       QB
Phillip Naseh            Valhalla         QB
James Will               Mountain Empire  RB
Thomas Youmog            Granite Hills    RB
Jaylen Griffin           Point Loma       RB
Curtis Holmes, Jr.       Helix            WR
Matt Spiering            Carlsbad         WR
Kiko Borja               Mount Miguel     WR
Taj Broomfield           West Hills       WR
Alejandro Torres         Mountain Empire  WR
Rashid Shaheed           Mt. Carmel       WR
Robert Walker            Santa Fe Christian WR
Luis Hernandez           Hilltop          WR
Jaime Medina             Point Loma       K
Head Coach:
  La Jolla Vikings Coaching Staff
SDFNL RED STARZ
Jhavari Ransom           Mission Bay      CB
Hunter Allen             Cathedral Cath.  CB
Jordan Ellis             Valhalla         CB
Collin Lovato            El Capitan       CB
Trevian Lanier           Bonita Vista     CB
Lee Williams             Madison          DL
Moli Faalogo             Bonita Vista     DL
Javier Turner            Escondido        DL
Joseph Tauanu'u          Helix            DL
Andrew Seelert           St. Augustine    DL
Andrew Heffler           St. Augustine    DL
Logan Baker              Valhalla         LB
Nathan Montalvo          Brawley          LB
Nacion Reese             San Marcos       LB
Daniel Alvarez           West Hills       LB
Quinn Seau               St. Augustine    LB
Nathaniel Sweat          Eastlake         LB
Mario Williams           Mater Dei        LB
Michael Jones            Mount Miguel     S
Jordan Gochenour         Mt. Carmel       S
William Jones            Mt. Carmel       S
Johnny Meier             Valhalla         S
Mehdi Mansoor            Scripps Ranch    DL
Jac'Ques Morgan          Lincoln          OL-LS
Dylan Palmer             San Marcos       OL
Jaime Flores             Hilltop          OL
Marcos Guiquinta-Fowler  West Hills       OL
Richard Imbimbo          West Hills       OL-C
Casey Brown              La Jolla         QB
Garry Cannon             Olympian         QB
Deshon Christmas         Morse            RB
Anthony Gilmore          Mount Miguel     RB
Zartyan Cook             Patrick Henry    RB
Ahmad Moodie             Lincoln          WR
Kreig Corkill            Patrick Henry    WR
Trenton Fudge            La Jolla         WR
Khaleed Davis            Grossmont        WR
Isaiah Harris            Serra            WR
Benjamin Ratzlaff        Westview         WR
Nick Sexton              Christian        WR
Alexander Golenblewski   Mater Dei        K
Head Coach:
  Mater Dei Catholic Coaching Staff
@WestHillsASB teammates QB @spencer_moyer22 to @TajTajitaj2 one more time at the #sdfnlshowcase15 practice pic.twitter.com/bChDSKa3c4

— SDFNL Magazine (@SDFNLMagazine) December 25, 2015