Helix grinds down ECV's battle in fourth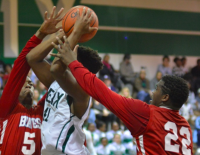 Helix's Justin Flisher (41) goes up against El Cajon Valley Friday night. / EastCountySports.com photo
2015-16 EAST COUNTY PREP BOYS BASKETBALL
By Bill Dickens
EastCountySports.com
LA MESA – In a game that was bucking history, the host Helix Highlanders were knotted with El Cajon Valley 29-29 after three quarters in Friday's (Jan. 8) Grossmont Conference crossover contest.
As a rule, the Highlanders have battered the Braves with regularity, but on this occasion the boys from Madison Avenue had a shot for the upset.
Until the 4th quarter . . . when Helix (9-7) claimed an 18-2 scoring burst to post its 8th win in the past 10 games, as the Highlanders won a rugged 47-31 affair.
"We played three solid quarters," said Braves coach SCOTTY JAMES. "We had an opportunity to take the game, in the 4th quarter we were up 2, then we had too many turnovers.
"Good teams are the ones who capitalize on opportunities," James added. "The first three quarters we played team basketball, then in the 4th we went back to our old ways."
Helix assistant coach ANDY MERIDETH admitted that the Highlanders were struggling for the majority of the game. Their woes included hitting only 12 of 29 free throws.
"In the first half we couldn't hit water if we fell out of a boat," Merideth said. "The effort was there but we couldn't get any shots to fall. Fortunately we played one of our best defensive efforts of the season.
"It was a grinder game where we held El Cajon Valley to just 11 points in the second half," Merideth added.
Helix sophomore ISAIAH WOODEN scored 17 points, including 8 in the blowout 4th quarter.
DYLAN LEE hit 4 of 6 free throws in the final frame, and JUSTINE FLISHER, who finished with 10 points, hit 2 key buckets in the hectic 4th quarter.
RONNE READUS anchored the middle with 17 points for the Braves but eventually fouled out when the game was up for grabs in the final quarter.
Helix:  Isaiah Wooden 17, Justin Flisher 10, Dylan Lee 6, Carson Baker 5, Jaylen Arnold 5, Amari Green 3, Malik Tambwe 1.
El Cajon Valley:  Ronne Readus 13, Ahmad Sulyman 8, Dmir Witherspoon 4, Hussein Al-anezi 2, Greg Jones 2, Jeremiah Davis 2.