Silver, Lindsay are golden at line down stretch for Valhalla
Updated: January 16, 2016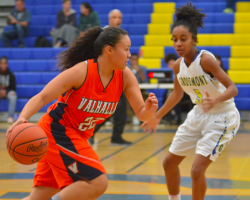 Valhalla's Tiana Silver controls the ball against host Grossmont Friday night.
2015-16 EAST COUNTY PREP GIRLS BASKETBALL
By Chris Davis
© East County Sports.com
EL CAJON (1-16-16) — Heartbreaking, tragic, painful, agonizing loss.  That is how the Grossmont Foothillers fans would describe their Grossmont Valley League opener against the Valhalla Norsemen on Friday (Jan. 15).
On the other hand, if you are a Norsemen fan, you would describe the win as stunning, shocking, breathtaking, nerve-racking and phenomenal as some nice adjectives to use.
Either way it was a great game that came down to the wire and it was MOLLY LINDSAY who hit the key free throws with 36.7 seconds left to give the Orange a 47-46 win.
"I have to tip my hat to TIANA (SILVER)," head coach MARC CARTER said. "She drilled the three shots that we needed to make it a one-point game.  If she would have missed one of those it would have been a completely different situation."
"Too exciting," that is how head coach Carter said after the game. "I'm getting too old to be having heart attacks like that. It was the girls' desire. They played with intensity, we have been preaching hard work day in, day out.  I think they put it together in the last two minutes of the game.  We got a couple of stops, but even though we turned it over, (our team) did what they were supposed to do."
Tiana Silver had a game high 20 points, 11 of which came from the free throw line in the second half.  As a team, Valhalla (7-6, 1-0) shot 18 of 24 from the free throw line during the contest.  The fourth quarter was a very profitable quarter from the line as they went 11-13 from the charity stripe.
"We didn't want it.  Valhalla was feisty and we unfortunately made some mistakes at the end," Grossmont (14-4) head coach GRACE CAMPBELL said after the loss.
At the end of the first quarter the game was tied at nine for each side.  Both teams were playing good defense.
It was in the second quarter that both teams got going.
NOEL LUEZANDER and SYMONE GRIFFITH combined to hit five straight free throws to help the Foothillers score 12 points in the quarter.
Lindsay and LISA DAMMAN put a string of four free throws together for the Norsemen.
In the third quarter, the 'Hillers extended their lead as they outscored Valhalla 13-8.  LYDIA HALCOTT and Griffith combined for eight points in the quarter.  To give Grossmont a 34-28 lead.
Then came the fourth quarter.
TAISHA SILAS hit a three-pointer with 4:21 remaining in the game to give Grossmont a 7- point lead.
Then the run from Valhalla run commenced.  ALEXA SOMO and Damman got things rolling.  Lindsay hit a deuce to cut the lead to four points.  Silas hit another three to push the lead back to seven.
Lindsay hit a pair of free throws to cut it to five.
The 5-foot-7 senior Silas strung together four consecutive shots from the line late to pull the Orange within one.
"Hopefully this will help the girls in believing in themselves," Carter said.  "If they played hard every game like this, we could win (the Grossmont Valley) league."
Valhalla: Tiana Silver 20 (8 reb, 2 stl, 3 ast), Molly Lindsay 10 (19 reb, 1 stl, 1 blk), Lisa Damman 6 (3 reb, 1 stl), Alexa Somo 5 (4 reb, 1 stl, 1 blk), Melanie Yousif 2 (3 reb, 2 ast), Julianna Qsar 2 (3 reb), Bianca Gorges (2 reb, 4 ast, 3 blk), Jenna Yalda (2 reb).
Grossmont: Taisha Silas 13 (8 reb, 2 stl, 1 ast, 1 blk), Symone Griffith 12 (3 reb, 1 stl, 1 ast), Lydia Halcott 10 (3 reb, 1 stl, 1 ast, 2 blk), Candace Henderson 8 (4 reb, 1 stl, 1 ast), Athena Sotelo 1 (7 reb, 3 stl, 4 ast), Emily Barnes (4 reb, 1 ast, 1 blk), Sabrina Johannes (1 reb).