Griffins down Chaffey for first win of season
Updated: February 7, 2016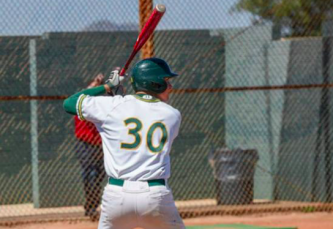 2016 GROSSMONT COLLEGE BASEBALL
By Chris Davis
© East County Sports.com
EL CAJON (2-7-16) — The Grossmont College Griffins got good pitching as they slugged their way to a 6-4 victory over Chaffey on Saturday (Feb. 6) at Noel Mickelsen Field.
DONAVON MCCRYSTAL (West Hills, 1-0) got the win for the Griffins (1-2) going five and a third innings.
TANNER PERRY (Steele Canyon), NOAH STROHL (La Jolla) and ROBERT BOSTEDT (Granite Hills) all had a pair of hits, with Perry and Strohl adding a pair of runs batted in each.
Chaffey (2-2) got on the board first in the second inning.  Kevin Riley singled and advanced to second on an error to lead off the inning.  After one of Cross' eight strikeouts, Riley advanced to third on a passed ball.  Two pitches later, he stole home for a 1-0 lead.
CURREN FACER (El Capitan) singled through the left side.  Strohl came up two batters later and slugged his first home run of the season over the left centerfield fence below the scoreboard to give the Griffins a 2-1 lead – a lead they would never relinquished.
One inning later, ANDRES RIOS (Mater Dei, San Diego) singled through the left side to lead off.  Perry reached on an error by the left fielder, allowing Perry to advance to second.  Both runners advanced when JUSTIN MITCHELL (Granite Hills, 0-4) grounded out to the pitcher.  Facer was intentionally walked to load the bases.  JUSTEN BURKEY (San Pasqual) reached on a fielder's choice, as the Panthers went home on the throw to get Rios.  All the runners moved up a base, scoring Perry, on a passed ball to give the Griffins a 3-1 lead.
In the fourth inning, TREVOR BEARD (San Clemente) singled to get the rally going.  Bostedt followed with another single to put runners on first and second with no one out.  MICHAEL DIFFLEY (Granite Hills) beat out a throw from the shortstop to prevent a double play, with Beard advancing to third.  Logan Gopperton (Chaffey's catcher) allowed a passed ball, taking Diffley to second with Beard scoring and a 4-1 Griffin lead.  After Rios flew out, Perry came up and hit a two-run blast to left centerfield for a 6-1 lead.
Chaffey would add on single runs in the fifth, sixth and seventh innings to make it 6-4 at the stretch.
AARON CROSS (Mater Dei, Santa Ana) came in the ninth inning to nail down the victory with his first save of the season.