Helix tabs Colorado prep coach Owens to lead Scots
Updated: February 11, 2016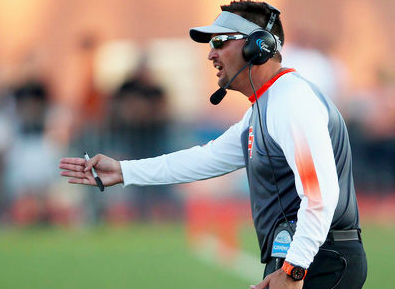 2016 PREP FOOTBALL
By Bill Dickens
© EastCountySports.com
LA MESA (2-11-16) — To high school coaches in the Southern California area the name ROBBIE OWENS is definitely familiar. For 11 seasons at Colorado Mesa University in Grand Junction, Owens served as the Mavericks defensive coordinator and director of recruiting.
"I spent a lot of time recruiting kids in the San Diego area," said Owens, who accepted the Highlanders' football head coaching post on Wednesday (Feb. 10).
The 42-year old Owens lands one of most coveted coaching jobs in the state where only a month ago more than 60 positions were available. The Helix post was considered the third most desirable in Southern California.
Helix attracted 36 applicants for their football job, including coaches from Florida, South Dakota and Texas. Five coaches from San Diego County were also in the running, including longtime Helix defensive coordinator and alum SAM FRIEND.
Since 1973 the Highlanders' football program has compiled a record of 372-115-11. Only one of those seasons has Helix finished with a losing record. Impressive indeed.
Owens takes over for TROY STARR, who resigned following Helix's drive to the San Diego Section Open Division championship.
Starr's team compiled an 83-18-1 record in eight seasons, capturing a state bowl title and two section championships during his reign.
"Coach Owens brings a wealth of football knowledge and NCAA recruiting experience to the great tradition of Helix football," said Highlanders' athletic director DAMON CHASE.
Echoed Owens, "I'm not here to make wholesale changes. You don't have to fix what isn't broken. I want to add value to the tradition that already exists at Helix."
Owens has been head coach at Grand Junction High School for the past eight years, compiling a 47-8-1 record. The program was elevated to the 5A level – Colorado's highest – in 2008. Owens' Tigers, who have enjoyed similar success as that of the Highlanders, were 10-2 in 2010, and 11-1 in 2011. In both of those seasons Grand Junction reached the state quarterfinals.
A 10-student panel interviewed Owens before the decision was made. He was an instant hit.
"This is an exciting time for me," Owens said. "Coming to a school with the tradition that Helix has is special. During my days of recruiting I saw a lot of teams when I brought my Grand Junction team to a camp at USD in 2013 and 2014. It was a good reference point for me and gave me an idea of what the competition would be like if I ever came here . . .
"I wasn't sure what my chances would be but I threw my hat into the ring," he said.
During his playing days at Grand Junction High Owens was a quarterback. He has since, during his college coaching days, focused on the offensive side of the football. He directs a no-huddle power pistol attack that has averaged 32.7 points over the past six seasons.
Owens said he can't wait to move his family here – wife Kelly, sons Zack (16) and Jacob (14).
Asked if leaving the snowy terrain with an elevation of 4597 feet would be something he and his family would miss, Owens said," Sure, I'm going to miss it because I have so many friends there. But coming to California is a whole new ballgame.
"I can't wait to get on a surfboard," he concluded.