Tauanu'u jacked to sign with Humboldt State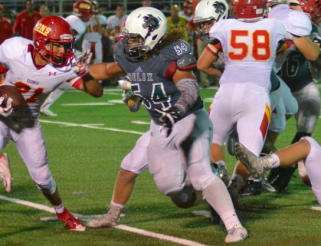 Tauanu'u in a game last season.
2016 EAST COUNTY PREP FOOTBALL 
By Bill Dickens
© East County Sports.com
LA MESA (3-1-16) — JOSEPH "Sefa" TAUANU'U has signed scholarship papers with Humboldt State University following a star-studded season for the Helix Highlanders.
He is the seventh member of Helix's 11-2 squad to earn a scholarship, with a couple of other key players still hanging in the balance.
Tauanu'u, a 5-foot-9, 230 pound defensive end, was a first team All-Grossmont Hills League pick. He was chosen the All-EastCountySports.com Defensive Unsung Hero, and also earned second team defense on the All-San Diego CIF Media selections.
Other Highlanders earning scholarships include MASON VINYARD and JIHAD WOODS to Washington State; quarterback MICHAEL AUSTIN to Cal Poly San Luis Obispo; running back NATE STINSON to Northern Arizona University; receiver MEKHI STEVENSON to UNLV; and lineman FORREST HANLON to Utah State.
Looking ahead
Junior linebacker ZEKE NOA is one of the heavily recruited in the Helix huddle. Those who have made offers with the 6-foot-2, 230 pound linebacker include Wisconsin, San Jose State, San Diego State, Nevada and Colorado State.
Those who have scouted the Highlanders note that Noa is sure to attract more attention in the future before he makes a decision.
Helix junior defensive back SCOTTIE YOUNG has also attracted attention so far from San Diego State, Nevada, Washington State, Colorado, Arizona and Hawai'i.
Moving on
Granite Hills graduate SETH COLLINS, a quarterback during his freshman season for Oregon State, has transferred to Northern Illinois University. He passed for 936 yards and 6 touchdowns in eight games for the Beavers. He also rushed for 580 yards and 8 touchdowns on 180 carries.
Five quarterbacks, including Collins, will be vying for the starting job for the Huskies. Northern Illinois finished 8-6 a year ago, losing to Boise State in the San Diego Poinsettia Bowl.