Six easterners honored recently at NFF Awards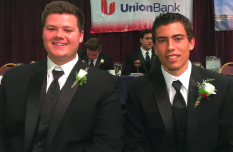 Jake Kitten (left) and Frankie Gutierrez, of Santana, were award recipients at the NFF Zable Chapter Awards.
2016 EAST COUNTY PREP FOOTBALL 
By Adam Paul
© East County Sports.com
SAN DIEGO (4-18-16) — On a night when many San Diego County football players were honored at the 44th Annual Awards Banquet that honored Scholar-Leader-Athletes put on by the National Football Foundation, six players from the East County were among the honored, Friday (Apr. 8th).
Those from the East County were Cal Poly-San Luis Obispo bound MICHAEL AUSTIN a 6-foot-1, 185 pound quarterback who combined for 26 touchdowns this past season and helped Helix High to an Open Division Championship as well as a runner-up finish in the Division I-AA SoCal Regional. His other recognitions included being named to the 2015 All-San Diego Section First-Team Offense and Cal-Hi Sports All-State Fourth Team and EastCountySports.com First-Team Offense. In the classroom he carried a 3.87 GPA.
Joining Austin from Division I was JOSHUA BENSON of El Capitan High a 5-foot-10, 195 pound middle linebacker who will be attending San Diego State University. Always a hard worker in the classroom as his 3.9 GPA shows, he will major in Criminal Justice while at SDSU.
Division II had a couple of players from East County honored as RYAN BURKE from Valhalla High and BRANDON HESTER out of Christian High were chosen. Burke a 5-foot-9, 205 pound linebacker helped the Norsemen on the defense. Besides playing football he also earned varsity letters in track and field as a thrower and two for rugby.  He was a 2015 All Grossmont First Team offensive pick and also a First Team offensive selection for EastCountySports.com. Besides his on the field achievements he also carried a 4.69 GPA in the classroom.
Meanwhile Hester who was a two-way player for the Patriots caught 23 balls for 290 yards and on defense registered 39 tackles, an interception and a fumble recovery. He was named to the All-City League First Team Defense for those efforts. Besides playing football where he earned four varsity letters while playing for head coach MATT OLIVER he also earned three varsity letters playing baseball while playing for coach MIKE MITCHELL. His 4.05 GPA will take him to Dartmouth University in the Ivy League where he will continue his football career and major in Economics.
Finally out of West Hills High, 6-foot-4, 215-pound SPENCER MOYER who quarterbacked the Wolf Pack for two years. In those two years he threw for 3,786 yards and 37 touchdowns and only 11 interceptions. In 2015 he ran and passed for over 2,400 yards and accounted for 23 touchdowns. While at West Hills, Moyer also was a multi-sport athlete competing in basketball and baseball besides football. In football he was named to the All-East County Second Team Offense and All Grossmont Valley League First Team Offense.  His efforts carried into the classroom as he carried a 4.33 GPA.
Out of Division III were a couple of players out of Santana High. First up was JACOB KITTEN a 6-foot-2, 280-pound offensive and defensive lineman. While at Santana he earned three varsity letters in football and also three letters in track and field.  He was a major force on the offensive line and because of this he was named to the All-State Second Team Offense by Cal-Hi Sports. He was also selected to the All-East County First Team Offense and All-Grossmont Valley League First Team Offense. His prowess also earned him All-CIF San Diego Section Second Team Offense.  In the classroom he earned a 4.47 GPA and will continue his studies and hopes to play football at the University Of Nebraska in Lincoln.
Kitten was a force on the offensive line and because of this it helped FRANKIE GUTIERREZ, a duel-threat quarterback have one of the best seasons a QB has had in Santana Sultan history. He passed for 2,837 yards including 22 touchdown strikes and was named the 2015 East County Co-Offensive Player of the Year.  His career accomplishments including career passing yards of 4,170 and over 30 touchdown passes among others will have him as one of the most decorated quarterbacks to ever play at Santana. Besides football, Gutierrez earned varsity letters in basketball and track and field. In the classroom he earned a 3.85 GPA and will take his skills to the University of Sioux Falls.
Each one of the honorees received a $1500 scholarship but in the case of Kitten a special honor was bestowed upon him as he was named the Player of the Year for San Diego which earned him a $2500 scholarship.