East County seniors take hardcourt encore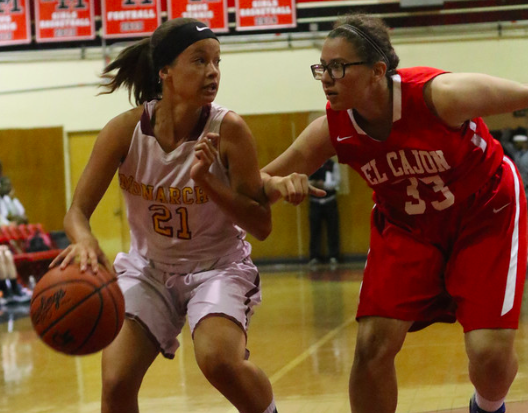 2015-16  EAST COUNTY PREP BASKETBALL ALL-STAR GAME – GIRLS
By James McHugh
© East County Sports.com
SPRING VALLEY (4-8-26) – The Grossmont Hills League team captured the 2016 East County Sports Girls All-Star game 65-34 over the Grossmont Valley team Friday night (Apr. 8) at Mount Miguel High School.
RAE MOORE of Granite Hills led all scorers with 16-points on the night and took home MVP honors for the Hills team. Moore's Granite Hills teammate MICAYELA HERNANDEZ also poured in 13-points and captured the 3-point Shootout crown at halftime over MEGAN SCOTT of West Hills.
Scott led all shooters in the first round of the three point contest before Hernandez knocked her off in the championship round. Hernandez had to complete a tie-breaker round with Moore to determine who would face Scott in the finals.
TIANA SILVER of Valhalla gained MVP honors for the Valley team scoring 15 of the team's 34 points on the night. Silver was joined by fellow Norsemen MOLLY LINDSAY and BIANCA GORGES on the Valley roster. Lindsay had six rebounds and three blocks on the night.
El Cajon Valley standout TITISHIA CLEMONS grabbed 13-rebounds for the Valley and Grossmont's LYDIA HALCOTT added 12-rebounds and four blocks to go with two points.
The Hills team saw a number of high rebounding numbers with ROSLYN PIERCE of Mount Miguel grabbing 11 and KYRA WHITLEY of Monte Vista pulling in 10 in the victory.
HILLS:  Granite Hills – Rae Moore 16 (17 reb, 4 blk, 4 stl), Micayela Hernandez 13 (3 ast, 3 stl, 2 reb), Emma Kubari 2 (6 reb, 3 blk, 2 ast, 1 stl);  Monte Vista – Kyra Whitley 8 (10 reb, 1 stl), Cassie Calderon 4 (7 reb, 2 ast, 1 blk), Mariah Whitehead 2 (2 reb, 1 ast, 1 stl); West Hills – Megan Scott 9 (6 stl, 5 reb, 5 ast); Mount Miguel – Rozlyn Pierce 11 (11 reb, 1 blk, 1 stl).
VALLEY:  Valhalla – Tiana Silver 15 (1 blk), Bianca Gorges 2 (2 stl, 1 ast, 1 blk), Molly Lindsay (6 reb, 3 blk, 1 ast); El Cajon Valley – Titishia Clemons 8 (13 reb, 3 stl), Farah Kannan 5 (2 reb); Grossmont – Lydia Halcott 2 (12 reb, 4 blk), Symone Griffith 2 (3 reb, 1 ast, 1 stl, 1 blk).