ROUNDUP: Monarchs, Scots, Hillers, Eagles, Sultans win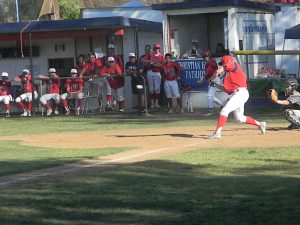 2016 EAST COUNTY PREP BASEBALL
By Bill Dickens
© East County Sports.com
SANTEE (4-23-16) — When it comes to East County baseball, upsets seem to be routine.
That started with Friday's (Apr. 22) Monte Vista 3-1 Grossmont Valley League victory over West Hills.
JUSTIN SCHWEIZER carried the torch for the Monarchs as he allowed only 2 hits, no earned runs and struck out 6 over 5 1/3 innings to even his record at 2-2.
"We're no longer a rollover-type team," Schweizer said. "People can't count us out anymore."
Schweizer is looking forward to Monday's (Apr. 25) rematch against West Hills at Petco Park at 7 p.m.
"We've all waited for playing that game all season," Schweizer said. "I think it will be more excitement than nerves. Can't wait to get out there."
The Monarchs barged in front with 3 runs in the fourth inning. FRANK GUTIERREZ singled, advanced to second on a groundout and scored on a double down the left field line by BRENDAN COLLIS. ANTHONY ROSARIO followed with a run-scoring single and DAVID GARCIA hoisted a deep flyball to centerfield that was misplayed for an error, allowing Rosario to score. He cruised home to make it 3-0.
That was more than enough for Schweizer.
A belated rally by West Hills came in the sixth inning. Catcher BRADEN SANFORD singled and scored on a ground ball by AARON BARKLEY.
Speaking of Barkley, he pitched seven complete innings for the Wolf Pack, allowing only 6 hits and 2 earned runs while striking out 5. He was stung with his first loss in five decisions.
Wolf Pack coach MICKEY DEUTSCHMAN said, "I think Monte Vista played a pretty doggone good ballgame. They put the ball in play off Mr. Barkley more than has been throughout our tournament play. That was a surprise and if we could have made the plays to where the balls were hit we probably would still be playing right now."
*
HELIX 3, EL CAPITAN 2 – HUNTER ISBELL slashed a 2-run double in the bottom of the seventh inning to give the Highlanders a walkoff Grossmont Hills League victory over El Capitan on Friday (Apr. 22) in La Mesa. It was Isbell's first game-winning RBI.
"We did what we needed to do," said Helix coach COLE HOLLAND. "But we are in a serious need of an attitude adjustment. From here on out we will play Helix baseball."
El Capitan took an early lead in the second inning on a solo home run – his second of the season – by JASON MOORMAN.
Helix counterpunched with a run in the fifth. ROMAN PADILLA and Isbell hit back to back doubles.
El Capitan fought back in the seventh inning when DAWSON McCLANAHAN was hit by a pitch. JAKE MEDFORD doubled to put runners at second and third. McClanahan eventually scored on a passed ball, giving the Vaqueros a 2-1 lead.
Rather than folding, the Highlanders battled back on Isbell's game-winning blow.
With the win CONNER KONISHI owns an East County best 6-0 record. He pitched a complete game 4-hitter.
By Bill Dickens, © EastCountySports.com
*
GROSSMONT 3, STEELE CANYON 0 – CALVIN FARRIS continued his dominant ways as a pitcher and hitter as he carried the Foothillers to a 3-0 Grossmont Hills League victory over Steele Canyon on Friday (Apr. 22).
Farris flirted with a no-hitter. He surrendered only a line drive single to centerfield by the Cougars MATTHEW BRINKMEIER leading off the sixth inning.
The Foothillers pushed across single tallies in the second, third and fourth innings.  In the second inning KYLE PINEDA singled, stole second and scored on a base hit by STEVEN OUELLETTE.
In the third inning EVAN McCARTHY singled and advanced to third on a base hit by ADAM LOPEZ. McCARTHY eventually cruised home on a wild pitch.
In the fourth frame Pineda laid down a bunt single and moved up 90 feet on a base hit by Ouellette to left field. Freshman catcher CALEB TEDOKON then pounded out a base hit to make it 4-0 after four innings.
One of the unsung heroes for the Foothillers has been second baseman Ouellette.
"We already knew that he was a real good defender," said Grossmont coach JORDAN ABRUZZO of Ouellette. "But he's worked hard on his hitting. Every day he's the first guy in the batting cages and the last guy to leave. His extra sessions are paying off. He's hitting about .400 in league play."
By Bill Dickens, © EastCountySports.com
*
GRANITE HILLS 10, VALHALLA 3 – The Eagles erupted for 10 runs in the middle frames to blow away the visiting Norsemen in Friday's (Apr. 22) Grossmont Hills League encounter.
In the third inning JAKE FENN singled to left, and BRADY JOSLYN and JOSH VERDON put down back to back bunts. DILLAN SHRUM then doubled to right to get the Eagles on the board with what proved to be the game-winning RBI. DARIEN COSSIO was safe on an error and Shrum scored.
After the Norsemen scored 2 runs in the top of the fourth to cut the Eagles' lead in half. BROCK MOSIER walked and CALEB ST. CLAIR singled to left. COLE HOWARD was safe on a sac bunt but Mosier scored on an error. RILEY O'SULLIVAN hoisted a sacrifice fly.
Granite Hills counterpunched with 6 runs in the bottom of the fourth. TREVOR HAZELHURST singled to left and Fenn bunted him to second base. The Eagles broke the game open in the fourth with a touchdown worth of runs. BLAKE ST. CLAIR reached base on an error and scored on Ross's homer.
The inning continued as Cossio singled to left, scoring Fenn. JOSH VERDON had an RBI single, Cossio had a 2-run single and SEAN ROSS hit a line drive 3-run homer. Ross finished with 3 RBI and 2 hits for the 7th ranked Eagles.
Shrum, who was 1-for-3 with 2 runs scored and 2 RBI, also spun 6 innings to pick up his 4th win in six decisions. He allowed 2 hits and 2 runs while walking 3 and striking out 11. Shrum has run his strikeout lead to 52 on the season.
By Bill Dickens, © EastCountySports.com
*
CORONADO 11, CHRISTIAN 4 – The Christian High Patriots are in an interesting position.  Even though 17 of the 23 student-athletes on the baseball roster are upperclassmen, the team is young.
"We have some kids that are inexperienced and have never been in pressure situations," Christian head coach MIKE MITCHELL said after the Patriots lost to Coronado in a Central League game by an 11-4 score in Friday's (Apr. 22) encounter.
"We were a very senior dominated team last year.  So these kids are not used to having to be "the guy", so none of them have really stepped up into that role yet.  But that will happen," Mitchell continued.
Things started out well for the Patriots (11-8, 3-1 Central) as they held Coronado scoreless in the top of the first.  CHASE WEHSENER singled with one out to begin the offensive day.  Wehsener was eliminated on the next play when ZACH HOGUIESSON hit into a fielder's choice.  Hoguiesson advanced to second on a wild pitch to move into scoring position.  JUSTIN LEDGERWOOD singled up the middle to bring in Hoguiesson for the first run of the day and the lead.
Coronado (19-4, 4-0 Central) would score twice in the second, once in the third, six in the fourth and two more in the fifth to take an 11-1 lead to the bottom of the fifth.
KYLE STOWERS broke through for the first hit for the Patriots since the second inning in the bottom of the fifth.  Wehsener followed that up with a single of his own to put runners on first and second with no one out.  Islander pitching became a tad wild as a wild pitch advanced Stowers and Wehsener to second and third.  A RBI goundout by Hoguiesson brought in Stowers and advanced Wehsener to third.  Another wild pitch allowed Wehsener to touch home and close the game to 11-3.  Ledgerwood would single to right to get the rally cranked over again.  JOHN GERSHOW singled to put runners on first and second again.  The rally ended when Christian grounded into an inning ending double play.
JAKOB BECK singled to get the sixth inning underway for the Patriots.  NATE CAZARES followed that up with a single to push Beck into scoring position.  DAVID JOSEPHSON grounded the ball to the third baseman who attempted to double up the junior catcher, but he beat the throw to first.  Beck was the force out at third.  A strikeout accounted for the second out of the inning.  Wehsener walked to load the bases and provided a little bit of hope to the Patriot faithful.
Unfortunately for the East County folks that is how the inning would end.
The seventh started out with a fly out, but was promptly followed up with a Gershow single to right and he advanced to second when the right fielder misplayed the ball.  After a fly out to left, Beck singled to left centerfield bringing in Gershow and closing the gap to 11-4.  But that is where the game ended after the Patriots hit into a ground out to second base.
"We had a bad inning and things got away from us," coach Mitchell said.  "That is baseball, some days it goes your way, other days it doesn't.  I don't think the score is indicative of how close the two teams actually are.  They are high school kids, you lose concentration sometimes and that is what happened."
By Chris Davis, © EastCountySports.com
*
SANTANA 21, EL CAJON VALLEY 1 – NOAH NUNEZ slashed his 4th and 5th triples of the season as he went 3-for-4 with 4 RBI and 2 runs scored as Santana mauled El Cajon Valley in Friday's (Apr. 22) Grossmont Valley League encounter.
The 8th ranked Sultans rolled their overall record to 15-2 as they assumed the circuit lead with a 2-0 mark.
Santana pounded out 18 hits which helped the Sultans score 50 runs in two games over the Braves.
BLAKE PRYOR joined in the hit parade for Santana with a single and triple, 3 RBI and 2 runs scored in 5 at-bats.
Sultans catcher EMORY ALLEN-FOX was 3-for-4 with an RBI and JERRY ALESI was 2-for-2 including a 3-run homer in the fourth inning.
That was more than enough offense to support the pitching of COLTON CALVERT who allowed only one run and 2 hits in four innings while striking out 7.
BRANDON MOSBURG shut out the Braves on one hit and struck out 3 to earn his second save.
By Bill Dickens, © EastCountySports.com
Fri., April 22, 2016
Grossmont Hills League
EAGLES 10, NORSEMAN 3
Valhalla        ab r h bi Granite Hills   ab r h bi
Dirkes ss        4 0 1 0  JoVerdon 3b-p    3 1 1 1
CBrown dh        2 0 0 1  Shrum p-1b       3 2 1 2
Kister 3b        0 0 0 0  Cossio 2b        4 2 1 2
Henderson p      2 0 1 0  ABrown 1b-3b     3 1 1 1
Dunnam lf        2 0 0 0  Ross cf          4 1 2 4
Mosier cf        2 1 0 0  BSt. Clair lf    3 0 0 0
CSt. Clair 1b    3 1 1 0  Hazelhurst rf    3 1 1 0
Howard rf        2 0 0 1  Fenn c           3 2 2 0
RO'Sullivan lf-p 2 0 0 1  Joslyn dh        2 0 0 0
Heider c         2 0 0 0  Omahen 2b        0 0 0 0
Hageman c        1 0 0 0
CO'Sullivan 2b   2 1 1 0
TOTALS          24 3 4 3  TOTALS         28 10 9 8

  Valhalla      (1-17, 0-4) 000 200 1 –  3 4 3
  Granite Hills (13-6, 4-0) 004 600 x – 10 9 2

GWRBI-Shrum (2).
E-Dirkes, CO'Sullivan 2, Cossio, Shrum. 
LOB-Val 6, GH 4. 2B-Shrum. HR-Ross (1) 4th, grand slam. 
SB-Dirkes. S-Joslyn, JoVerdon, Howard. 
SF-CBrown, RO'Sullivan. SF-CBrown, RO'Sullivan. 

PITCHING SUMMARY
Valhalla           ip  h  r er bb so
 Henderson L(1-4) 3.0  4  4  1  0  3
 RO'Sullivan      3.0  5  6  6  1  1
Granite Hills
 Shrum  W(5-2)    6.0  2  2  2  3 11
 JoVerdon         1.0  2  2  1  0  1
HBP-RO'Sullivan (ABrown). WP-JoVerdon, Shrum. 

HIGHLANDERS 3, VAQUEROS 2
El Capitan     ab r h bi Helix          ab r h bi
Olhauser cf     3 0 0 0  Richardson ss   2 0 0 0
Carlino 2b      3 0 0 0  Smelko lf       3 0 0 0
Emmerson dh     3 0 0 0  Stronach 3b     3 0 0 0
Moorman 1b      3 1 1 1  Konishi p       3 1 1 0
Duncan 3b       3 0 1 0  Padilla rf      3 2 2 0
McClanahan lf   2 1 1 0  Isbell c        3 0 2 3
Medford rf      2 0 1 0  Brogan 1b       2 0 0 0
Colson p        2 0 0 0  Babbitt dh      2 0 0 0
Roberson p      0 0 0 0  Peterson 2b     2 0 0 0
Lindsay c       2 0 0 0  Chase 2b        0 0 0 0
Jones lf        0 0 0 0
Larwa ss        0 0 0 0
TOTALS         25 2 4 1  TOTALS         23 3 5 3

  El Capitan (8-9, 1-3) 010 000 1 – 2 4 2
  Helix     (11-6, 3-1) 000 010 2 – 3 5 0

GWRBI-Isbell (1).
E-Duncan, Larwa. DP-EC 1. LOB-EC 4, Hel 2. 
2B-Medford, Isbell 2, Padilla. 
HR-Moorman (2) 2nd, solo. 

PITCHING SUMMARY
El Capitan        ip  h  r er bb so
 Colson          5.0  2  1  1  1  1
 Roberson L(0-2) 1+   3  2  2  0  0
Helix
 Konishi  W(6-0) 7.0  4  2  1  1  4
Roberson faced 3 batters in the 7th inning.
HBP-by Colson (Konishi).

FOOTHILLERS 3, COUGARS 0
Steele Canyon   ab r h bi Grossmont     ab r h bi
Bagdasar lf      3 0 0 0  McCarthy ss    3 1 1 0
Russell 2b       3 0 0 0  Harris p       3 0 1 0
Tuck cf          2 0 0 0  Lopez 3b       3 0 1 0
Esquibel 1b      3 0 0 0  JGarcia 1b     3 0 0 0
Row dh           3 0 0 0  Lombardo rf    3 0 0 0
Arias c          3 0 0 0  Pineda cf-rf   3 2 2 0
Logan 3b         2 0 0 0  Hulett dh      2 0 1 0
Fiedler ss       2 0 0 0  Buchanan cf    0 0 0 0
Brinkmeier rf    2 0 1 0  Van Avery lf   0 0 0 0
                          Oullette 2b    2 0 1 1
                          Tedokon c      2 0 1 1
TOTALS          23 0 1 0  TOTALS        24 3 8 2

  Steele Canyon (8-10-1) 000 000 0 – 0 1 0
  Grossmont  (12-6, 3-1) 011 100 x – 3 8 1

GWRBI-Oullette (1).
E-JGarcia. LOB-SC 3, Gro 6. SB-Pineda, Tuck. S-Oullette.

PITCHING SUMMARY
Steele Canyon     ip  h  r er bb so
 Luban L(1-3)    4.0  8  2  2  1  0
 Schirer         2.0  0  0  0  0  2
Grossmont
 Farris W(5-0)   7.0  1  0  0  1  9
HBP-by Shirer (Hulett). WP-Luban. PB-Arias, Tedokon.

Grossmont Valley League
SULTANS 21, BRAVES 1
El Cajon Valley ab r h bi Santana      ab r h bi
Favela ss        3 0 2 1  Salinas cf    2 2 1 1
Sanchez 3b-p     4 0 0 0  Simmons cf    3 1 1 1
Carreon p        2 0 0 0  Hernandez 2b  4 3 2 3
Moreno 1b        2 0 0 0  Nunez dh      4 2 3 4
Herrera lf       3 0 0 0  Calvert p-dh  2 0 0 0
Manglona rf      2 0 0 0  Odenkirk ss   4 1 1 1
Castillo dh      2 1 0 0  Mora ph       1 0 1 1
Bernardo cf      2 0 0 0  Allen-Fox c   4 2 3 1
Perez 2b         3 0 0 0  Ellis lf      2 1 1 0
Hussein c        0 0 0 0  Roe lf        2 1 0 0
                          Pryor 1b      5 2 2 3
                          Jackson rf    2 2 1 1
                          Mosburg p     1 1 0 0
                          Miller 3b     0 1 0 0
                          Alesi 3b      2 2 3 3
TOTALS          24 1 3 1  TOTALS    38 21 18 19

GWRBI-Hernandez (1).
E-Mosburg, Perez, Favela. LOB-ECV 6, Sant 9. 2B-Simmons. 
3B-Salinas, Nunoz 2, Pryor. HR-Alesi (1) 4th, two on. 
SB-Moreno, Carreon. SF-Jackson. 

  El Cajon Valley (8-7, 0-4) 001 000 0 –  1  3 2
  Santana        (15-2, 2-0) 380 910 x – 21 18 1

PITCHING SUMMARY
El Cajon Valley  ip  h  r er bb so
 Carreon  L     3.2 15 18 13  6  2
 Sanchez        2.1  3  3  3  2  2
Santana
 Calvert W(1-0) 4.0  2  1  1  3  7
 Mosburg Sv(2)  3.0  1  0  0  1  3
HBP-by Mosburg (Favela), by Sanchez (Alesi). 
WP-Calvert, Carreon 2, Sanchez 2.

MONARCHS 3, WOLF PACK 1
Monte Vista     ab r h bi West Hills   ab r h bi
FGutierrez 1b    4 1 1 0  Anderson cf   1 0 0 0
AGonzales ss-p   3 0 1 0  Lewis lf      3 0 1 0
Collis dh-p      3 1 1 1  Barkley p     3 0 0 1
Harmon rf        3 0 0 0  Craft 3b      1 0 0 0
DGarcia 3b       3 0 1 0  Quintana 1b   3 0 0 0
DSandoval c      3 0 0 0  Knutson 2b    0 0 0 0
Gulley lf        3 0 1 0  Parker ss     2 0 0 0
Marquez cf       3 0 0 0  Sanford c     3 1 2 0
                          ZSandoval cf  1 0 0 0
                          Currione 3b   2 0 0 0
                          Alvarez 2b    2 0 0 0
                          Carlin cf     0 0 0 0
                          Hughes ph     1 0 0 0
TOTALS          28 3 6 2  TOTALS       24 1 3 1

  Monte Vista (6-11, 2-1) 000 300 0 – 3 6 2
  West Hills  (10-7, 2-1) 000 001 0 – 1 3 2

GWRBI-Collis (2).
E-Anderson, ZSandoval, AGonzales 2. DP-MV 1. 
LOB-MV 3, WH 5. 2B-Collis. SB-Collis, DGarcia, Lewis. 

PITCHING SUMMARY
Monte Vista         ip  h  r er bb so
 Schweizer W(2-2)  5.1  2  1  0  0  6
 Collis            1.1  1  0  0  2  1
 AGonzales Sv-2.   0.1  0  0  0  0  0
West Hills
 Barkley L(4-1)    7.0  6  3  2  0  5
HBP-by Schweizer (Carlin, Knutson).

Central League
ISLANDERS 11, PATRIOTS 4
Coronado        ab r h bi Christian      ab r h bi
Iigoyen dh-3b    4 0 2 2  Stowers rf      3 1 1 0
Fahrenthold lf   5 1 1 0  Wehsener 1b     3 1 2 0
Weller ss        4 1 0 0  Hoguiesson rf   3 1 0 1
Harris 3b-ss     5 1 1 0  Ledgerwood 3b   4 0 2 1
Knight c         4 3 3 2  Gershow p-2b    4 1 2 1
Cummins cf       5 2 2 1  Nielsen dh      3 0 1 0
Leaser p         4 1 2 0  Beck ss         3 0 2 1
Depperschmidt rf 4 1 2 2  Cazares lf      3 0 1 0
Gonzales 1b      3 1 2 2  Josephson c    3 0 0 0
TOTALS        38 11 15 9  TOTALS        29 4 11 4

  Coronado  (19-4, 4-0) 021 620 0 – 11 15 1
  Christian (11-8, 3-1) 100 020 1 -  4 11 3
Josephson reached on catcher's interference.

E-Coro 1, Chr 3. LOB-Coro 9, Chr 10. 
2B-Cummins, Iigoyen, Nielsen. 
HR-Knight (1) 5th, one on. 

PITCHING SUMMARY
Coronado         ip  h  r er bb so
 Leaser  W      5.0  7  3  3  4  2
 Hallerburg     2.0  4  1  0  1  1
Christian
 Gershow L(3-3) 3.0  6  3  2  2  0
 Jarvis         2.0  9  8  8  0  0
 Gentry         2.0  0  0  0  0  0