Foothillers finally win Dickens Classic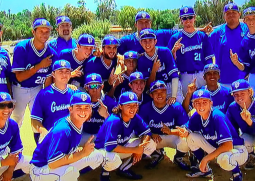 The Grossmont Foothillers celebrate their championship in the Bill Dickens East-City Classic on Saturday.
2016 EAST COUNTY PREP BASEBALL
By Bill Dickens
© East County Sports.com
EL CAJON (4-24-16) —  At the outset of the season junior JAYDEN LOMBARDO figured to spend the majority of this season behind the plate calling signals for a premier pitching staff. Pitching has obviously become a strong suit for the Grossmont Foothillers.
The Hillers one-two punch of CALVIN FARRIS and JACKSON HULETT has resulted in an 8-1 record for Grossmont. Tossing in the relief pitching of KANNON ROMERO (2-0) and ADAM LOPEZ (2-1) leads one to believe that Grossmont is well stocked on the mound.
That's true.
But the emergence of Lombardo on the hill has proven that Grossmont probably has the deepest pitching staff in East County.
The hard-throwing right-hander made a statement to that effect in hurling Grossmont to a 2-1 victory over Cathedral Catholic in Saturday's (Apr. 23) Bill Dickens-City East Classic championship game played at Granite Hills.
"We lost in the finals of this tournament last year to Steele Canyon so that made it very important to come back and win this one this year," said Lombardo, who surrendered only 5 hits and struck out 12 against Cathedral (15-6).
Scouts on the scene said that Lombardo was throwing his fastball between 87–89 mph most of the game.
"I've never had this many strikeouts in a game before," he said. "My slider was my best pitch today. I showed them my fastball and curveball but relied primarily on my slider. I was able to work my slider in and out – it was really on. I felt very comfortable throwing it, in any count."
The availability to promote Lombardo into the regular rotation is due to the evolution of freshman catcher CALEB TEDOKON.
"You know, he's a fantastic catcher," said Lombardo, who is being looked at by San Jose State and the University of San Diego for his college future.
For 10th ranked Grossmont Foothillers (13-6) it was the second time they have downed the Dons, including 10-1 in pool play.
The Foothillers scored all the runs they needed in the third inning on this day. Back to back singles by Tedokon and EVAN McCARTHY set the Foothillers' offense into motion. JAIME ARREOLA tapped into a force play, erasing Tedokon. Then ADAM LOPEZ unloaded an RBI double scoring McCarthy. Cathedral pitcher Preston Price then uncorked a wild pitch to plate Arreola.
For Grossmont coach JORDAN ABRUZZO the focus was on Lombardo.
"We knew Jayden could be one of our top pitchers but when we had one of our top catchers quit, we had to move him back behind the plate," Abruzzo noted. "He's met the challenge. We hoped he would go four or five innings in this game, but he gave us way more than that."
Abruzzo rated the value of the game. "Of course this was an important game for us. It gives us a lot of points for our power rating. You can't pass up teams that offer a high ranking in the power ratings, as Cathedral does.
"I don't care about how many teams respect us in the polls," he continued. "We have a good team and we know it."
G1: BISHOP'S 2, FOOTHILLS CHRISTIAN 1
G2: BISHOP'S 10, FOOTHILLS CHRISTIAN 5 — The Bishop's Knights swept a non-league twinbill from the visiting Foothills Christian Knights Saturday (Apr. 23) in La Jolla.
Foothills Christian led in the opener, taking a lead in the top of the first, which they would hold until the last of the fifth.
Bishop's scored single markers in the fifth and the sixth to overtake the Foothills Knights, then held the visitors in the top of the seventh.
In the afternoon contest, Bishop's jumped out to a 5-0 lead after one, but Foothills Christian had a three-run fourth to close a 6-1 lead to 6-4.
However, Bishop's would come up with four more runs in the bottom of the fifth for a six-run lead.
The Foothills Knights tacked on a run in the top of the seventh.
Foothills fell to 5-10 overall, while Bishop's, out of the Coastal League where they are 3-0 to start, improved to 15-5 overall.
Staff Report, © EastCountySports.com
Sat., April 23, 2016
Bill Dickens-City East Classic
Championship Game:
FOOTHILLERS 2, CATHEDRAL 1
Grossmont       ab r h bi Cathedral       ab r h bi
McCarthy ss      3 1 2 0  QHoffman ss      2 0 0 0
Arreola dh       3 1 0 0  Allred cf        3 1 1 0
ALopez 3b        3 0 1 1  Mueller 3b       3 0 0 0
JeGarcia 1b      2 0 0 0  Walter 1b        3 0 2 0
Farris rf        3 0 0 0  Goddard pr       0 0 0 0
Buchanan rf      0 0 0 0  Chang lf         3 0 1 0
Lombardo p       3 0 1 0  Demgen rf        2 0 0 0
Pineda cf-rf     3 0 1 0  Mastrini rf      1 0 0 0
Ouellette 2b     3 0 0 0  Brown dh         3 0 0 0
Tedokon c        3 0 2 0  Polinsky c       3 0 0 0
Van Avery lf     0 0 0 0  WHoffman 2b      2 0 1 0
TOTALS          26 2 7 1  TOTALS          25 1 5 0

  Grossmont (13-6) 002 000 0 – 2 7 0
  Cathedral (15-6) 000 100 0 – 1 5 0

GWRBI-ALopez (2).
E-None. DP-Cath 1. LOB-Cath 4, Gro 5. 2B-ALopez, Walter. 
SB-McCarthy, Aerrola, Allred. 

PITCHING SUMMARY
Grossmont          ip  h  r er bb so
 Lombardo W(1-0)  7.0  5  1  1  0 12
Cathedral
 Price   L(4-2)   7.0  7  2  1  1  8
HBP-by Price (Lombardo). 

Non-League
G1: Bishop's 2, Foothills Christian 1
G2: Bishop's 10, Foothills Christian 5