Stowers, others honored at Prep Athlete Awards Gala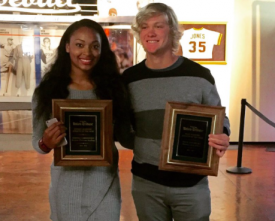 2016 EAST COUNTY PREP ATHLETES HONOREES
By Bill Dickens
© East County Sports.com
SAN DIEGO (6-11-16) — KYLE STOWERS has been named the Male Academic Athlete of the Year by the San Diego Hall of Champions and Union-Tribune San Diego, it was announced Saturday night.
Stowers hit .367 this spring and carried a 4.25 grade-point average while at Christian High. He took the SAT three times in order to get the 1,800 SAT score he needed for his commitment to play baseball at Stanford to be honored.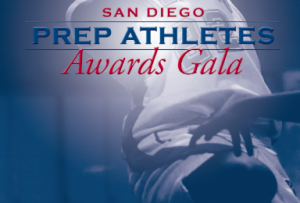 Several other east county athletes received top awards at the 10th Annual Prep Athlete Awards Gala.
Two outstanding Grossmont prep student athletes were recognized for their athletic and academic excellence on Friday, as they were named county all-academic captains for their respective seasons.
CALVIN FARRIS was named the Union-Tribune San Diego All-Academic Team Captain for baseball.
TOMMY RUTHERFORD earned All-Academic Team Captain for basketball.
From Santana, first-team all-East County lineman JAKE KITTEN was recognized as a captain, as well.
Many east county stars were recognized as Player of the Year in their respective sport's season.
Foothills Christian's T.J. LEAF – an runner-up in county Athlete of Year balloting – received his award as basketball Player of the Year
Helix duo NATE STINSON (offense) and EZEKIEL NOA (defense) were named in football, while Highlander wrestling great TRENCE GILLEM, who was also an all-academic team captain, was honored for his historical season.
West Hills gymnastics sensation TESSA ANDERSON was her sport's Athlete of the Year, following her team's section title and her record-setting individual performance in the section championships.
Anderson's coach at West Hills, Liz Ladley, was recognized as the section's Female Coach of the Year.