LITTLE LEAGUE BASEBALL Tournament of Champions
District 33 Majors Tournament of Champions winner La Mesa National Aztecs
2016 LITTLE LEAGUE BASEBALL
Tournament of Champions – Majors
Thursday, June 16
District 33
LA MESA NATIONAL AZTECS 10, MISSION TRAILS YANKEES 5 – The Aztecs scored four in the fourth, highlighted by an RBI double from LOGAN HALL, then power-hitting JAKE PEREZ (left) went deep in the sixth inning, to propel LMN to the District TOC title.
JAKE ROMERO had an RBI double in the first for Mission Trails, driving home SHANE KERSHAW for an early lead.
CARTER DAVIS scored a run for La Mesa National, which beat previously unbeaten San Carlos on Wednesday, 1-0, to advance to the final.
FLETCHER HILLS 10, EL CAJON NATIONAL 0 – JUSTIN BROWN dominated this tournament and he closed it out in big fashion in the championship game, hitting two home runs deep over left field and striking out 10 batters, to lead Fletcher Hills.
ALEXANDER VASILOU singled to drive home a pair of runs early, including teammate JAKE JACKSON.
"We had good defense all around and we hit throughout the lineup," Brown said. "It was a great team win."
District 33
SAN CARLOS 6, ROLANDO 1 – Jireh Wong doubled home a pair in the top of the second, then PEYTON DELUCA had an RBI single to score TYLER WICK in the third.
GARRETT WILLIS had a solo homer for San Carlos in the sixth.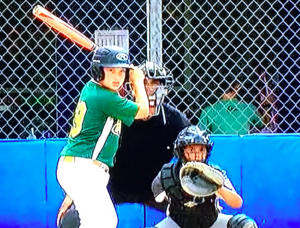 Saturday, June 11
District 33
LAKE MURRAY A'S 12, TIERRASANTA 2 (4 innings) – Lake Murray's MASON DURKISS hit a double to left to score TREVOR YOUNG and JADEN BREWER to make it 7-2.
In the third, ERIC SANDAL hit a home run to score GALVIN GARCIA in front of him.
The A's finished pool play with a 3-0 mark and will open bracket play against Mission Trails on Tuesday at 5:30 p.m. at La Mesa National.
LA MESA NATIONAL BRUINS 6, MID-CITY 0 – The Bruins finished pool play 3-0 and will open bracket play against Sunshine on Tuesday at 5:30 at Rolando LL.
District 66
LAS PALMAS 12, SPRING VALLEY 0 – In the District 66 championship game, Anthony Lovato drove in a run with a double as Las Palmas on the title. Las Palmas won its three games by a 34-0 combined score.
Meanwhile, Spring Valley defeated Valley de Oro in the District 66 Minors Tournament of Champions title game.
District 33
LA MESA NATIONAL AZTECS 14, MURPHY CANYON 0 – The Aztecs earned their way into the championship bracket by finishing 2-1.
They will open up bracket play Tuesday against Serra Mesa at 5:30 at Mission Trails LL.
ROLANDO 8, SUNSHINE NATIONALS 7 – Rolando made the finals bracket with a 2-1 mark and will face San Carlos on Tuesday.
SAN CARLOS 8, CHOLLAS LAKE 3 – San Carlos closed out pool play 3-0 to advance to the championship bracket.
SERRA MESA 5, MISSION TRAILS YANKEES 2 – In pool play at San Carlos Recreation Center, Serra Mesa's Josh Blanchard doubled home Josh Villegas in the sixth inning and pitched a complete game with 11 strikeouts.
Mission Trails' JAMES GOODRICH hit a two-run home unto left for 2-0 lead early.
Wednesday, June 8
District 33
LAKE MURRAY 6, LA MESA NATIONAL 3 – Lake Murray's TREVOR YOUNG hit a three-run walk-off home run to lift Lake Murray to the road win at LMN.
LMN's AIDEN PEREZ kept his hot bat working earlier in the contest, hitting an opposite-field three-run home run.
ROLANDO 7, MID-CITY 5  – The Dirty Birds' Jacob Felix hit a rare "back yard" homer deep to left field for a two-run shot in the third inning as Rolando opened up a five-run lead.
FLETCHER HILLS 10, ALPINE 0 (4 innings) – EVAN VASILOU raked two triples and teammate JUSTIN BROWN racked up 11 strikeouts, as Fletcher Hills advanced to the District 41 Majors Tournament of Champions semifinals.
Vasilou knocked in Brown with a three-bagger in the first, while Brown recorded all 11 of hits outs over 3 2/3 innings via the K.
Fletcher Hills opened the tournament with a win over Santana National on Friday. They will play on Thursday at 5 p.m. in Alpine.
WEST HILLS 12, MTN. EMPIRE 1 (4 innings) – BRADEN OBERG drove in LANDON BAILEY with a hit in the first inning, while Brennan AUJERO doubled home KYLE JONES as part of an eight-run outburst in the opening frame.
West Hills moved into Thursday's semifinal at home at 6 p.m. They will face the winner of Tuesday's game between El Cajon National and Rancho San Diego at West Hills at 6 p.m.
LA MESA NATIONAL AZTECS 16, TIERRASANTA METS 0 (4 innings) – AIDEN PEREZ (left) homered twice for La Mesa National, including a two-run shot.
JACK MCMANN singled to scored GARRETT KINNARD and JAKE PEREZ to make it 2-0 in the first.
MISSION TRAILS 15, KEARNY MESA 0 – The Yankees opened pool play with the win.
LA MESA NATIONAL BRUINS 16, ROLANDO 0 – LMN started the pool play 1-0.
SUNSHINE AZTECS 6, CHOLLAS LAKE 2 – Sunshine took the early lead in Pool D, which also includes San Carlos.
Editor's Note:
Report Little League scores, pictures, videos or highlights to
ramon@eastcountysports.com
or text scores, pictures, videos and highlights to
619-300-9868