Pack's Barkley announced as addition to Delta Devils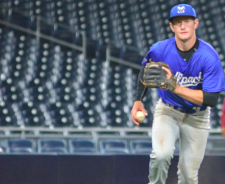 Barkley
2016 EAST COUNTY PREP BASEBALL
By Bill Dickens
© East County Sports.com
ITTA BENA, MS (6-14-16) — Question: What do AARON BARKLEY and San Francisco 49ers legend Jerry Rice have in common?
They both will have matriculated at the Division I Mississippi Valley State University on full ride athletic and academic scholarships. Rice, an NFL record-breaking wide receiver is long gone from the school and has stamped his career in the NFL's record book and Hall of Fame.
Barkley, a graduate of West Hills High School, will be a freshman catcher for the Delta Devils in Itta Bena, Mississippi, in the fall.
Mississippi Valley State head coach Aaron Stevens announced last Wednesday 15 additions for the 2016 season including six high school standouts and four junior college transfers.
Barkley batted .394 with 13 doubles, 18 walks with a bat and had a fielding percentage of 1,000. He posted a 6-2 record with 4 saves with a 1.51 ERA and struck out 58 as a Wolf Pack senior.
Aaron Barkley had a .543 OBP this season and tied for second in the East County with 13 doubles. He was also named team MVP.