LITTLE LEAGUE BASEBALL 11-12 ALL-STARS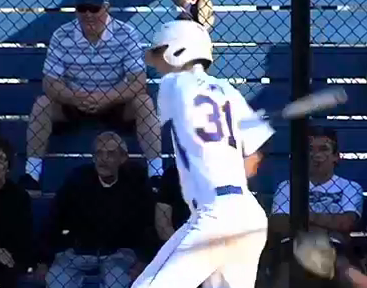 Justin Brown of Fletcher Hills Little League
LITTLE LEAGUE BASEBALL 11-12 ALL-STARS
District 41
June 30
EL CAJON NATIONAL 6, ALPINE 0 – ECN won the elimination game with a shutout in a game played at Fletcher Hills.
ECN led 3-0 after Tyler Bobacheck hit a two-run double, while NOAH PONCIANO had 13 strikeouts in the complete-game shutout.
El Cajon National will face West Hills in an elimination game on Tuesday at 6 p.m. at WHLL.
June 29
FLETCHER HILLS 6, RANCHO SAN DIEGO 4 – JUSTIN BROWN homered in the bottom of the first for Fletcher Hils, while Rancho San Diego closed the gap later on a three-run home run from PAOLO MEDINA.
FHLL advanced to the winner's bracket final on Tuesday at home at 6:30 p.m. The will oppose West Hills, who advanced with a win over Alpine at home.
June 24
LAKESIDE NATIONAL 10, SINGING HILLS 4 – SHLL's Ethan Wright hit a three-run HR for a 3-0 lead in the third inning, but ADAM LOZANO drove in GAVIN KANE to tie the game for LNLL, 3-3, with a single
Lakeside National's TANNER VIELGUTH got the win.
Lakeside National's CARSON BOEHM drove in a run to give his team the lead for good.
June 23
Rios Canyon 20, Santee Pioneer 0 – RCLL won as AIDEN MCGARITY (left), KADEN RODRIGUEZ  and JOE BROOKS homered in the romp over SP.
EL CAJON NATIONAL 11, SANTANA NATIONAL 1 – JACOB SALCEDO went 3-for-3, including a triple, while NOAH PONCINO hit a solo home run to pace ECN over SN.
June 22
West Hills 13, Lakeside National 4 – Host West Hills finished pool play undefeated at 4-0.
June 21
Santana National 7, Singing Hills 4 – At West Hills LL, SN improved to 1-2 in pool play.
June 20
El Cajon National 12, Lakeside National 5 – At West Hills, El Cajon National won and improved to 2-1 in pool play.
Rancho San Diego 17, El Cajon Western 0 (4 inn.) – Host RSD won in four to sweep all three games in pool play.
FLETCHER HILLS 17, CAJON DE ORO 1 (4 inn.) – Host FHLL won and outscored their three opponents 74-1 in pool play.
West Hills 16, Singing Hills 1 (4 inn.) – Host West Hills won in a run-rule affair.
June 18
Lakeside National 16, Santana National 10 – Game played at West Hills LL.
West Hills 9, El Cajon National 8 – Host West Hills won over ECN.
RANCHO SAN DIEGO 16, LAKESIDE AMERICAN 0 (4 inn.) – RSD won at home by run rule.
ALPINE 14, EL CAJON WESTERN 10 – At RDSLL, Alpine won.
Fletcher Hills 41, Santee Pioneer 0 (3 1/2 inn.) – FHLL put a record-romp on SP.
Cajon de Oro 6, Rios Canyon 3 – At Fletcher Hills, CDO won.
JUNE 16
WEST HILLS 6, SANTANA NATIONAL 1 – RYAN NICHOLAS (left) hit a two-run home run in the first inning for West Hills.
DAVID BURROUGHS had a home run for SN.
The game was the Pool A opener for both teams.
FLETCHER HILLS 16, RIOS CANYON 1 – Fletcher Hills opened Pool C play with the victory.
BEN HARR rocked a pair of home runs, including a three-run shot in the third to make it 4-0, then he added a two-run homer in the sixth as Fletcher Hills broke open a 6-0 lead.
LAKESIDE AMERICAN 14, EL CAJON WESTERN 0 – LALL won at RSDLL.
JUNE 15
EL CAJON NATIONAL 4, SINGING HILLS 1 – ECN won the Pool A opener at West Hills.
RANCHO SAN DIEGO 13, ALPINE 8 – RSD won at home.
District 66
Pool Play
June 18
Spring Valley 8, Lemon Grove 3 – SVLL downed the neighbor rivals in the opener of pool play.
Las Palmas 26, San Diego American 1
June 21
Lemon Grove 9, San Diego American 0 – LGLL evened their mark at 1-1 in pool play.
Las Palmas 15, Spring Valley 3 – SVLL fell to 1-1.
Pool B – Encanto, Valley de Oro, South Eastern, Twin Hills 
June 18
Encanto 5, Valley de Oro 1
June 19
Twin Hills 1 South Eastern 1
June 21
Encanto 13, Twin Hills 3
June 22
Valley de Oro 12, South Eastern 0 – VDO improved to 1-1 in pool play.