"Out-of-sync" Hillers still roll over Tigers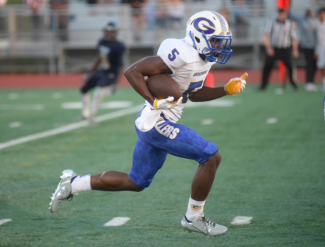 Grossmont's Shevell Sterling, Jr. is off to the races on a long touchdown run Friday night at Morse. / Photo by Christopher Smith-MBA Sports
2016 EAST COUNTY PREP FOOTBALL
GROSSMONT 31, MORSE 12
By Jim Lindgren
EastCountySports.com
SAN DIEGO (8-27-18) — We've come to expect Grossmont's high-octane offense topping 400 total yards, which it did again Friday night (Aug. 26) in its 31-12 triumph over Morse in both school's season openers at Morse.
What made this performance so special was the running game – 285 yards worth and three first-half rushing touchdowns of 46, 23 and 15 yards.
"I like our running backs," Grossmont coach TOM KARLO said. "They really ran well. And the line did a great job getting them some space."
Indeed. SHEVELL STERLING JR. rushed for 152 yards and a touchdown on 13 carries for an average of 11.7 yards per carry. JAMES MACKEY added 92 yards on 12 carries for a 7.7 average, and JAILEN BAILEY tacked on 45 yards and a touchdown on just three carries for a 15.0 average.
Quarterback HUNTER GAINES really only "ran" the ball one time, and it resulted in a 23-yard touchdown run.
The running game actually gained 333 yards but lost 48 yards on a bad snap, a fumble and a couple of sacks. With 124 passing yards and a touchdown, the Foothillers officially totaled 409 yards.
"On offense, you want to be versatile, running and passing," Karlo said. "We were really happy with the running game."
Up front, give credit to offensive linemen NICK GHOSEN, JUSTIN SMITH, JAMES ROGERS, TOMMY MLYNIEC and CONNOR SELANDER.
Gaines completed 7 of 24 passing attempts for 122 yards and a 41-yard touchdown pass to DOMONIQUE GUEVARA, who caught four balls for 94 yards. At times, Gaines looked like the guy who threw for 2,100 yards and 25 TDs last year, but he also overthrew many deep balls and grounded a couple of short routes.
"We were out of sync on the passing game," Karlo said. "We feel like that's going to be a real plus for us this year. We didn't have a scrimmage so this was kind of our first live opportunity. Anything we feel we didn't do well, we can clean up. We'll get better. I was pretty happy with the overall effort. But our expectations are even higher."
Defensively, Grossmont was dominant in the first half, limiting the Tigers to 47 yards and only three first downs. On its first five possessions, Morse ran only 15 plays and had zero first downs. Of its 27 first-half plays, 15 went for zero or negative yards.
"That's what you want to do to a run team," Karlo said. "You want to get them in second-and-long as much as you can."
Overall, the 'Hillers yielded 240 yards and 10 first downs. Morse's two scores came on big plays of 52 and 41 yards after Grossmont had taken a 24-0 lead early in the third quarter.
LUKE MORSE, COOPER ZOELLNER AND NOAH SANDERS gave Grossmont three sacks – more impressive when you consider the Tigers only attempted to throw 11 times. ERIC SHANKS recovered a fumble, and Joe WILLIAMS had a nice stop on a fake punt attempt that resulted in a 12-yard loss.
CHRISTOPHER LAETHEM, ANDREW LIRA, ANDREW MINK, BRANDON ARMS, FRANKLIN GOLOJUCH and JULIAN SANDERLIN also contributed mightily on defense.
"I'm a big fan of Morse's team," Karlo said. "They've got some big guys up front and some talented running backs who are being recruited by Division I schools. I think Morse is going to be a very good team and go deep in the Division III playoffs. "I thought our defense played really well. I thought we ran the ball very well."
After Bailey reeled off a 23-yard gain on the game's first play, Grossmont didn't do much offensively until its fourth possession when Sterling took a read-option handoff up the middle for a 46-yard touchdown run and a 7-0 lead with 1:51 left in the first quarter.
Two minutes later, Gaines connected with Guevara on a 39-yard completion and then Gaines scored on the next play, scampering into the end zone on a 23-yard gainer.
With just under a minute to play before intermission, Bailey took a reverse handoff and raced 15 yards for the touchdown and a 21-0 halftime lead.
To start the second half, Sterling reeled off a 39-yard run that led to a 24-yard field goal by Cristopher Garcia.
Morse finally cracked the score sheet with a 52-yard TD run by Timothy Patrick.
Later in the third quarter, Grossmont went up 31-6 when Gaines hit Guevara on a short screen pass that Guevara turned into a highlight play, zig-zagging his way to a 41-yard score.
Morse finished the scoring with 2:21 to play when Markus Turner hauled in a 34-yard touchdown pass from Martell Irby.
Turner finished with 72 rushing yards, and Irby added 66 yards rushing and 78 passing.
"It was a great defensive effort," Karlo said. "I was happy to see us hold them to 12. Our offense is going to get better. It's all about getting our timing down."
Grossmont defeated Morse 34-15 last year in the first regular-season matchup between these older county schools. Back in his playing days, Karlo was a teammate of Morse coach Tracy McNair. That's what you want to do to a run team. You want to get them in second-and-long as much as you can.
The only other times these schools have played, Grossmont beat Morse in the Class 2A playoffs just before losing to St. Augustine in the championship. Morse returned the favor in 1992 beating the Foothillers en route to winning the Class 3A title.
Grossmont is coming off a 7-4 season in which it began 6-0 before stumbling to a 1-4 finish, losing to Steele Canyon 39-35 in the Division I quarterfinals.
Next week, Grossmont travels to Otay Ranch, a team it beat 28-27 last year.