Bittersweet blowout for Cougars; Larceval out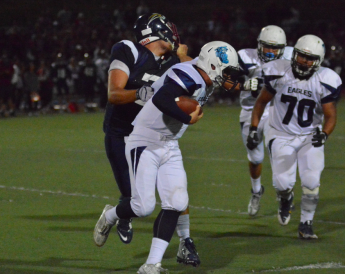 THE COUGARS' MIKEL OLIVER SACKS GRANITE HILLS' JAKE SIEGFRIED DESPITE HAVING HIS FACEMARK TURNED. / photo by Ramon Scott
2016 EAST COUNTY PREP FOOTBALL
STEELE CANYON 37, GRANITE HILLS 7
By Bill Dickens
© East County Sports.com
EL CAJON (9-10-16) — The Steele Canyon Cougars erased an 0-2 start by bowling over Granite Hills 37-7 in a contest played Friday night (Sept. 9) at Valley Stadium.
It is a welcome relief for the Cougars to get into the win column, but it came with some disappointing news.
Steele Canyon senior COLTON LARCEVAL, one of the top secondary defenders in the East County, recorded a diving interception late in the first quarter on a pass through a receiver's hands.
Later, however, Larceval was diagnosed with a broken collar bone suffered in the game.
The Cougars started quickly and pulled away after a mild Eagles' challenge in the first half.
Steele Canyon senior JACOB JONES returned the opening kickoff to the Granite Hills 44, then 15 more yards were tacked on with an Eagles' face mask penalty.
THOMAS FISHBURNE scored for the Cougars on a quarterback keeper to the right corner just 2:46 into the game for a 7-0 lead.
MIKEL OLIVER set the tone for the Cougars' defense, recording a 7-yard sack on Granite Hills' first play from scrimmage. He also had two interceptions in the contest. He later added a second sack in the game.
Steele Canyon got the ball at its own 45 on its second possession, as Oliver capped a drive with a 46-yard TD run with a burst up the middle behind senior CALEB O'GORMAN and senior KYREE WOODS with 5:54 left in the first quarter. The PAT was blocked for a 13-0 edge.
Fishburne found Willis for a 23-yard touchdown connection just  :43 into the second quarter to extend the Cougars' lead to 20-0.
"I'm just going out there to try and make the best decisions for the team," Fishburne said. "I was young last year (as a sophomore), but after getting a whole season under my belt, it's nice knowing (the coaches) are giving me the responsibility."
Granite Hills senior GUSTAVO GUTIERREZ was on the receiving end of a couple of big plays from quarterback JAKE SIEGFRIED just a minute-and-a-half later, including a 22-yard touchdown that closed the Cougars' lead to 20-7.
The Eagles lost their starting quarterback, CHRIS OSTRENG, against Valhalla a week ago to a broken collarbone, as well.
Granite Hills' TYLER GONZALEZ recorded a sack in the second quarter.
Fishburne found senior BRENDEN WILLIS to complete an 85-yard touchdown play to extend the lead to 27-7.
DEE JAY HALL had an interception in the fourth quarter for Steele Canyon, as the junior recorded one of four picks on the night for the Cougars. Junior JHAELON BRAZILE had an interception for SC to close out the first half, as the Cougars took a 27-7 lead into halftime.
The Steele Canyon secondary members will have to step up with the loss of their leader in the defensive backfield.
In the second half, junior JAVON WOODBRIDGE blocked a punt, then picked it up and ran it in for a touchdown from 12 yards away to make it 37-7 Steele Canyon.
"It's great when you get interceptions, turnovers are key," Oliver said. "We had a +28 turnover margin last year and that's how we play defense.  We're a turnover team. We are in your face all game."
"It was a great win for our seniors," said Cougars' coach SCOTT LONGERBONE.