No stopping Monarchs' wing-T train
Updated: September 10, 2016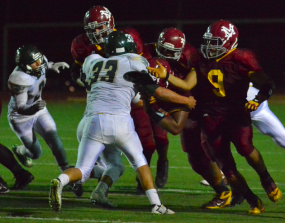 MONTE VISTA PLAYERS CLEAR THE WAY FOR THE MONARCHS RUNNERS FRIDAY NIGHT. / EastCountySports photo
2016 EAST COUNTY PREP FOOTBALL
MONTE VISTA 29, PATRICK HENRY 6 
By Ramon Scott
EastCountySports.com
SPRING VALLEY (9-9-16) – Visiting Patrick Henry knew what to expect from the Monte Vista Monarchs Friday night.
But come the second half, there was little the Patriots could do to stop the Monarchs' wing-T express in a 29-6 Monte Vista victory.
Monarchs sophomore JAHMON McCLENDON rushed for 133 yards on 23 carries, and senior JAMEZ McCLENDON carried for 118. Both backs had over 100 yards before the end of the third quarter.
Senior quarterback JUNIOR PITOAU rushed around the right side on a beautiful bootleg from 3 yards out for a score, then Jahmon McClendon scored the two-point conversion for an 8-0 lead. That would be the score at halftime.
Early in the second half, Jahmon McClendon ran for a 2-yard touchdown on a perfectly executed dive, increasing the Monarchs' lead to 15-0.
Lineman CURTIS STEVENS and BRIAN SHELL powered ahead, then BLAKE SCHMIDT and JOSE GONZALEZ cracked down on their men, leaving the big hole for the young back, who carried for all 59 yards on the drive.
In the fourth quarter, Jamez McClendon scored on a 5-yard run, putting the Monarchs ahead, 22-0.
Jamez McClendon 4-yd TD run give Monte Vista 22-0 lead over Hnery with just under 11 min. left in game. pic.twitter.com/rknQbxJQKW

— Ramon Scott (@RamonScottPoker) September 10, 2016
"It was all the line, they had a great push all game," Jamez McClendon said.
Monte Vista's blockers seemed to have the Pats befuddled, as senior DAVID YBARRA easily cleared out as his man and senior tight end CARLOS ZAVALZA sealed the lane open for the older of the two brothers.
The Monarchs equaled last year's win total, when they finished 2-9.
"They tried to take away our wide plays, so we kept pounding the ball off tackle in the second half," said Monarchs coach RON HAMAMOTO. "We did a good job of controlling the clock."
Patrick Henry scored midway through the fourth quarter on an 11-yard touchdown pass from Bryan Pace to Ryan Savage. The score was set up by a 77-yard completion from Pace to Tyjhay Reid.
Monte Vista junior TORREY MACK intercepted a pass, and returned it 39 yards to the 10-yard line with 5:07 left in the game.
Monarch quarterback ADERO JOHNSON, a senior, scored on a 1-yard rush to extend the Monte Vista lead to 29-6.
Schmidt intercepted Henry's next pass and the Monarchs took a couple of kneel downs on the final possession. The Monarchs rushed for 326 yards.
"We thought we had control, we just had to fix our little mistakes (from the first half)," Jamez McClendon said. "Two power-rights, that's all we did all game."
Monte Vista's defense was also led by senior JESUS ZUNIGA, sophomore JONATHAN GULLEY, and juniors DAVON OULDS and EMMANUEL MENDES.
After three games, Monte Vista has yet to complete a pass, yet the Monarchs are sporting a 2-1 record.
Patrick Henry would drive deep into Monarch territory twice to come up short on failed fourth-down conversions.
Pats' star back Dominic Shilvels was held to under 20 yards in the first half.
Monte Vista will play Crawford (3-0) at Hoover in Week 4. The Patriots (1-2) will face face El Capitan (0-2) next week.