Matadors roll up late, Norse just roll
Updated: September 10, 2016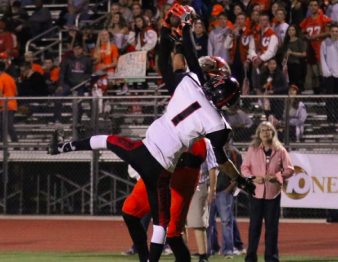 Mount Miguel's MARIO COKER goes up to defend a pass attempt Friday night against Valhalla. / Don De Mars Photography
2016 EAST COUNTY PREP FOOTBALL
VALHALLA 34, MOUNT MIGUEL 7
EastCountySports.com staff report
EL CAJON  – The bus transporting the Mount Miguel varsity football team to Valhalla Friday evening (Sept. 9) for the Matadors' annual match-up with the Norsemen was a bit late, cutting into the visitors' pre-game warm-up time.  As a result, it took a while for the Spring Valley boys to settle down and get their offense in gear.
Valhalla's KHYREE POOLE returned the opening kickoff to the Valhalla 37-yard line, giving the home team good starting field position.
Junior quarterback BRYAN MADRIZ found senior BRENT BURNETT open on first down and connected with a quick pass. Unfortunately, Burnett slipped making his cut into the open field and settled for a 3-yard gain to the 40.
An offside penalty by the Matadors' jittery defensive front tacked on five yards, followed by senior running back JEROME JOHNSON'S 4-yard burst up the middle, earning the Norsemen a first down at their 49-yard line.
Madriz quickly threw a dart to senior wide receiver DJ MADARA for a 16-yard gain to the Matadors' 35-yard line, but a jarring tackle by senior linebacker CAMERON HANSON knocked the ball loose. The Matadors pounced on the loose ball, giving their offense an opportunity to score first.
On first down, junior running back SANTINO PACHECO sprinted up the middle for a 7-yard gain to the visitors' 42-yard line, where defensive lineman MIGUEL PEREZ brought him down, saving a huge gain.
On the next play, the missed warm-up time reared its ugly head when an errant snap over senior quarterback BENNY VALADEZ' head was recovered by Valhalla's senior defensive back ANTHONY PORTILLO at the Mount Miguel 22-yard line.
On first down, Johnson, following blockers JON WASHAM and JACOB SMITH, galloped 16-yards to the Matadors' 6-yard line. Two plays later, Johnson waltzed into the end zone for a 2-yard touchdown. After JACOB PAAPE split the uprights (3-3 PAT), Valhalla led 7-0, with 8:52 remaining in the first stanza.
Paape's ensuing kickoff sailed out of the end zone still in the air, traveling more than 70 yards (6 of 7 kickoffs were touchbacks).
On first down, it looked like Mount Miguel finally got warmed up.
Junior running back SHEMAR GREENE, the early-season second leading East County rusher, showed that those stats are no fluke when he gained 14 yards on first down, starting the Matador offense on a 14-play drive.
A combination of Greene's running and Valadez' passing moved the Matadors quickly into Valhalla territory at the 39-yard line, but a holding penalty killed the drive, forcing a punt.
Late in the first quarter, after forcing Valhalla to punt, Mount Miguel started at its 13-yard line.  Valadez completed a short pass on first down, but linebacker Burnett knocked the ball loose that was recovered by Norseman defensive back DENNIS DAHLIN, who returned it to the Matadors' 11-yard line.
Two plays later, and just 7 seconds into the second quarter, Dahlin, now playing quarterback, threw a nifty fade pass to multi-talented Paape for a 16-yard touchdown, increasing Valhalla's lead to 14-0.
After stopping Mount Miguel on its next offensive series, Valhalla forced a punt from the Matadors' 48-yard line, which was fielded by junior TY SCHIMKE at the Valhalla 21-yard line. Schimke juked and wove his way down the field all the way to the end zone for an apparent 79-yard touchdown; however, a very controversial penalty for blocking one of the defenders "too hard" negated the touchdown.
Late in the first half, Paape once again lit up the scoreboard, this time booming a 44-yard field goal. With 2:38 left before intermission, Valhalla took a commanding 17-0 lead.
Starting the second half at their usual 20-yard line after another Paape touchback kickoff, Mount Miguel ran into a stiffened Valhalla defense. Junior defensive lineman JOSH McNISH-HEIDER stopped the ball carrier in his tracks for a 1-yard gain on first down.
Pacheco picked up five yards on second down before he was stopped by junior defensive back Schimke.  Facing a 3rd and 4 at his 26-yard line, Valadez threw a quick-hitter to junior wide receiver MUGABEE MILLER for what looked like was going to be a big gain, but Valhalla's Burnett came out of nowhere and stopped the runner short of the first down marker, forcing yet another punt, and giving Valhalla good field position at its 46-yard line.
Madriz didn't waste any time.
On first down, he kept the ball and ran for a 12-yard gain to the Matadors' 42-yard line.  He then hooked up with Madara for 8 yards to the 34, where a sure-handed tackle by senior corner back DOMARIUS HAYDEN saved a big gain.
After moving to the 21-yard line, the drive stalled, but on 4th and 1, Madriz broke free for a 7-yard gain to the 12.  On the next play, Madriz duplicated Dahlin's earlier TD toss to Paape, this time for 12 yards, extending Valhalla's lead to 24-0 at the 7:45 mark of the third period.
Things quickly worsened for the Spring Valley lads. On first down at their 20, the Matadors' quarterback was flattened and sacked by junior linebacker JACE MANNING for a 7-yard loss. Manning also knocked the ball loose, which was picked up by junior linebacker DYLAN MARSH, who returned it 8 yards to the Mount Miguel 5-yard line.
With their backs against the wall, and with the game probably out of reach, it would have been easy for the Matadors' defense to fold in this situation.  To their credit, they hung tough – and then some.  On first and goal from the 5, it looked like Johnson was going to power his way into the endzone, but linebacker Hanson made a determined tackle at the 3.
On second down, quarterback Dahlin found the mismatch he wanted: A tall receiver in Paape, and a much shorter cornerback in senior MARIO COKER.  Dahlin threw it high so only Paape could go up and get it. The pass was perfectly thrown and Paape was in perfect position – at the last second Coker jumped and knocked it away, saving a touchdown.
On third down, a botched ball exchange resulted in a fumble that center CASEY CASPER recovered for Valhalla, forcing another field goal attempt. Paape's aim was true; Valhalla led 27-0, with 5:54 left.
Mount Miguel finally got off the schneid mid-way through the final period when Pacheco broke free and raced 80 yards for a TD.  After JOEL BEAS supplied the PAT, it was 27-7 with 5:54 left in the game.
A few seconds later, Madriz returned the favor, motoring 52 yards for another Valhalla touchdown.
This time, senior YOUSOF AHMED supplied the PAT, ending the scoring at 37-7, the third straight week the Norsemen have scored at least 30 points.  To date, Valhalla has scored 104 points and given up only 14.
The irony of the session is Mount Miguel actually outgained Valhalla in offensive output, 332 yards to 293.
Valhalla's Johnson rushed for 111 yards in 19 carries, to lead the Norsemen. The Matadors' Greene had over 100 yards on the ground in the first half, but left the game with a turned ankle.
"We came out a little too fired up," said Valhalla skipper CHARLES BUSSEY.
It didn't matter however.