2016 EAST COUNTY FEARLESS FORECASTER – Week 4
Updated: September 15, 2016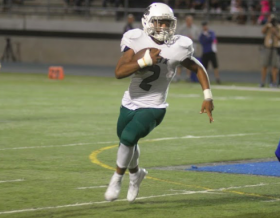 Helix's Duce Reynolds / photo by Christopher Smith - MBA Sports
2016 EAST COUNTY PREP FOOTBALL – FEARLESS FORECASTER
By Bill Dickens
EastCountySports.com
SAN DIEGO (9-13-16) – The Helix Highlanders may have a little surprise for championship rival Cathedral Catholic Friday night.
Hint to the Dons.
You aren't going to find the secret in the game films.
And don't bother rewinding the videos on this powerhouse series between the current Nos. 2 and 3 teams over the last three years. The last three meetings have resulted in convincing Highlanders' victories, including last year's Open Division semifinal, 42-14, at Hart Stadium.
It should be noted, however, that the Dons beat Helix at Manchester Stadium, 9-7, in a week three meeting in 2014. The teams have met once in the regular season and then again in the postseason in each of the last two years.
So, the No. 3 Dons will try to send the No. 2 Scotties down to defeat for the second time this season in four games. It would look to be quite a blemish considering Helix was the overwhelming No. 1 team in preseason polls.
And it would be quite a historical accomplishment as well for Cathedral. Despite its overall success, the Highlanders have downed the Dons in seven of the last eight meetings by an average score of 26-10.
Dons coach Sean Doyle has his team out to a 3-0 start, including a win over 2015 Open-Small School Division state champion Central Catholic of Modesto. The Dons defense is allowing only 12 points per game so far this season.
Running out of the wing-T for the Dons could play into the Highlanders' strength on defense.
Running back Adam Eastwood is averaging 120 yards per game for CC, which averages nearly 300 yards per game on the ground.
Dons QB Tate Haynes has thrown for 341 yards, including six touchdowns and two interceptions, while also running for 200 and three scores.
Cathedral receiver Jordan Genmark-Heath has three receptions for 102 yards and two scores, while opposite wide-out Jack Thompson has five receptions for 108 yards and two TDs. Graham Valentine (6-1, 255) and Chance Sears (6-1, 235) lead the Dons offensive line.
Helix will count on veteran linebackers EZEKIEL NOA and JONATHAN MILLSAP to read the attack. Helix has more stars on defense, too, including TYREECE TARRANT-PATANE, EVAN PERKINS and emerging sophomore LB MICHAEL SHAWCROFT.
On offense, Helix's CARSON BAKER leads all East County passers with 641 yards this season and has just one interception in three games.
Receiver SCOTT YOUNG, already recognized as a D-1 level college defender, has exploded this year offensively, leading the East County with 318 yards and 20 receptions. Baker's opposite target RASHAD SCOTT has hauled in 9 passes for 159 yards.
Helix's running game has been solid, but somewhat unspectacular so far behind Noa, averaging 8 yards per carry, and DUCE REYNOLDS, but that could change this week.
The Dons feature MLBs Matt Stuppiello and Alec Simas, OLB Moroni Anae, SS Morrison Mirer. and DL Jack Cavellier.
The current ranking of these teams along with the home field advantage would seem to give Cathedral a shot, but history says otherwise… HELIX 27-20.
CRAWFORD (3-0) at EL CAJON VALLEY (3-0) – You thought last week's Braves game was big. Well, just wait until this Friday night.
The 3-0 Colts visit the 3-0 Braves in a matchup that isn't going overlooked around the county.
Sure, you're not going to find these teams in the rankings just yet, but both schools are playing a good brand of football that is well worth checking out this week.
Certainly worth the price of admission is El Cajon Valley senior quarterback TYSON SMITH.
Smith leads the East County in rushing and its not even close. He has 601 yards and six touchdowns in three games, while Braves running back MAQUEL GARNER has 201 yards so far (6.8 ypc). Slotback LUIS MORALES is also emerging as a touchdown threat.
No secret here. The Braves don't pass much.
On defense, the Braves rally behind senior MLB FAAMAMA LAUIFI, the East County's leading tackler, and senior OMAR GARCIA, who was in on the game-clinching stop last Friday versus another previous unbeaten Clairemont. Smith, meanwhile, is tied for the East County lead with two interceptions as a free safety.
The Colts throw just slightly more often than the Braves, which isn't saying much.
Senior Kwali Purvis has rushed for 277 yards and the Colts average 5.5 yards-per-carry as a team. Senior Ali Musa has caught six passes, three more than anyone else on the team.
Junior MLB Jaden Sanders is the leader of the Crawford defense, which has an impressive rush that has accounted for 10 sacks already this season.
But first, they have to find Tyson in order to stop him… EL CAJON VALLEY 24-19.
MOUNT MIGUEL (0-3) at WEST HILLS (2-1) – The schools that switch leagues this season meet for the first time since 2010.
West Hills moved to the tougher Grossmont Hills League, while Mount Miguel shifted back to the Grossmont Valley circuit.
So, likely this nonleague tilt should favor the host Wolf Pack.
West Hills won in workman-like fashion last week at home against Mission Bay to avenge a playoff defeat.
The Matadors can hope for a let down in order for them to get into the win column on Friday night.
Despite the slow start, Mount Miguel is still considered a title contender in the Valley.
Junior running back SHEMAR GREENE looked strong in the first half last week rushing for over 100 yards against a usually stout Valhalla defense, but he turned an ankle and had to leave the game. He is currently third in the East County with an average of 111.5 rushing yards per game.
Veteran quarterback BENNY VALADEZ has thrown for 232 yards and rushed for 176 more so far this season. The Matadors actually outgained the undefeated Norsemen in last week's 34-7 loss.
Seniors ANTHONY YARBOROUGH and CAMERON HANSON are lead defenders for the Matadors. Yarborough has 15 tackles and 2 1/2 sacks this season.
The Wolf Pack have been more ground and pound than its aerial assault reputation behind senior JOVAN BEA, who is averaging over 6 yards per carry and has scored four touchdowns. Meanwhile AUSTIN DILL scored the decisive touchdown on a 29-yard pitch play last Friday.
Junior HAYDEN ROACH has taken off running more often than not, with 192 yards on the ground to go along with his 237 passing yards on 64 percent completions. Senior receiver RYAN JEWELL has eight receptions for 92 yards and TYLER WILSON had a touchdown catch against the Bucs.
In last week's win, the Pack didn't do anything spectacular on 'D", but senior nose guard OSCAR MORALES looked good on his return from injury, as did tackles KEVIN AH KEY and CADEN KULAS. Linebackers CHANCE HAEMMERLE and TANNER SUTTON provided the run support.
The signals just point to the team from the north in this one… WEST HILLS 27, MOUNT MIGUEL 19.
SWEETWATER (0-2) at No. 12 GROSSMONT (2-0) – One of San Diego County's oldest and greatest football rivalries is finally set to recommence Friday night, however the initial renewal shouldn't be much of a contest.
As of just a couple of years ago, the "Bucket" trophy resided in the museum at Grossmont. Hopefully, they can find it and bring it over to the field just in case.
When Grossmont dominated in the 1920s, Sweetwater was the Foothillers' greatest rival. The perpetual trophy lists scores from the games played between 1922-60.
After a bye week, it would seem unlikely the 2-0 Foothillers would fall flat against the winless Red Devils.
Sweetwater had the week off, as well, but appear to be overmatched against the 12th-ranked Hillers.
Grossmont quarterback HUNTER GAINES leads the East County, averaging 240 yards per game. He's thrown five TDs in his first two starts this year.
When Gaines takes to the air, defensive backs certainly have their eye DOMINIQUE GUEVARA, who leads the East County with an average of 140 yards per game. He has been on the receiving end of four of Gaines' scoring tosses. JAILEN BAILEY has proven to be a big-play threat.
And don't sleep on junior running back SHEVELL STERLING, JR. He has 212 yards over those first two games, averaging nearly 8 yards per carry.
Defensively, senior linebackers CHRISTOPHER LAETHEM and NATE TIAPULA, along with senior DL ANDREW MINK and DB RILEY HAVRID, should have the Red Devils covered.
Sweetwater has completed just three passes in the two games.
Junior Marty Sesma is the workhorse of the backfield with 36 carries for 191 yards and two scores, while senior Francisco Velazquez picks up a majority of the remaining sorties and averages over 6.5 yards per carry.
Grossmont beat Sweetwater the last time these schools met back in 2003, 30-9. The Hillers won in 2002, 44-14.
For those that are still around to remember some of those great contests, you might want to make it back to Mashin's house one more time to see this historic matchup. Consider it on your "Bucket" list… GROSSMONT, 38-13.
RANCHO BUENA VISTA (1-2) at STEELE CANYON (1-2) – The Cougars are hungry to get back to .500 and host the downtrodden Longhorns, who have won just three of their last 24 games.
The Cougars have won three-straight in this series, including a 29-24 win to spoil RBV's homecoming last season in Vista and a 41-0 blowout at home in '14.
A win would put the Cougars in the same position as last year.
SC led 10-3 at the half, but Rancho Buena Vista led 18-17 with 10:48 left to play and 24-23 with 8:50 left in last season's matchup.
In the win last season, a 65-yard run for the game-winning touchdown by Cougars quarterback THOMAS FISHBURNE late in the fourth quarter staked Steele Canyon to the win. Fishburne accounted for 208 yards total offense in the victory.
Steele Canyon's MIKEL OLIVER ambushed an RBV running back in the backfield and ripped the ball from his grasp, sending it to the turf. A teammate picked it up and ran for a 90-yard fumble return for a touchdown to give the Cougars a 10-0 lead.
Steele's star senior linemen KYREE WOODS and CALEB O'GORMAN were both starters in the game back in '14. SC has been a big stagnant in the run game so far this campaign, averaging just 2.2 yards per carry, but look for the big men to keep up the momentum from last week's conquest of Granite Hills.
The Cougars will be without star defensive back COLTON LARCEVAL, who is out after breaking his collar bone last Friday in the 37-7 blowout of the Eagles. Senior WAYNE BARELA had six tackles in the win over the Longhorns last year and currently leads Steele Canyon with 14 tackles, including a team-high four for loss.
Senior receiver BRENDEN WILLIS had a big night against Granite and has 10 catches this season for 196 yards and now must be accounted for by opposing defenses. Senior wide out JACOB JONES has two touchdown receptions, as well.
Senior JAVON WOODBRIDGE has the only punt return for a touchdown by an East County player so far this season.
The Longhorns are not shy about throwing the football with an 82-68 pass-heavy ratio this season, but they were held to minus-2 yards rushing last week in a 25-14 home loss to rival Vista.
Senior Josh English (12 catches this season) and junior Trent Borger (19.6 ypc) are decent pass-catching threats when they can get their hands on the ball.
The Cougars would have to be overlooking this opponent and that still might not be enough for RBV… STEELE CANYON, 38-14.
No. 15 VALHALLA (3-0) at MAR VISTA (3-0) – Valhalla's famed "Law Firm" defense from last season has turned in to a modern day "Orange Crush" in 2016.
The Norsemen have allowed just two touchdowns in three games, outscoring three demoralized foes, 101-14.
Expect more of the same in Imperial Beach Friday night.
Junior JACE MANNING was a menace to Mount Miguel last Friday night, while senior BRENT BURNETT is starting grab plenty of attention for his work at linebacker.
Manning has an East County-leading six sacks so far this campaign. Both have 20 tackles this season. DYLAN MARSH and JOSH MCNISH-HEIDER also both have a pair of sacks for the Valhalla Sack Exchange.
Meanwhile, Valhalla's deep secondary has five interceptions by five different players.
Valhalla running back JEROME JOHNSON is second in the East County in scoring with five touchdowns. He's also second in total rushing yards at 273.
Quarterback BRYAN MADRIZ has completed over 60 percent of his passes for 408 yards and three scores. Senior BRANDON FULLER is the top beneficiary with 11 catches for 149 yards.
The Mariners are a formidable running team, averaging over 9 yards per carry this season, behind senior Khalil Spruill, who had 381 yards so far. Senior Noah Berry has nine catches this season, but the passing game is averaging only just over 70 yards per contest.
The hosts also boast some standout defenders in Alejandro Hinojosa, Niko Figueroa and Afredo Ramirez.
Mar Vista is 3-0, but hasn't seen the likes of this group so far this season… VALHALLA 27, MAR VISTA 14.
SANTANA (1-2) at MONTGOMERY (1-2) – The Sultans' JOSH OEDEWALDT put all concern about the Sultans' passing game to rest last Friday.
Sure there's a bit more pressure when you follow another one of the greats in a long history of successful passers at the east Santee campus.
But thanks to receivers ANDERS TOLHURST, AIDEN RASMUSSEN and BROCK ELLIS, the junior now has an East County-leading eight touchdowns, following last week's five TD pass performance (in just 10 attempts) in a 42-0 blowout of host Castle Park.
Tolhurst made the highlight reel with his slant catch and one-hand shove-aside of a defender just five yards from paydirt last week. He had three of Oedewaldt's dimes and is first in the East County with five receiving TDs and second in the East County with 18 catches.
Rasmussen and Ellis are both fourth in the East County with 11 receptions apiece. Rasmussen scored twice in the Sultans' 41-0 win over Montgomery at home last season. Ellis also caught a TD pass in that one.
Balancing it all out is workhorse back BOBBY WALLACE, who hasn't had a breakout game yet, but still is third in the East County with 249 rushing yards this season and three touchdowns.
The Sultans' defense finally got a chance to make some noise last week after hard-fought losses to Bishop's and West Hills.
Ellis and senior JUSTIN GEE both recorded interceptions last week in the shutout for the Sultans. Junior LATRELL BROWN led all Santana tacklers with four.
Senior NOAH JACKSON has an East County-leading two interceptions this season. DOMENIC DEHOYOS is tied for the team lead in tackles with Gee at 14 and has both a sack and an INT this season.
Senior linemen BRYCE MARTIN, DYLAN BROWN, TRENT FORSTER, ADAM VARGO and MATTHEW WHITCOMB dominated last week, so expect them to bowl over the Aztecs, who have been outscored 94-8, including a 40-0 loss to El Cajon Valley… SANTANA 41, MONTGOMERY 6.
EL CAPITAN (0-2) at PATRICK HENRY (1-2) – Certainly the Vaqueros left a lot on the field at Valley Center High last Friday night in a wild-and-wooly 31-28 overtime loss.
But one thing they gained was the ability to keep cool and calm is a hostile environment, repeatedly making big plays on both sides of the ball as they try to start gaining those elusive victories.
El Cap quarterback PHOENIX CATES was cool under fire, as well, going 15-for-24 with three touchdown and no INTs. Cates also may remember throwing three interceptions against the Pats last season.
JAVIER VIDALEZ caught a TD pass to tie the game last week. He's the Vaqs' leading receiver with 10 catches this season for 124 yards and two scores. He had a big game in the matchup last season with Patrick Henry, catching four passes for 157 yards and two touchdowns.
The Vaqueros' run game has been limited, however, to just 2.6 yards per attempt, but CONNOR ROOSA rushed for 98 yards against Henry last season with a TD.
El Capitan senior linebacker OSCAR VALENZUELA has a team-leading 23 tackles and 2 1/2 sacks.
Defenders CAMERON PHILLIPS, CHRIS MCDONOUGH and ANTONIO OLIVIERI look to rack up big numbers once again against Henry's run game, which is averaging just 2.7 yards per carry.
Senior receivers Ryan Savage and Dominick Silvels are serious enough receiving threats and still have to be respected, but the Patriots have been outscored 92-6 over the last two games, including a 29-6 loss to a still-growing Monte Vista unit last Friday.
El Capitan won one game last season, beating these Patriots, 24-6 at home. This is a great, well-timed spot for Cates and the  Vaqueros to enjoy the fruits of their labor… EL CAPITAN 28-14.
FALLBROOK (0-3) vs. CHRISTIAN (2-0) at Valley Stadium (SAT.)  – The Christian Patriots have won 35 of their last 40 football games and are off to a 2-0 start.
The Fallbrook Warriors are 0-3 and are averaging just over four points per game.
Still, expect a good battle at Valley Stadium Saturday night.
The Warriors have losses to Torrey Pines, Westview and Del Norte by a combined 54-13 count, so they've played some decent defense.
Christian is coming off a bye week after beating Monte Vista on the road, 20-10, two weeks ago.
Patriots' quarterback BRAD JEREMIAH leads East County quarterbacks in completion percentage at 74 percent, which is a pleasant surprise.
Senior THEO GOODWIN has already shown his big-play capability and is almost expected to bring the crowd to their feet at some point during the contest.
Senior JOEY MORONES is starting to make as big a name for himself as a hard-nosed rusher as he has as a star linebacker for the Patriots, scoring three TDs so far. Senior TSHOMBRE CARTER has also found the end zone twice.
Senior ISAAC ROSENTHAL is a true unheralded utility man for CHS.
First-year coach Bob Burt's Warriors feature quarterback Jack Grantham, wide out Kobie Stallings and running back Nahshan Hagan.
Expect pressure on Grantham from the Pats' defense led by AUSTIN MANION and JONATHAN STINE as the Patriots keep this one in control throughout… CHRISTIAN 34, FALLBROOK 14.
Will Fearless' prediction of a clean sweep for the East teams in non-conference games prove a jinx to the local lads?
Not likely following another perfect docket last Friday night (9-0).
Fearless Forcaster's Record
Last week:  9-0 (1.000)
Season:      24-8 (.750)