Braves still undefeated after siege at Clairemont
Updated: September 10, 2016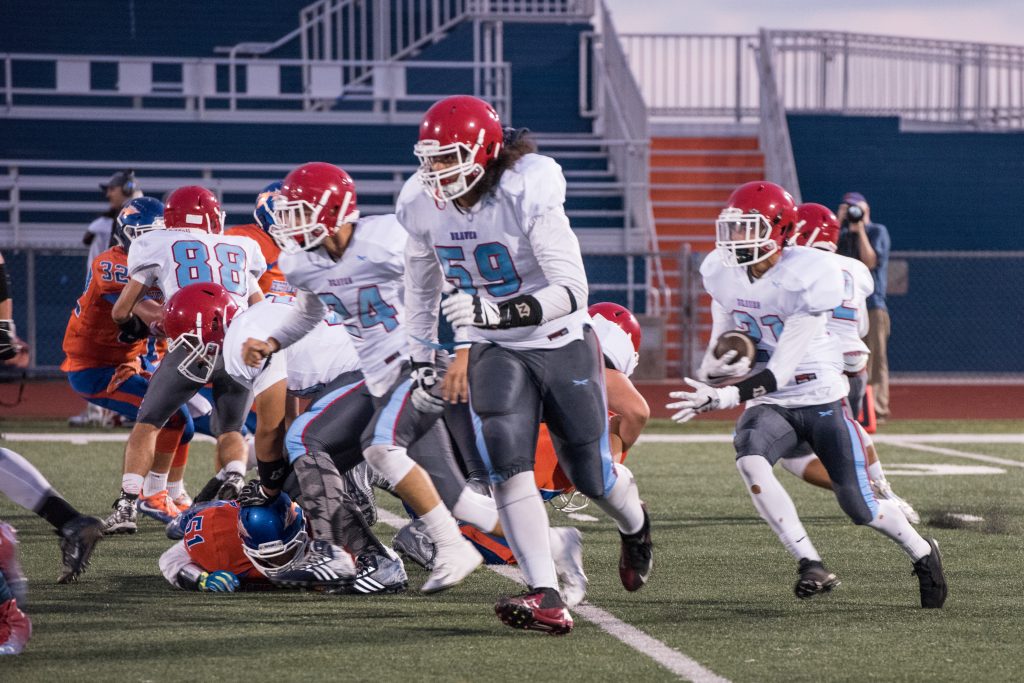 MASON TILEIA shows the way for back LUIS MORALES during the Braves win over the Chieftains Friday night in Clairemont. / photo by T Ryan Photography
2016 EAST COUNTY PREP FOOTBALL
EL CAJON VALLEY 32, CLAIREMONT 28
By Ramon Scott
© East County Sports.com
SAN DIEGO – The concourse will be electric come Monday morning.
The El Cajon Valley Braves are 3-0.
The Clairemont Chieftains jumped out to a 14-0 lead as the Braves were plagued by penalties in the first half. The game switched leads five times, but El Cajon Valley had last the last say in a terrific comeback win in road test against a fellow unbeaten, 32-28.
LUIS MORALES scored on a 14-yard sweep with under 5 minutes to play, giving El Cajon Valley the non-league victory. The slot man got big help on the sweep to the left from sophomore MASON TILEIA, who is a 6-foot-3, 280-pound sophomore. The conversion by quarterback TYSON SMITH was good for the four-point edge.
Smith, one of the county's top rushers entering the game, scored on a 7-yard keeper which gave El Cajon Valley a 16-14 advantage.
Smith got help inside the 5 from lineman YASER ZAFARI and fullback FAAMAMA LAUIFI to clear the way. That would be the score heading into halftime. Smith rushed for 175 yards for the Braves. He also scored on three 2-point conversions.
"I'm excited for the kids," said El Cajon Valley coach PARRIS PISIONA. "We have four sophomore starters and three guys who go both ways. We're playing at the level that we can handle and hope to stay healthy and keep the momentum going our way."
Clairemont (2-1) scored late in the third quarter to regain the lead 21-16.
However, junior MAQUEL GARNER scored a 4-yard touchdown run from just one minute into the fourth to give the Braves a 24-21 lead, this time thanks to senior VINICIO ARAYA, who mauled his helpless defender.
The Chieftains, however, would regain the lead on a short touchdown run by Jack Fitzmaurice, giving the hosts a 28-22 lead with six minutes left.
While the Braves defense may have had some bend, they came up with the game-ending stop on a fourth-and-4 play, when senior OMAR GARCIA led a tackle, along with Garner, of the Clairemont ball carrier short of the line to gain for a first down.
"We just had to keep our composure and stay with our assignments," said Smith of the last defensive stand.
The Brave will be standing tall come Monday morning when everybody on the concourse will be talking about Friday night.