Ugly win thing of beauty for Pack
Updated: September 10, 2016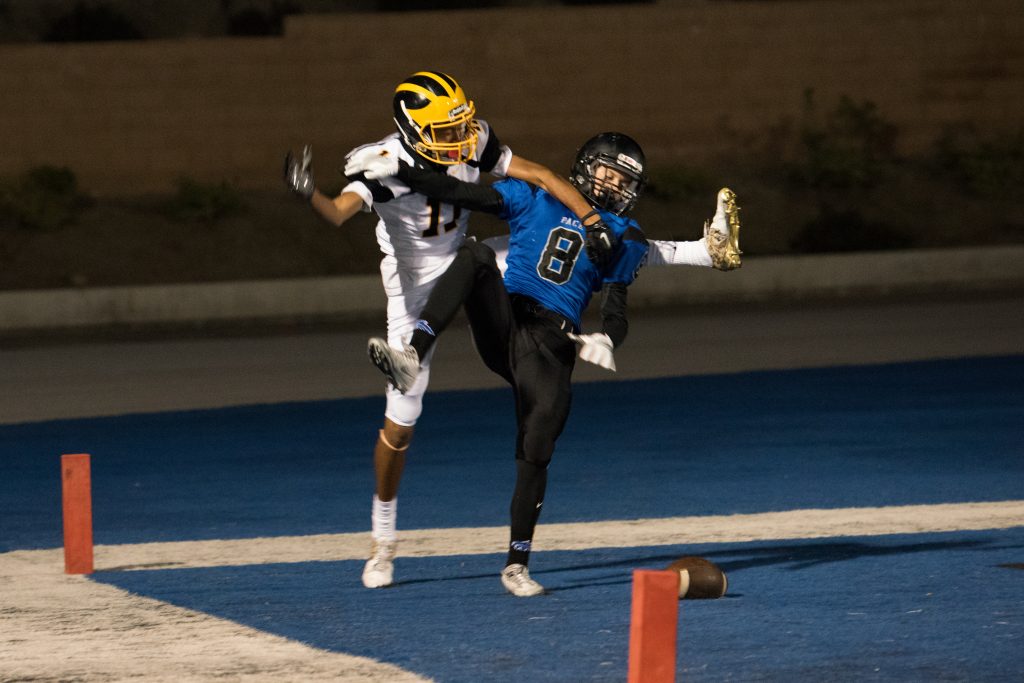 West Hills' DEREK POTVIN battles with a Mission Bay defender in the end zone Friday night. / photo by T RYAN PHOTOGRAPHY
2016 EAST COUNTY PREP FOOTBALL
WEST HILLS 21, MISSION BAY 14
By Jim Lindgren
© East County Sports.com
SANTEE (9-10-16) — A "just enough" win might be juuust what the doctor ordered for the West Hills football team. It certainly beats losing one.
The Wolf Pack did "just enough" to beat a big and talented Mission Bay squad 21-14 on Friday night (Sept. 9) on the Smurf Turf.
"That's about right," West Hills coach CASEY ASH said. "We'll take a few more of those, too, whenever we can get them."
West Hills (2-1) avenged last year's 36-13 loss to Mission Bay (1-2) by doing just enough on offense and defense to secure a key nonleague win against a common Division II opponent that has played for a San Diego Section championship in five of the last 10 seasons, including a title-game loss to Bonita Vista in Division III last year.
"The difference between being 2-1 and 1-2 feels a lot more significant," Ash said.
It wasn't pretty. It wasn't even sort-of-cute with a good personality.
"I told our kids after the game," Ash said, "if you're going to win so many games a year, you probably have to win at least one or two that are ugly."
The chain gang never broke a sweat.
The longest play of the game was a 39-yard pickup by Kenyon Sims on Mission Bay's first play of the second half. The next longest play was a 24-yard quarterback keeper by West Hills' HAYDEN ROACH that ended in a fumble and recovery by Mission Bay.
No other play topped 20 yards.
Give a game ball to PAUL ANDERSON. West Hills' soccer captain was convinced by Ash to give football a shot. Anderson put 4-of-4 kickoffs into the end zone.
One of the game's biggest plays was a partially blocked punt by CADEN KULAS, who got just enough of his fingers on the punt to give West Hills the ball at the Buccaneers' 38-yard line with the scored tied 14-14 midway into the fourth quarter.
Four plays later, West Hills was whistled for a holding penalty, negating a 9-yard pass completion and resulting in a 16-yard loss.
Facing second-and-28 from the 29-yard loss, Roach pitched left to AUSTIN DILL and the 5-foot-9, 150-pound slot back bobbed and weaved his way to a 29-yard touchdown run that proved to be the game-winning score.
It was Dill's second touch of the night – the first went for no gain.
Mission Bay had 304 total yards, while West Hills totaled 262, but the Wolf Pack defense did just enough to keep the Buccaneers in check.
Mission Bay's two touchdowns were set up by two West Hills fumbles, but the Wolf Pack offense did just enough to redeem itself.
West Hills looked to pad its 21-14 lead with 4:23 left to play, but a 40-yard field-goal attempt by CADE WEAVER clanked off the right upright.
With Mission Bay driving on the ensuing possession, West Hills did just enough to stop the charge with 1:17 to play.
On fourth-and-one from the 46-yard line, the Buccaneers' Trevor Scully attempted a quarterback sneak that was thwarted by West Hills – by about six inches – and West Hills was able to run out the clock from there.
On the fourth-down stop, nose guard OSCAR MORALES, who missed the first two games due to injury, along with tackles KEVIN AH KEY and Kulas created a surge up front to allow linebackers CHANCE HAEMMERLE and TANNER SUTTON to stuff the play for no gain.
West Hills had no sacks, no interceptions, and only a few stops behind the line of scrimmage, yet allowed a potentially dangerous offense to score only two touchdowns.
"To hold them to 14 points, I'm pretty happy about that," Ash said. "Mission Bay is a very good football team. They definitely have some good dudes on offense."
West Hills did just enough to win the first half. On its opening possession, JOVAN BEA capped a seven-play, 59-yard drive with a 10-yard sprint around right end for a 7-0 lead.
But that was all the scoring in the first half as the defenses dictated play.
Mission Bay's best opportunity came late in the half, but a 12-play drive stalled at the 23-yard line with three straight incompletions, including a pass defense in the end zone by the Wolf Pack's RICKY WILSON.
Mission Bay outgained the Wolf Pack, 126-112 yards, in the first half, but had nothing to show for it.
With good field position to start the second half, West Hills fumble away its third play, giving the Bucs the ball at the 35-yard line. Sims capped a six-play, 65-yard drive with an 8-yard TD up the middle to knot the score at 7-7.
The Wolf Pack fumbled again on their next possession to give Mission Bay the ball at the 32-yard line.
Eleven plays later, Jaiden Correa hit Marcus Nickerson on a short hitch pass, and Nickerson raced untouched through the seam for a 19-yard touchdown and a 14-7 lead.
After another short Mission Bay kickoff, West Hills started from its own 48-yard line and drove the 52 yards in eight plays with a scrambling Roach eventually connecting with TYLER WILSON on a 17-yard touchdown pass to make it 14-14.
The Wolf Pack then forced another three-and-out series, and Kulas' blocked punt set up Dill's game-winning TD.
"I would not have thought that if we lost the turnover battle that we would have won the game," Ash said. "For us to score only 21 points against a team like that, I would not have thought that we would have won the game.
"But we did. We did just enough to win."
As often it does, field position was key.
"The kicking game (on both sides) played a role," Ash said. "Every time we kicked off, the ball went into the end zone. Every time they kicked off or punted, we wound up with pretty good field position."
Mission Bay's Sims led all carriers with 137 yards on 24 rushes. The Bucs' QB rotation of Correa and Scully netted 107 yards on 11 of 24 passing.
Credit West Hills secondary of DEREK POTVIN, Tyler Wilson, Ricky Wilson and MITCHEL CARLIN with a job well done.
Bea, West Hills' 5-foot-5, 165-pound slot back, rushed 13 times for 71 yards, including his 10-yard TD run.
GRIFFIN GUINN – a behemoth fullback at 6-1, 282 – bulled his way for 63 yards on 14 carries for the Pack. Roach gained 39 yards with 11 attempts and completed 7-of-12 passing attempts for 61 yards.
RYAN JEWELL was the leading receiver with three catches for 24 yards. Dill had an 18-yard reception and Wilson his 17-yard TD catch.
West Hills used to be in the Grossmont Valley League. After switching places this season with Mount Miguel in the tougher Grossmont Hills League, the Wolf Pack play host to the Matadors next week in a nonleague contest.
That should give the Pack "just enough" incentive.