Former Griffins teammates faced off in Utah's Holy War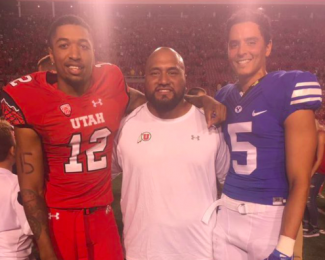 TIM PATRICK (12) and NICK KURTZ (5) after the Royal Purple Las Vegas Bowl last December.
2016 EAST COUNTY FOUR-YEAR FOOTBALL STANDOUTS
By Bill Dickens
and Cleon Wall
© East County Sports.com
EL CAJON (9-13-16) — TIM PATRICK has had no problem embracing the hatred for BYU.
"I just want to shut them up," said the senior wide receiver from San Diego. "I've heard about it (the rivalry), 24-7 since I've been here. I want to be on the winning side and shut them up."
Patrick said he wants to beat the Cougars down in his one and only time against the rivals from the south. But he does have a soft spot for one of the boys in royal blue: Cougar wide receiver NICK KURTZ happens to be his former teammate from Grossmont College.
"He's the only one I like on that team. The only one," Patrick said with a bit of a smirk. But that hasn't stopped the good natured teasing and taunting. And Kurtz said Patrick could have been a Cougar.
The two were part of a prolific passing attack at Grossmont College, which happens to be Kurtz's hometown.
Kurtz recorded 1,301 receiving yards in two seasons for the Griffins while Patrick wasn't far behind with 1,229 yards. When it was time to transfer after the 2013 season, Kurtz said former BYU coach and current Ute coach Guy Holliday recruited both of them to come to Provo.
"So we had talked about going to the same school," Kurtz said, "but we kind of had different paths." Kurtz graduated early, committed to BYU and was able to move to Provo in time for spring football in 2014. Patrick waited and signed with Utah that summer. Even though they were opposite sides of the rivalry, they never thought they would play against each other.
The game was canceled for two years after Utah's athletic director, Dr. Chris Hill, scheduled a two game series with Michigan. But injuries changed everything.
"I got hurt and missed the (2014) season and he got hurt and missed the (2015) season," Kurtz said.
Little did either guy know that BYU and Utah would play last year in the Royal Purple Las Vegas Bowl just this past December. Kurtz ended up with 56 receiving yards and a touchdown in the game as Patrick watched from the opposing sideline.
Even though the Utes won 35-28, Kurtz said the game will always be special to him.
"I remember I caught a pass on the sideline and I looked up and saw him laughing at me when I caught it," Kurtz said. "So that was probably one of the coolest moments from the season last year. It just became surreal like 'Man! We both made it.'"
Kurtz said they took a picture after the game with each one holding the other guy's helmet. He anticipates doing the same after Saturday's game. Patrick said there might not be many pleasantries before kick-off. "I might shake his hand, give him some love. But conversation wise, probably not," Patrick said.
Patrick started the rivalry trash talk on twitter the day after the Utes beat Southern Utah 24-0. He wrote "beat BYU" and posted a picture of himself scoring a touchdown. He also tagged Kurtz in the post.
"He didn't take no offense to it. He thought it was funny," Patrick said. "We just both know we are going to go out and try and outshine each other. We're going to see who's going to have the bigger game."
The two guys talk and text quite often and want each other to succeed on the football field.
"I was glad to see he did really well against Southern Utah, and I'm sure he'll have more games where he plays good," Kurtz said. "But he's not allowed to do good against BYU."
While Patrick has had harsh words for the Cougars, he's truly grateful he finally gets to play BYU and against a good friend. "A blessing in disguise that we got hurt, got better, got stronger. Now we get a chance to play against each other and have fun."
In this year's match-up the 6-foot-5, 215-pound Patrick pulled down a 21-yard touchdown pass in the first quarter as the Utes went on to nip the Cougars 20-19. Kurtz collected three receptions for 35 yards for BYU in the loss.
Patrick on whether he had to pump up his teammates after early turnovers.  "It's BYU. We knew what was on the line and we had to just go out there and execute."
Elsewhere . . .

Wide receiver MEKHI STEVENSON (Helix/UNLV) had 1 reception for 14 yards and 1 touchdown (1st college career TD, see video) in a 47-21 loss to UCLA.
Johnny Stanton fires over the middle and Mekhi Stevenson pulls it down for a 14-yd touchdown pic.twitter.com/o9BkXSMyEj

— Mike Grimala (@MikeGrimala) September 11, 2016
Defensive back KENNY KEYS (Helix/UNLV) had 7 tackles vs. UCLA in a loss.
Wide receiver JORDAN JOHNSON (Steele Canyon/Hastings) led Hastings to a 35-32 win over Valley City State University with 5 receptions for 137 yards and 3 touchdowns (ties school record); had 3 receptions for 87 yards and all 3 touchdowns by halftime.
Wide receiver JOHN TODD (Valhalla/Humboldt) had 3 receptions for 94 yds  and 1 touchdown in a 38-27 loss to Azusa Pacific, the Lumberjacks' first loss at home since 2013.
Defensive back SPENCER HAVIRD (Valhalla/Gardner-Webb) had 7 tackles and an interception vs. Western Carolina in a 44-14 loss.
Wide receiver SERGIO BAILEY (Olympian/Grossmont College/Eastern Michigan) had 7 receptions for 57 yards and a touchdown in a 61-21 loss to Missouri.
Quarterback ANTHONY LAWRENCE (Grossmont HS/USD) went 15-for-24 for 127 yards and a pair of touchdowns, but the Toreros fell at Cal Poly 38-16 for their first loss of the season.
Cornerback JALEN DAVIS (Helix/Utah State) had 6 tackles, including a sack in a 45-7 loss vs. USC. Davis was the first true freshman in school history to start a season opener (vs. Tennessee, 8/31/14) at cornerback. His two interceptions against Idaho State (9/6/14) are the most by a true freshman in a single game in Utah State's history.
Wide receiver ANTHONY JACKSON (El Cajon Valley/Bethany) had 2 receptions for 32 yards and a touchdown in a 30-7 loss to Langston University.
Running back NATE STINSON (Helix/Northern Arizona) had 7 carries for 26 yards in his college debut in a 34-20 loss to Western Illinois.
Multi-purpose LAWRENCE DICKENS (Steele Canyon/Marist) rushed for 151 total yards, 74 yards receiving and 77 yards on kick returns vs. Georgetown in a 20-17 loss.
Defensive lineman MALCOLM JACKSON (Mount Miguel/SDSU/Dixie State) has 5 tackles and a sack in a 24-13 loss to South Dakota Mines.
Wide receiver VIRNELL MOON (El Cajon Valley/Colorado Mesa) had 5 receptions for 161 yards and 2 touchdowns in win over Chadron State 47-33.