Helix's Reed is rapid riser in Twins' system
Updated: September 14, 2016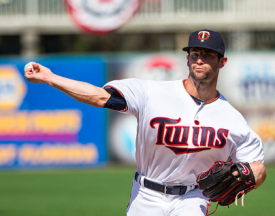 Former Helix High star Jake Reed delivers a pitch during Twins' spring training last March.
2016 EAST COUNTY BASEBALL PROS
By Bill Dickens
© East County Sports.com
ROCHESTER, NY (9-13-16) — In just his third season of professional baseball – in the Minnesota Twins organization – Helix High graduate JAKE REED is making a major impact.
His latest recognition was earning the Twins Minor League Relief Pitcher for the month of August as a member of the AAA Rochester Red Wings.
The 6-foot-2, 190-pound right-hander appeared in 10 games, toiled 11.1 innings, compiling a 1.59 ERA with 2 walks and 11 strikeouts to capture the honor.
He should be invited to the Twins spring training session and there is a chance he may surface with the Twins before June. He is blessed with a mid-to-upper 90s fastball with a lot of movement. Sometimes it's clear he's getting so much movement that it runs out of the strike zone. He also has a very good slider. He's got great makeup for a late-innings reliever.
It's almost hard to believe that Reed was only drafted by the Twins two years ago. He was a 40th round pick of the Chicago White Sox in the 2011 draft but elected to attend the University of Oregon.
We have heard his name many times over the last two years as a future bullpen arm. The Twins used their 5th-round pick in 2014 to take the reliever out of Oregon. In college, he was a solid starter his first two seasons, but the move to the bullpen helped him take off.
The Twins signed him and sent him to Class A Elizabethton, Tenn. but he very quickly got promoted to Cedar Rapids, Iowa where he was completely dominant. He gave up one run in 25 innings (0.72 ERA). Then he dominated in the Arizona Fall League.
He began the 2015 season in AA Chattanooga, but struggled and went back to Ft. Myers of the Florida State League where he regained his command. He returned to the Lookouts and helped in their Southern League championship run.