Napoleon has three sacks in win for Beavers
Updated: September 20, 2016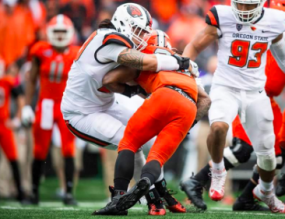 Phillip Napoleon records one of his three sacks against Idaho State on Saturday.
2016 EAST COUNTY 4-YEAR FOOTBALL STANDOUTS
By Bill Dickens
© East County Sports.com
CORVALLIS, Ore. (9-20-16) — Former Helix High defensive line standout PHILLIP "Leapo" NAPOLEON took his hand out of his jacket in a symbolic move to record three sacks as Oregon State beat Idaho State 37-7 on Saturday (Sept. 17).
In the same game, former quarterback, now wide receiver SETH COLLINS (Granite Hills) caught 2 passes for 22 yards and rushed for 7 yards on 3 carries in the Beavers' victory over the Bengals.
–
Freshman defensive back MIKE JONES (Mount Miguel) racked up 7 tackles, 6 of them solo and delivered 2 pass-breakups as Dixie State lost to Black Hills State 20-14.
Also, on the Dixie State card, defensive lineman MALCOLM JACKSON (Mount Miguel) recorded 4 tackles, 2 of them solo in the Black Hills State game.
Freshman ALEX LILLIARD (Grossmont HS) had one tackle for Dixie State vs. Black Hills State.
–
Tight end NICK KURTZ, a product of Valhalla/Grossmont College, pulled in 8 passes for 82 yards and a touchdown in a 17-14 loss to UCLA.
–
University of Utah wide receiver 6-foot-5, 210-pound TIM PATRICK (Grossmont College) continues to spark the Utes' offense as he grabbed 6 passes for 121 yards and a touchdown in a 24-17 victory over San Jose State.
–
SPENCER HAVIRD (Valhalla/Gardner-Webb) racked up 6 tackles, one for loss in a 31-24 loss to The Citadel.
–
Junior wide receiver VIRNEL MOON (El Cajon Valley) caught 4 passes for 43 yards and a touchdown, including the game-winning reception in double overtime for the Colorado Mesa Mavericks, who defeated Colorado School of Mines.
–
At UNLV, two East County graduates delivered key performances in the Rebels 44-21 loss to Central Michigan. Freshman MEKHI STEVENSON (Helix) caught 5 passes for 48 yards for the Rebels, and KENNY KEYS logged 2 solo tackles in the loss to the Chippewas.
–
Senior linebacker MAURICE PAYNE (Monte Vista/Grossmont College) racked up 5 tackles and 2 interceptions for Tabor College, which defeated Ottawa (Kansas) University, 44-25.
–
Senior linebacker RAYON OWENS (Christian) chalked up 6 tackles and returned 2 kickoffs for 30 yards for Willamette University in a 28-24 victory over Cal Lutheran.
–
Junior wide receiver LAWRENCE DICKENS (Steele Canyon/Marist College) caught one pass for 17 yards in a 31-6 loss to Sacred Heart. In three games, Dickens has caught 10 passes for 166 yards.
–
Junior cornerback JALEN DAVIS (Helix/Utah State) made 4 tackles, one solo, in the Aggies' 34-20 victory over Arkansas State on Friday.
–
Kicker ALEX RAYA (Steele Canyon/Redlands) booted 4 PATs and a 26-yard field goal as the Redlands Bulldogs toppled George Fox, 31-22.
–
Sophomore wide receiver JORDAN JOHNSON (Steele Canyon/Hastings) had 5 receptions for 56 yards in a 44-34 victory over Jamestown.
Freshman running back ADRIAN PETTY (Christian/Hastings) had 9 carries for 46 yards, caught 2 passes for 8 yards, and returned 3 kickoffs for 50 yards for the Broncos in the win over Jamestown.
Junior safety KEITH ROGERS (Valhalla/Jamestown) collected 4 tackles, 3 solo and one for loss as the Jimmies lost to Hastings.
–
Sophomore running back NOAH YLAGEN (El Cajon Valley/Briar Cliff University) bolted for 64 yards on 26 carries in the Chargers' loss to Midland. He also had 2 pass receptions for 29 yards and kicked a 30-yard field goal. He punted 8 times for a 37-yard average with 4 of the boots landing inside the 20.
–
Freshman wide receiver NICK SEXTON (Christian/Humboldt State) had one catch for 34 yards in a 56-24 win over Simon Fraser.