2016 EAST COUNTY FEARLESS FORECASTER – Week 7
Christian's Jon Stine wraps up a ball carrier earlier this season. / EastCountySports photo
2016 EAST COUNTY PREP FOOTBALL FEARLESS FORECASTER
Week 7
By Bill Dickens and Ramon Scott
© East CountySports.com
EL CAJON (10-6-16) — The undefeated Christian High Patriots get to prove they are as good as their record Friday night (Oct. 7) at 6:30 p.m. at Morse High in an Eastern League opener.
The Patriots are considered the league favorites, although Morse is a perennial challenger. Fact is, Christian has beaten Morse 13-6 last year, 25-20 the year before and 42-14 in 2013.
The cornerstone of the Christian huddle is senior fullback/linebacker 6-foot, 230-pound JOEY MORONES. On the offensive side, Morones has rushed for 512 yards and 11 touchdowns on 63 carries.
But this is no one-man show as the passing combination of quarterback BRAD JEREMIAH and the Patriot receivers have clicked on 57 of 89 passes for 781 yards and 8 touchdowns. THEO GOODWIN is the leader of the pack with 24 catches for 413 yards and 5 touchdowns. Goodwin has also returned 3 kickoffs for touchdowns as well.
Markus Turner has rushed for 645 yards and 8 touchdowns for Morse, while Martell Irby has rushed for 528 yards and 5 touchdowns and Timothy Patrick has rushed for 382 yards and 6 touchdowns.
TSHOMBRE CARTER has 2 picks for the Patriots, JONATHAN STINE anchors the offensive line, and DAVID MORENO has 35 tackles, one for loss. Defensive end GARRETT ROSENTHAL has 27 tackles and a fumble recovery.
History says . . . Christian 28-14.
STEELE CANYON (2-3) at No. 5 HELIX (3-2), 7 – The Highlanders are back in their comfort zone entering Grossmont Hills League play and catch a hard-luck Cougars squad, who have been without some of their key veterans on defense.
Steele Canyon melted in the fourth quarter two weeks ago after a big effort against Otay Ranch through three quarters. Otay scored 20 points in the fourth quarter to win 33-14.
The Cougars are coming off a bye week, which has given the depleted defense time to reposition itself, but before that they had beaten Granite Hills and Rancho Buena Vista by a combined 78-13 count before the home outlier.
Helix bounced winless Bonita Vista, 21-6, last week, but the Highlanders seemingly haven't put their best foot forward except in their overwhelming 42-7 win at a down Eastlake team. Their tough preseason schedule is intended to season them for another run at a league title and beyond.
Helix quarterback CARSON BAKER is averaging 225 yards per game so far this season, while his top target, SCOTTIE YOUNG, has an East County-leading 39 receptions this season and is a renown defender. In last season's, 41-6 Helix win, Young had four catches for 55 yards.
Helix's defense is also led by EZEKIEL NOA, who made 10 tackles against the Cougars last season.
Steele Canyon's THOMAS FISHBURNE has thrown nine touchdown passes this season and averages nearly 165 yards per game. Those touchdowns have all been reeled in by emerging duo BRENDEN WILLIS and JACOB JONES.
Cougars star linebacker senior WAYNE BARELA has had to take on even more of a leadership role of late. Junior JHAELON BRAZILE has stepped up for SC in the absence of some of his defensive mates.
It's just bad timing for the Cougars… HELIX, 42-14.

EL CAPITAN (3-2) at No. 10 GROSSMONT (5-0), 7 – The Vaqueros' homecoming victory over Granite Hills last Friday was thrilling, but was also bittersweet with the loss of quarterback PHOENIX CATES, who is likely lost for the season with a serious leg injury.
Despite the long odds to win the Grossmont Hills League, El Capitan comes in playing its best football in a year-and-a-half, riding a three-game winning streak.
However, the Vaqueros will have just a week to retool before taking to the road Friday night with a trip to Grossmont.
The unbeaten Foothillers can proudly open the league season with championship fever, as they are currently tied with rival Helix in the SDSCIF Division I power rankings, which would land both teams in the Open Division come November.
Grossmont senior HUNTER GAINES leads the East County with nearly 240 yards per game with 11 touchdowns, while star wideout DOMONIQUE GUEVARA, a senior, is second in the East County in receptions (32) and tied for the lead in TD catches (7).
Making things even more difficult for El Cap will be the continuing emergence of the Hillers' running game with junior SHEVELL STERLING, JR., and senior JAMES MACKEY. The pair have combined for 838 yards and nine rushing touchdowns.
Expected to shoulder the payload on defense will be Vaqueros' linebacking standouts OSCAR VALENZUELA and DYLAN HELMHOLTZ. Helmholtz, who is third in the East County with four sacks this season, had two fumble recoveries in last year's meeting and blocked a potential last-second game-winning kick by Granite Hills last week.
ANTONIO OLIVERI takes over for Cates at QB. He threw for a touchdown in relief last week to RYAN DUMAS for an 87-yard connection in the third quarter which proved to be the game-deciding score.
The Vaqueros' top man  is JAVIER VIDALEZ, who has 22 receptions for 422 receiving yards and four touchdowns.
The Vaqueros' hard-charging CONNOR ROOSA has rushed for 379 yards and 5 touchdowns this season.
The Foothillers almost unrenowned defense is led by senior defensive linemen ANDREW MINK and BRANDON ARMS, CHRISTOPHER LAETHEM, RILEY HAVIRD, junior ANDREW LIRA and senior LBs NOAH SANDERS and NATE TIAPULA.
Grossmont won in Lakeside, 26-0, last season so the outlook favors the hosts this time, too… GROSSMONT 34-13.
WEST HILLS (4-1) at No. 11 VALHALLA (5-0), 7 – Valhalla's defense is shutting out opponents at a notable rate.
The Norsemen have three shutouts in five games and have allowed just 14 points this season. The Grossmont Conference record for most shutouts in a season is seven.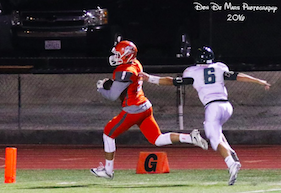 In last year's 37-6 win in Santee last season in a nonleague tilt, the Wolf Pack managed just 96 yards of 54 plays. Over the last two weeks, the Norsemen have allowed their two opponents a combined 147 yards.
It may seem like a daunting task for West Hills, but consider the Pack has altered its image a bit from last campaign and it has worked out nicely so far.
West Hills likes to take off from the ground nowadays with a real three-pronged attack of JOVAN BEA, GRIFFIN GUINN and running quarterback HAYDEN ROACH. The trio has carried for 994 yards and 11 touchdowns.
And when Roach has taken to the air, he has been highly-efficient, completing 58 percent of his passes and thrown for six touchdowns against just one interception.
The result has been a four-game winning streak heading into the Grossmont Hills League opener Friday night.
The Wolf Pack are back in the Grossmont Conference's tougher circuit now and could find the road to victory much more difficult against the likes of Norsemen defensive stars JOSH MCNISH-HEIDER, JACE MANNING, DYLAN MARSH and BRENT BURNETT.
The Norsemen have a solid offense that leans a bit more on its running game, led by JEROME JOHNSON. However, receivers BRANDON FULLER and JACOB PAAPE have really started to make a name for themselves, having combined for 30 receptions and six touchdowns this season.
West Hills senior NG OSCAR MORALES, tackles KEVIN AH KEY and CADEN KULAS and linebackers CHANCE HAEMMERLE and TANNER SUTTON have the responsibility of slowing the Norse attack.
Both teams are coming off a bye week, so the Wolf Pack will have to have an ample game plan to compete with… VALHALLA, 28-14.
SANTANA (4-2) at GRANITE HILLS (1-4), 7 – The Santana record machine anchored by record-breaking running back BOBBY WALLACE begin their quest for the Grossmont Valley League title in Friday night's (Oct. 7) opener when the Sultans travel to Granite Hills to face the Eagles.
Santana has scored at a 238 point clip while surrendering 124 points. On the flip side, Granite Hills has scored only 65 points while surrendering 130. Thus it's going to be the Sultans offense against the Eagles defense.
Santana looks to its offense led by Wallace, who has garnered 711 yards and 13 touchdowns. East County's leader in touchdown passes, quarterback JOSH OEDEWALDT, figures to poke holes in the Granite Hills defense as he's completed 75 of 126 for 1,102 yards and 16 touchdowns.
Making Oedewaldt look brilliant has been the solid hands receiving trio of ANDERS TOLHURST, AIDEN RASMUSSEN and BROCK ELLIS, who have 70 receptions between them.
Granite Hills' strength is defense led by TYLER GONZALEZ and MATT FAUBEL, but the Eagles likely don't have enough firepower to shut down the Sultans . . . Santana 27-21.
MONTE VISTA (4-1) at MOUNT MIGUEL (1-5), 7 – It's hard to believe that Mount Miguel has two of the top rushers in the East County – SHEMAR GREEN and SANTINO PACHECO – but have struggled to a 1-5 record. Yet the Matadors cannot be counted out of the Grossmont Valley League race. They have 948 rushing yards and 8 touchdowns between them.
Matadors quarterback BENNY VALADEZ is 51 of 78 for 547 yards and 5 touchdowns as Mount Miguel has produced 1,761 yards and 15 touchdowns. On the flip side turnovers have killed the Matadors.
Ironically, Monte Vista has compiled a 4-1 record without having completed a single pass.
The Monarchs rely on running backs JAHMON and JAMEZ McCLENDON. JONATHAN GULLEY is the cornerstone of the Monte Vista defense. ADERO JOHNSON is also not afraid to jump into the pile and has been dutifully handling most of the quarterbacking chores of late for the run-happy offense.
Thus, this could be a toss-up, but the nod goes to . . . Monte Vista, 16-14.
EL CAJON VALLEY (5-0) at CHULA VISTA (3-3), 7 – East County rushing leader TYSON SMITH of El Cajon Valley has rushed for 962 yards, 11 touchdowns and 9 two-point conversions for 106 points. The senior quarterback has run roughshod over all of the Braves' opponents and figures to do the same in Friday's (Oct. 7) nonleague game at Chula Vista.
The Braves are hardly defenseless as GREGORY JONES has 3 interceptions and 16 tackles. DANIEL WILSON has 16 tackles, one for loss, and MAQUEL GARNER has 20 tackles, 2 for loss. LUIS MORALES is turning into a big-play star.
With the start of Grossmont Valley League lurking, the undefeated Braves need to not look ahead and avoid losing to Chula Vista, which beat fellow league rival Mount Miguel at home in the season opener, 35-30.
It's gonna be a close one, but the nod goes to . . . El Cajon Valley, 22-21.
HAMILTON (5-2) at MOUNTAIN EMPIRE (2-3), 6:30 – Hard-nosed GABRIEL HYDORN with 26 tackles and 4 fumble recoveries, along with JONATHAN PENUELAS who has 2 sacks, will lead the Mountain Empire Red Hawks in Friday's (Oct.7) non-league battle.
Mountain Empire (2-3) welcomes the visiting Hamilton Bobcats of Anza (5-2) to Pine Valley for a 6:30 kickoff.
Given the home field advantage, the nod goes to . . . Mountain Empire 27-20.
Fearless Forcaster's Record
Last week:  8-0 (.800)
Season:      49-12 (.803)